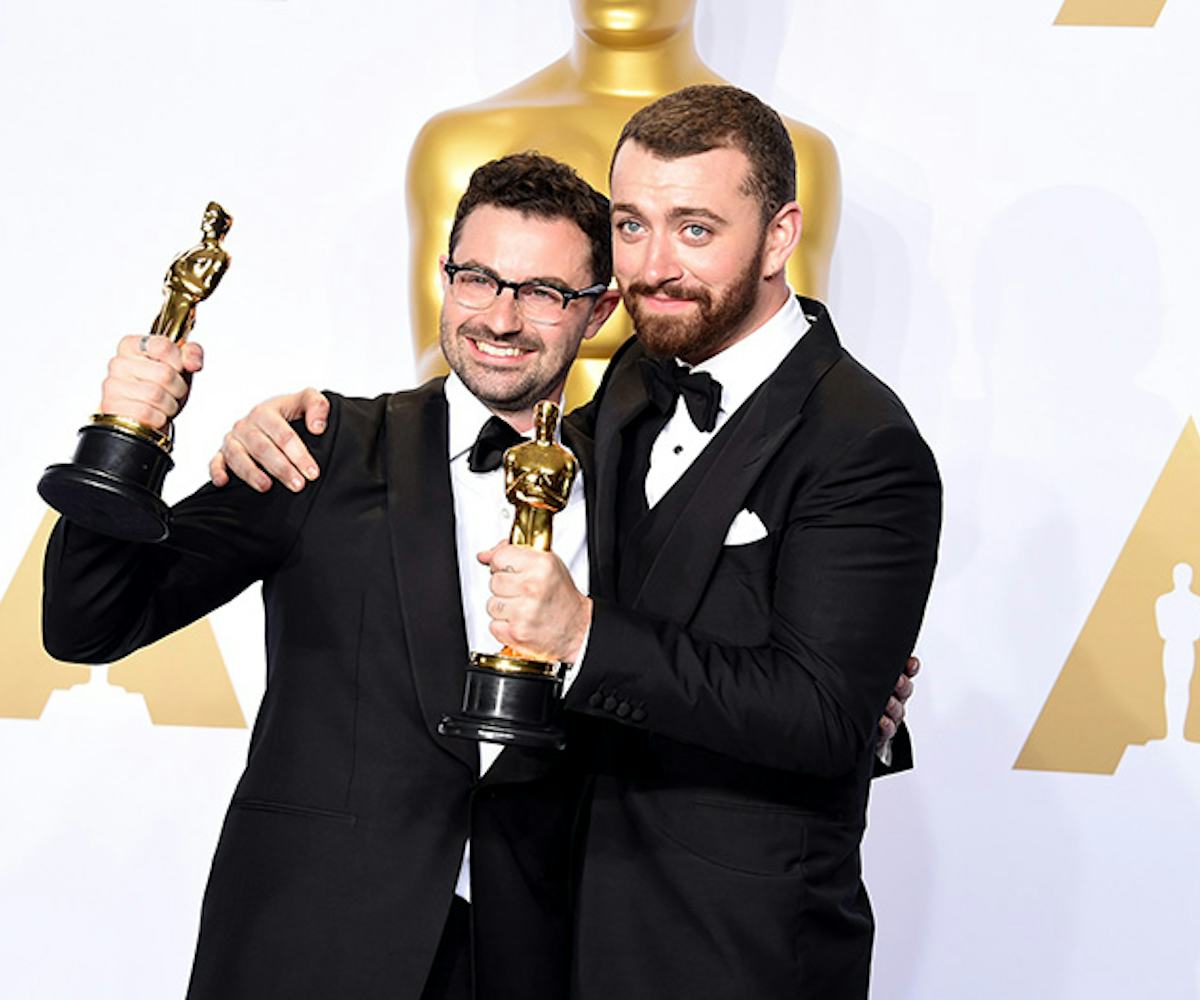 Photo by Jason Merritt/Getty Images.
Sam Smith Is Not The First Openly Gay Person To Win An Oscar
Sam Smith took home the Academy Award for Best Original Song last night, for his 007 theme song, "Writing's On The Wall." Smith beat out The Weeknd's "Earned It," Anohni's "Manta Ray," and the song everyone thought was going to win, Lady Gaga and Diane Warren's "Til It Happens To You." He dedicated the win to "the LGBT community around the world." He added, "We can all stand together as winners." However, there was one part of his speech that sent Twitter spinning—and not just because he won over Gaga. 
Before Smith dedicated his win to the LGBT community, he quoted a thought Sir Ian McKellen shared with The Guardian this past January, saying, "I read an article a few months ago by Sir Ian McKellen and he said that no openly gay man had ever won an Oscar, and if this is the case, even if it isn't the case, I want to dedicate this to the LGBT community all around the world." Smith didn't misquote McKellen per se, but he took the quote out of context. McKellen was talking about openly gay actors winning Oscars. Smith was talking about openly gay men in general. And for that, he was very much misinformed. Dustin Lance Black, who took home the Oscar for Best Original Screenplay in 2009 for Milk, is openly gay. He took to Twitter to remind Smith of whom he is. All petty drama about texting fiancés and whatnot aside, Black reminds us of all the achievements in the Academy's history made by Elton John, Melissa Etheridge, and, of course, Stephen Sondheim—all of who have taken home the Oscar for Best Original Song. 
Smith told us backstage that "[he] should have known that" going in. Black has since followed up his tweet with another saying the point of it all is "knowing our LGBTQ history is important. We stand on the shoulders of countless brave men and women who paved the way for us." The writing, it would seem, is indeed on the wall.