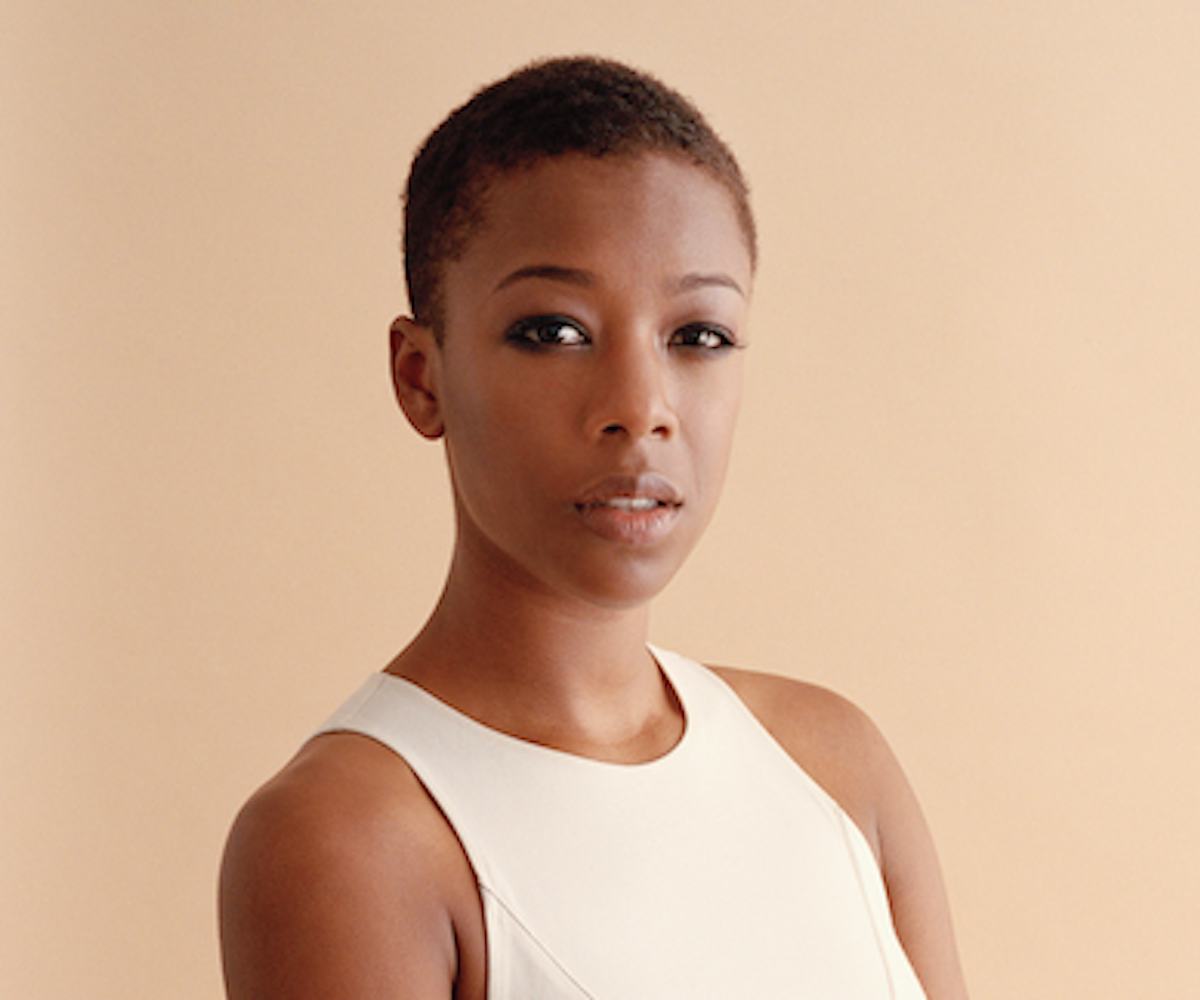 Samira Wiley Will Not Be Typecast
'Ryan Hansen Solves Crimes On Television' is out now
Samira Wiley has a habit of joining shows that help launch new networks. Her role as the affable, androgynous prisoner Poussey was just one of many instantly iconic characters when Orange Is the New Black premiered and took Netflix from a DVD distributor to major player in streaming TV. Next came Wiley's role in The Handmaid's Tale, another women-led series where Wiley's part as defiant feminist Moira elevated Hulu's status as another competitor in choice television. Now, she's lending some legitimacy to YouTube Red, YouTube's new network of all-original programming, that is home to Wiley's latest project, Ryan Hansen Solves Crimes on Television.
"Um, gosh, I think it can definitely be a lot of pressure if you think about it like that!" Wiley says with a laugh when I tell her of this pattern. "I try to not think about it, I guess, in terms of having a network on my back or anything like that. I'm dedicated to the show, and I really believe in our show, and if the show is able to bring something good to the network, some praise or anything like that, that's what I'm here for. I'm here for the show."
Wiley is proud of her newest venture, especially because it's outside of what others might consider her wheelhouse. Although she was able to bring some levity to the otherwise-dark scenarios of prison inside Orange, Ryan Hansen Solves Crimes On Television is an all-out action comedy with Wiley on the other side of the law. As cop Jessica Mathers, Wiley is a gun-toting, tough-as-tits detective who is none-too-pleased about having to partner up with an actor (Ryan Hansen playing himself) for a new unit that is enlisting stars to help solve Hollywood-specific crimes.
"I've referred to her before as my version of a superhero," Wiley says of her character. "She's the one that's just out there saving people's lives and locking up the bad guys and shooting out people's tires when they try to escape. Anything and everything you'd want to do as an action actor, and it's so many things in one, this show. I'm just so happy I got to do it."
Created by Rawson Marshall Thurber (Dodgeball: A True Underdog Story, The Mysteries of Pittsburgh), Ryan Hansen is largely a vehicle for, well, Ryan Hansen. But Wiley is just as much a part of the show, which pokes fun at procedurals like Law & Order and reality shows parading as "docu-series" and provides meta jokes about the entertainment industry and L.A. at large. As the relative "straight man," to Hansen's goofy lack of actual street smarts, Wiley is the one whose reactions and commentary set Hansen up for success. Together, they're an odd couple, one that creates several opportunities for LOLing, which was one of the biggest challenges for Wiley on set.
"Ryan's just hilarious, and to able to stay in the scene and do my part and remember all my lines and say them with a straight face, not look at the camera even though he's doing it, it was a lot, but it was so great to be able to have a challenge," she says. "I think that sometimes people think of drama as this big, heavy challenge that people have to do, but comedy is a challenge, too, if not more so. And what he does and what we created together, I'm really proud of."
Wiley's first meeting with Thurber was eerily similar to the kind of work she's had to do on the show, in that it required her to keep her cool in an otherwise-laughable scenario.
"We were having breakfast, and I spilled an entire plate of black beans on myself," she recalls. "We were eating, and it was just the two of us, and we were at the Chateau Marmont. I was covered in black beans, and I just like stopped and looked at him in his face and said, 'Well, guess we'll always have this.' He always says that was the moment he knew I was supposed to work with him."
After being cast, Wiley said she didn't meet Hansen until their first day on set, which was nerve-racking but worked to their advantage considering their first scene is when they are introduced for the first time.
"I think both of us were sort of hoping that this could be great but this could go really bad if we don't like each other," she says. "It was just the total opposite, but I think that I was really scared about that the first day, just really wanting to make a good impression, really wanting to vibe together, and I honestly feel like Ryan could be my brother."
Wiley said her post-Orange career has been "nothing short of a blessing" for her. After Poussey was killed off at the end of Season 4, she said she received a lot of calls about projects and characters that were too much like the role she'd become known for. She was concerned about being typecast.
"It was the foremost thing on my mind when I left Orange," she says. "And at the time, I didn't have any prospects."
But then she booked The Handmaid's Tale, garnering her an Emmy nod for Outstanding Supporting Actress in a Drama Series, and with her return to that series for Season 2 and her role in Ryan Hansen, she says, she "can't believe" things worked out the way they have.
"I was able to find roles that are not only so far from what I've been known for in the beginning, but also really great, amazing roles and they're amazing empowering roles for women," she says. "That's exactly who Jessica Mathers is in Ryan Hansen. She's a role model—she's the badass. She's the one that people want to be. So I've just been overly blessed."