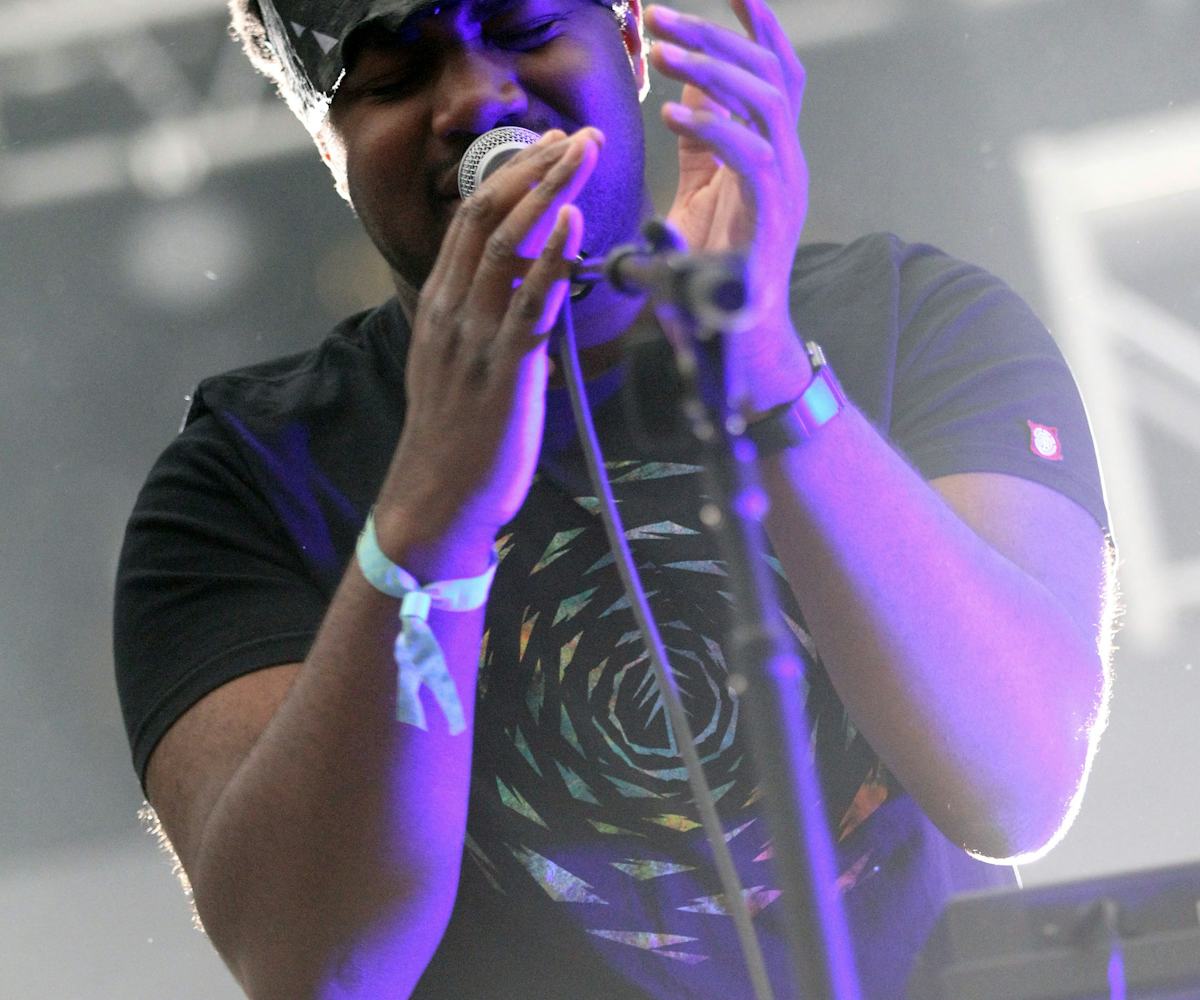 Sampha Stakes His Claim To Spotlight On His First Solo U.S. Tour
The artist played a sold-out show in New York last night
Imagine, if you can, a Sampha concert. There's the artist on stage; he's in a spotlight, with nothing but a piano and his undeniable vocals carrying him. His music is as mellow as music gets, after all. It's only right that his set would follow suit.
But when the 27-year-old took the stage at Baby's All Right in Brooklyn, New York, last night—the third stop on his first U.S. solo tour—he was joined by a full band, including singer Kelsey Lu, who opened the show and lent her cello playing talents and breathy, haunting voice as backup.
Opening up the night with an upbeat version of his unreleased track "Plastic 100C" (he played a more subdued rendition for The Fader this summer), it was clear this wouldn't be a concert that the performer—or the audience—spent simply swaying back and forth. His introspective lyrics were still present—"You touch down in the base of my fears/ Houston can-can-can you hear/ And we both had to harness our pain"—but the atmosphere was decidedly livelier than the message they paint.
It's unusual for an artist to go on tour preceding an album, yet Sampha did just that. "I've been finishing up my album," he informed the crowd. No release date was mentioned, but he shared a couple of tracks, most of which had a trippy, slightly overproduced, electronic tinge to them—including one that would feel right at home on a going-out playlist, and which prompted the singer to give us an extended taste of the moves he showed off in Solange's "Don't Touch My Hair" music video.
In between, were classic ballads, like a somewhat strained performance of "Too Much," an emotional rendition of "Happens," and "Can't Get Close," from his 2013 Dual EP. The last of which takes on a new, aching meaning once you take in the fact that his mother passed away last September. His father died when he was nine. "Father, hope you're listening/ Mom, she's doin' alright cause God's listening," he croons. But Sampha doesn't allow the sentimentality to linger for too long. Once we get around to "Blood On Me," he becomes his own hype man. At one point, taking the microphone from the stand to sing and continuing his two-step bop toward the edge of the stage. It feels out of place to use "lit" in the same sentence as Sampha, but there it is.
Up until this year, the singer was, more or less, a background artist. He made his way to the music scene in 2011 by way of SBTRKT. He became somewhat of a household name when Drake borrowed his vocals on Nothing Was the Same and was selected to work on Kanye West's The Life of Pablo shortly after. Most recently, he proved himself worthy of a seat at Solange's table with a feature on "Don't Touch My Hair." Other than that, he's remained pretty firmly in the shadows of bigger artists. But if last night was any indication, he's more than ready to step out from behind the scenes.
Sampha's is not a concert you should witness through your phone—or the person's in front of you. It's one for which you make a point to be present. It was engaging yet introspective, moody yet entertaining, and, most of all, unpredictable. Sampha once told us in an interview:
Sometimes I listen to my music and wonder what will people think of me. It's very melancholic, isn't it? But my life isn't totally miserable, you know. I can be quite silly, as it happens. It's just that, for whatever reason, I only express one side of me in my music. I suppose one of my challenges now is to express more of myself, to channel my inner Kanye, perhaps. I'm working on it.
And though his concert didn't include theatrics like a floating stage, soliloquies, or a mosh pit, it showed an animated side his fans aren't used to seeing. And one to which we're grateful to bear witness.
For his final song, "Indecision," Sampha circled back to the intimate version we all assumed would follow him through the night. His bandmates put down their bows and drumsticks, and he ended the show performing as he does best: with a spotlight, a piano, and his undeniable vocals carrying him.