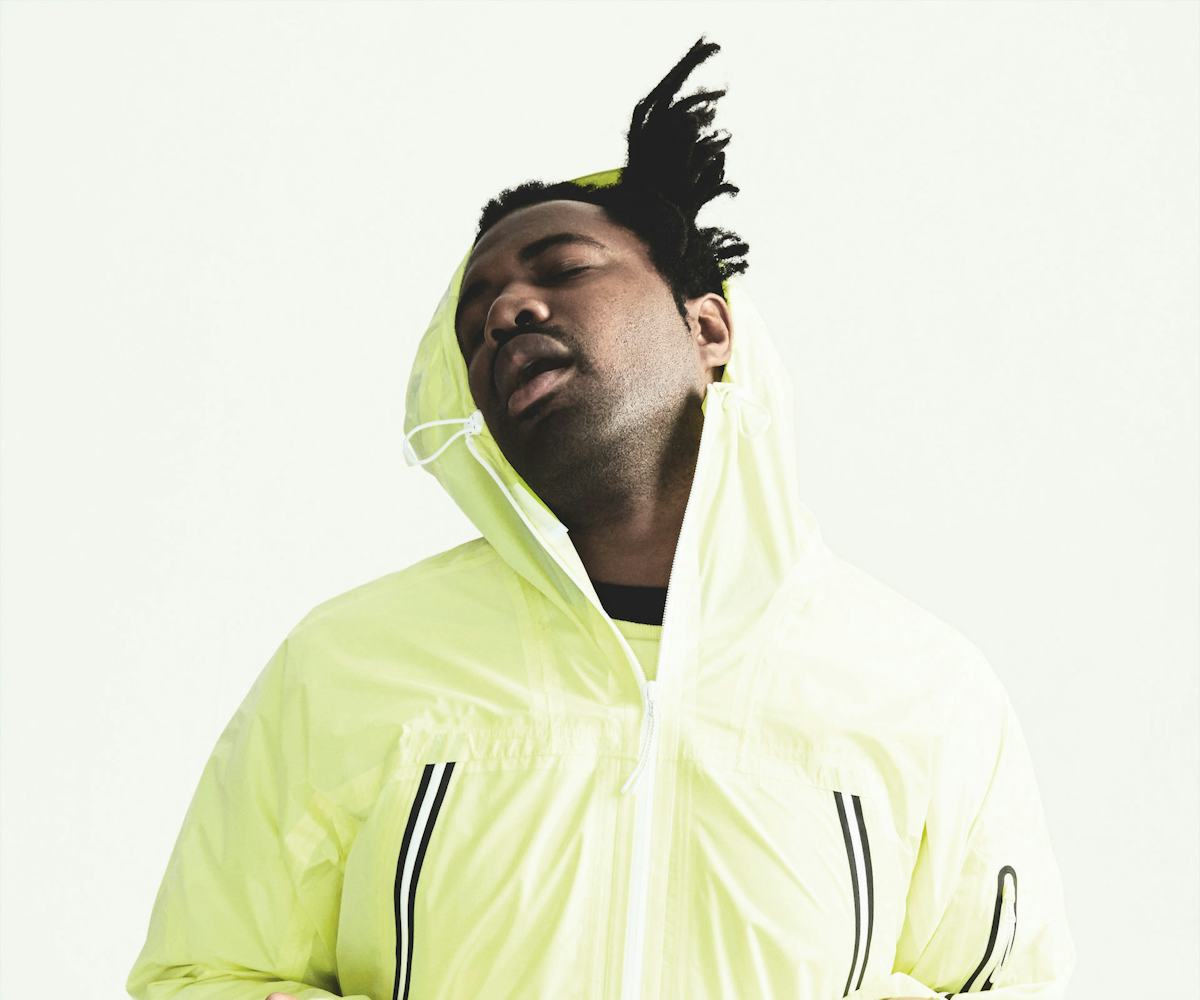 Photographed by Aitken Jolly.
Sampha Reveals Details About His First Full-Length Album 'Process'
The artist has collaborated with Drake and Kanye West
The following feature appears in the September 2016 issue of NYLON.
When he was 11, Sampha Sisay, a Londoner of West African descent, composed his first song. He can't recall its full title now, but it was something like "Believe God's Promise." Despite the suggestion of overt religious compliance, it actually questioned the very concept of belief. "It was basically me asking that if God was real, then why was there all this pain in the world?" he says.
If this seems pretty philosophical for a preteen, then it's worth noting that his father had died of lung cancer just two years prior, a seismic event that not only stayed with him but established a very particular vein of soul-searching that continues to mark his songwriting today. Now 27, Sampha is perhaps the most exciting new British talent to emerge since James Blake, another electronic-based singer-songwriter whose songs plumb self-reflection to often breathtaking effect. He sings in a way that makes his tracks sound like confessionals, like it hurts him to do so. And now, three years after his debut six-track EP, Dual, he is releasing his first full album, Process, which merges lyrical themes of existential doubt with exquisitely haunting, minimal beats. 
It is this combination that has brought him—quite unwittingly—to international acclaim: Back in 2013, Drake announced himself a fan, and requested Sampha's services as a collaborator on his album Nothing Was the Same. He was then brought to Los Angeles by legendary producer Rick Rubin to work with Kanye West on the latter's The Life of Pablo. "To have artists like that even know I exist is surreal," says Sampha. 
And what was it like working with, as West likes to refer to himself, "this generation's closest thing to Einstein"? Sampha grins and replies, "He has this aura about him. It's intense, it's all energy. You learn so much just by being in the same room as him. I wish I had his levels of ambition, or at least the ability to express myself in the way he does." 
Sampha arrives for our interview—at a terrace café overlooking the Thames on a hot July morning—bang on time, wheeling with seeming effortlessness through the crowds on his chunky scooter. It's only when he stops that he begins to puff heavily. "Harder than it looks, actually," he says.
A gentle, introspective man with bashful eyes, he was born in London, the fifth of five brothers, and the youngest by 10 years. His father was a diamond evaluator from Sierra Leone who transferred the family to the United Kingdom before his youngest son was born, and life, Sampha says, was comfortable. But after his father's death, things became more complicated. "I never really got to know him because he was always working so hard," he says, "but growing up in a house without him—well, you felt his absence."
He was a naturally musical child, and took instinctively to the family piano. At 18, he went to university to study music production but soon dropped out when he got the chance to work with his friend, Aaron Jerome, who was making widely acclaimed music under the moniker SBTRKT. "After that, I wanted to produce," he says. "The fact that I've ended up in front of the microphone myself is pretty much an accident, really."
But his career progression has been hampered by more family tragedy. First, his oldest brother suffered a severe stroke, and then in 2015, his mother died of cancer. In a mournful state of mind he began creating Process, which surely accounts for the fact that it sounds so haunted by memory, and driven by it, too. The title of the song "(No One Knows Me) Like the Piano" alludes to the one in his mother's home, while "Plastic 100°C" relays his own run-in with ill health: "Oh, sleeping with my worries, yeah," he sings. It concerns a lump he discovered in his throat back in 2011. "The doctors don't know what it is; it's a mystery, and so I have to just live with it," he says, looking pained. Is it still there, the lump? "Yes. Every time I swallow, I feel it."
After an hour of talking in the sunshine—about, among other things, his girlfriend of three years, a personal trainer who keeps on at him about the benefits of a healthy lifestyle and to whom he responds by drinking orange juice ("fruit's healthy, right?")—Sampha frowns, his forehead collapsing into a tight V.
You look anxious, I tell him. He nods.
"Sometimes I listen to my music and wonder what will people think of me. It's very melancholic, isn't it?" he muses. "But my life isn't totally miserable, you know. I can be quite silly, as it happens. It's just that, for whatever reason, I only express one side of me in my music. I suppose one of my challenges now is to express more of myself, to channel my inner Kanye, perhaps." He grins, unconvincingly. "I'm working on it." 
Grooming: Josh Knight at Unit 30 using Bumble and Bumble. Photo assistant: Izaak Jolly. Postproduction: Touch Digital. Special thanks to Loft Studios, Film Plus, and Saving the Internet (since 1994).