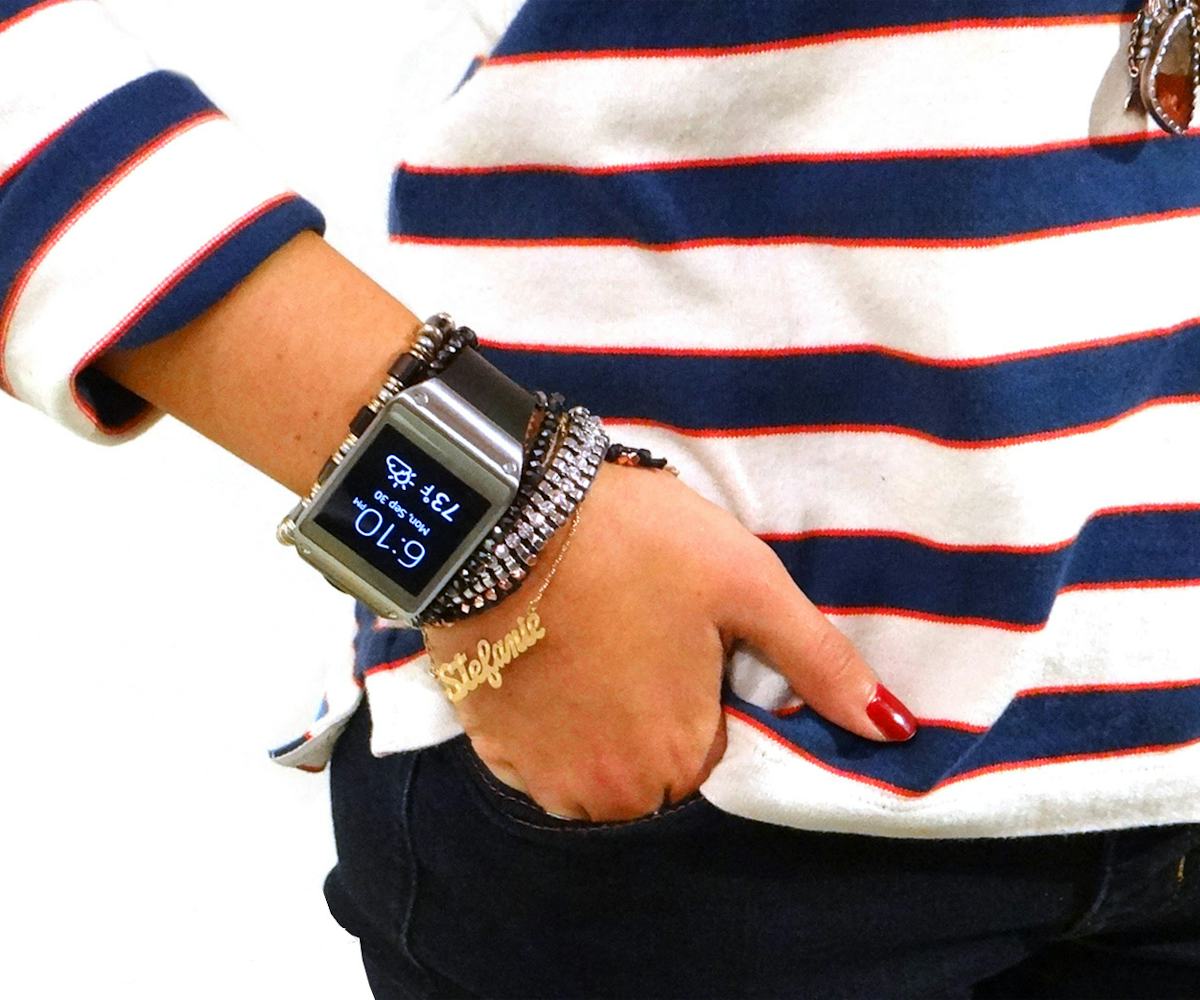 watch out
is the samsung galaxy gear about to change the accessories game?
While our tech products often come with accessories--a Marc by Marc Jacobs case for your laptop, a Kenzo holder for your iPhone, a SFK strap for your camera--we've never thought of the gadgets themselves as an integral part of an outfit. But recently it seems that the latest advancements in technology are accessories-based; think of the Google Glass, which showed up on models walking down the fall '13 Topshop runway.
But perhaps the most groundbreaking might be Samsung's Galaxy Gear. It's part phone, part camera, part watch--and yes, it's cool enough that you'd totally want to wear it everywhere.
Here's what you need to know about the Gear, which hits stores today: First of all, it's not a standalone device; sure, you can wear it whenever, but for it to truly function you need to have the Samsung Galaxy Note 3. Sync your Gear with your Note 3 and you can receive and make phone calls and texts through the phone (it's kind of like that watch Penny had in Inspector Gadget). There's also a camera on the wristband, so you can snap photos without having to pull out your phone everytime you see something Instagram-able (and then post on Instagram and Twitter by just tapping the small screen, because you can access your apps on the Gear as well). You get regular weather updates, a pedometer that keeps track of all your movements, and even a button that helps you find your phone if you can't find it in the bottom of your bag. Got a genius idea during a night out that you're worried you'll forget after a few whiskey gingers? You can record it all on your Gear. Best of all, it comes in six different colors, from basic black to lime green to rose gold, so you can get one that really feels like you.
We could go on and on with the features, but really the fun is playing around with it yourself--and figuring out how to turn this gadget into an accessory. That's exactly what we did; yesterday our digital team tried out three different Samsung Galaxy Gears, figuring out how to make it work with their own individual style. See what we came up with in the gallery--and get your own Gear starting today for $299.99 each.
Our Associate Web Editor Steff Yotka integrated the black Samsung Galaxy Gear into her "minimal jewelry routine" with her Love Adorned rings and a nameplate necklace she wears as a bracelet.
To complement her Gear in Mocha Gray, our Senior Web Editor Liza Darwin "decided to load up my arm with tons of crazy colored accessories." She did just that, with a highlighter yellow cuff making the biggest statement.
Executive Web Editor Rebecca Willa Davis decided to go with one of the brighter Gear colors, opting for Wild Orange and pairing it with bracelets from