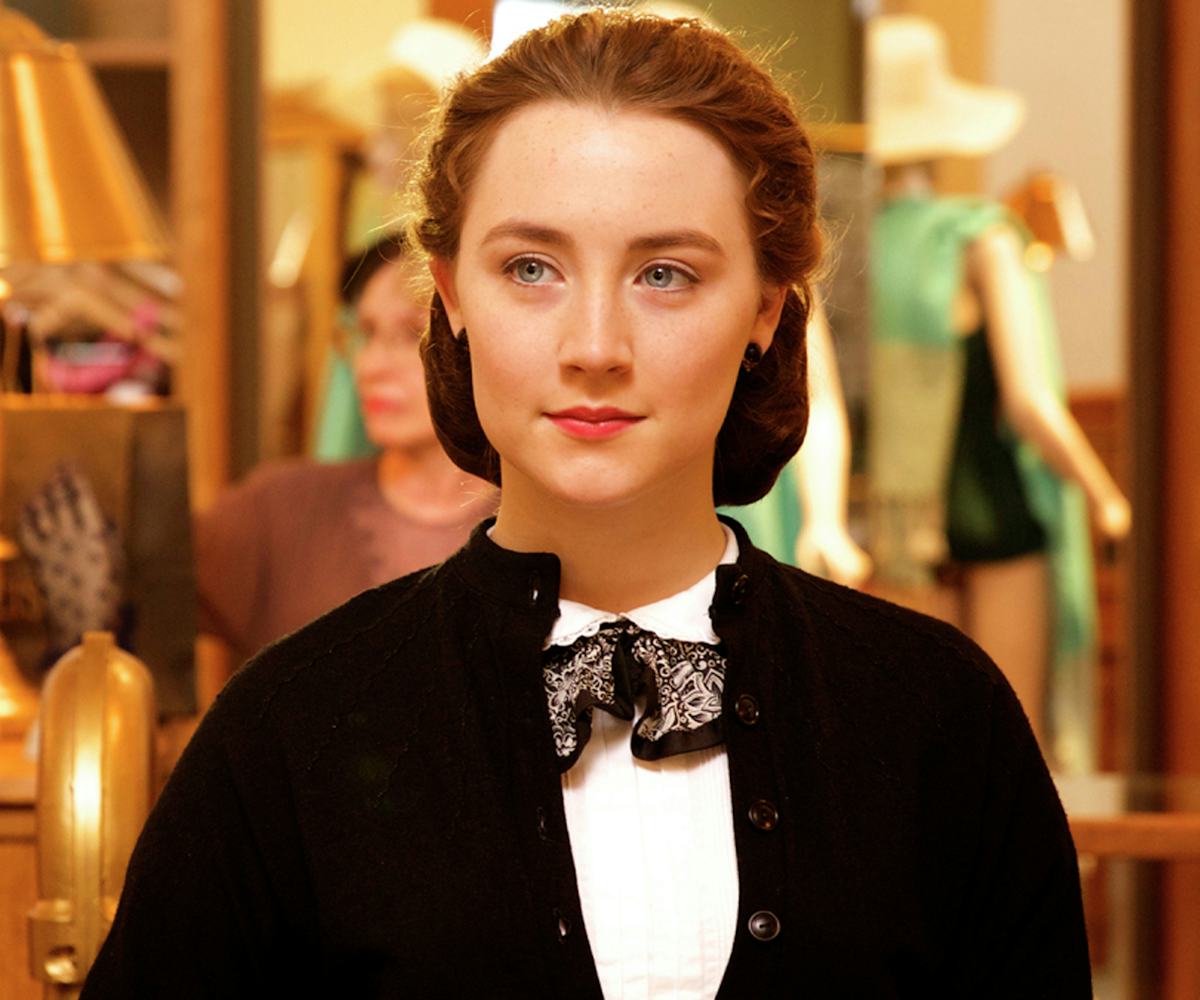 Photo courtesy of Fox Searchlight
Saoirse Ronan Comes Of Age In 'Brooklyn'
The 21-Year-Old On Her Most Grown Up Role Yet
In Brooklyn, which recently screened at The Toronto International Film Fetival, Saoirse Ronan plays Éilis Lacey, a tough-minded Irish girl who immigrates to New York City in search of the kind of opportunity that lured hundreds of thousands of women just like her after the Second World War. What she finds is true love in the form of a plucky young Italian named Tony, played by newcomer Emory Cohen in a star-making turn. But when some unexpected circumstances bring her home, she's forced to choose between the promise of her new life, and the nostalgia of her old one.
It's a mesmerizing, aching, and unforgettable turn by Ronan, who's come a long way since her breakout performance in Atonement earned her an Oscar nod when she was just thirteen years of age. Nearly a decade later, Ronan's name is once again generating major awards buzz, as the 21-year-old actress is finally poised to make the leap from child star to fully formed leading lady. Here, she talks about the difficulties of long distance relationships, her addiction to General Tso's chicken, and why playing an Irish immigrant hit so close to home. 
I really identified with this movie.
Did you?
Well I'm currently in a long distance relationship so the idea of relying solely on letter writing to communicate seems especially hard. Thank god we have FaceTime.
And it's still hard.
It's still hard. Have you done it before?
Yeah.
The scene in which Éilis hugs the letter from Tony was especially  powerful because it was the only piece of him she had.
Yeah, somebody's handwriting as well, is such a personal thing. And you know, obviously you guys can text and FaceTime and all that but everything becomes quite precious and even I know, I found when I was in a relationship like that, you'll have a weekend together and every moment is precious between you and that person.
I imagine as an actress the notion of a long distance relationship must resonate with you because you're always traveling and whoever you're with is probably traveling as well.
Yeah, and it's always going to be that way and you just have to suck it up, but absolutely. It's funny, somebody at home watched the trailer a few weeks ago and he's you know, this fifty-something year old man and he said, "You know I cried at the trailer." I haven't watched the film but I've watched the trailer I'm like 'Stop making me cry!'
Wait, why have you not seen the film yet?
Because it's too close to home. I'm not ready to watch it yet.
When you say 'too close to home,' are you referring to the Irish immigrant experience as it relates to your own family's journey?
Yeah, you're kind of portraying—and I did think of specifically Irish at the time—but it's kind of not. You know, it resonated with you in a very specific way about your relationship, there's been women and men who have come up to me and said, 'My kid's away at college and when I look at Éilis on screen I think of my daughter and my son.' For me, and I've never had this before, but pretty much every single thing that Éilis goes through in this film, I was kind of going through at that time. And it was like somebody holding a mirror an inch from your face and you not being able to look away. You're being forced to look at yourself and it's like, very overwhelming. And sometimes, I just couldn't handle. Everything was kind of pouring out of me, you know? And usually, I'd be able to control that and I like that I'm able to control that but I wasn't, I couldn't do that with this and sometimes I had to kind of take a step back and go, 'Okay hold on a second.' There's a couple times where I just needed to leave set.
Wow.
I've never had that happen to me before. I've heard about actors who have been so taken away with how they feel that they just can't stop crying, or something like that. And then this happens and to this day, I think of Brooklyn and I cry.
Have you seen any of your films?
I have, but apart from Grand Budapest Hotel, I've never enjoyed watching anything that I've been it.
What was different about Grand Budapest?
Because it's just Wes. It's all Wes.  It's so far removed from reality and it's beautiful. And I'm not in it the whole way through, it's Ralph and Tony and you focus on that and you can just about get through my bits.
Are you surprised by how much people love this film?
I hoped that some people would like it, but genuinely, the reaction we've gotten is insane. I never thought that was going to happen. It is a bit of a dream. And when different producers and studios were fighting over our little film after the Sundance premiere...
What did you think?
I was pinching myself! I was sitting there with mom and John was opposite me and we were like 'What? Like, fuck! This is crazy, this is nuts!' I had never been involved in a project from the very beginning up until the point where it's sold and doing press for it and all that. And that's very, very exciting. Anyways, mom's in the audience and we did a Q&A afterwards and we finished the Q&A and everyone who stood up was like, 'This is my story, this is my dad's story.'
And then, a standing ovation.
We got a standing ovation! It was amazing. My mom was in the audience and I saw her and she was looking at me and it was genuinely like, 27 Dresses or something, like My Best Friend's Wedding or something like that. And I saw her and I jumped off stage and I like, ran up to her and everyone else was watching and was like, "Who's she running to?" and I ran up to my mom and we just hugged each other. And she loved it. You know, this was her journey and it meant the most to me that she really felt like we had captured it.
You must identify with the idea of homesickness a lot. First, because you travel and second, because when you're doing these films you establish a temporary family or home. And then it's ripped away from you.
Yeah, I actually don't like change. Like, I don't.
You're in the wrong business.
I know, tell me about it! Once I do, it's fine. Once I've gone, okay, then I adapt and I'm fine. But the whole idea of change to me, even when it comes down to ordering everything off a Chinese menu, I'm like, no!
What's your order?
Over in the States it's General Tso's Chicken, which we don't have at home. And, again, I guess that reminds me of when I was a kid and my dad used to get it in New York when I was a baby and it's just a very familiar thing. But yeah, even going away at the start of this week and leaving home was hard.
Where's home now?
I'm back in Ireland now. I was in London for a year, and I've been back at home for about a year.
Do you feel like you have roots anywhere?
Yeah! In Ireland and I think I will in New York. I move to New York in January.
To Brooklyn?
I can't, because I'm doing a play on Broadway. So, I have to stay in Manhattan. And I'll probably have to stay on the West side. But, I reckon I'll probably have to stay in New York afterwards and then move to Brooklyn.
Have you made a conscious decision to focus on smaller films, like Brooklyn? I know you've been offered roles in much bigger films.
I've auditioned for things but I haven't gotten them.
You auditioned for Star Wars.
Yeah, everyone auditioned for Star Wars though. I was living in London at the time and the couriers were sent to my house and my friends' houses and things like that and we all got our sides and had to burn them and wipe our memory at the end. But yeah, I have auditioned for those big things.
So doing a film like that is something you'd be willing to explore?
If it was the right thing, absolutely. It'd be great to do a bigger film as well, because I've done films that people haven't seen, or they're more of a cult thing but I'm proud and am happy with the way they've turned out—but, you know there's always something lovely about doing something bigger and knowing that people are going to at least see it.
People are definitely going to see this film, even though it is an indie, people will see it.
Yeah, but this is the thing: we didn't know that going into it. So, the fact that it's worked out the way it is, it's like, hallelujah!