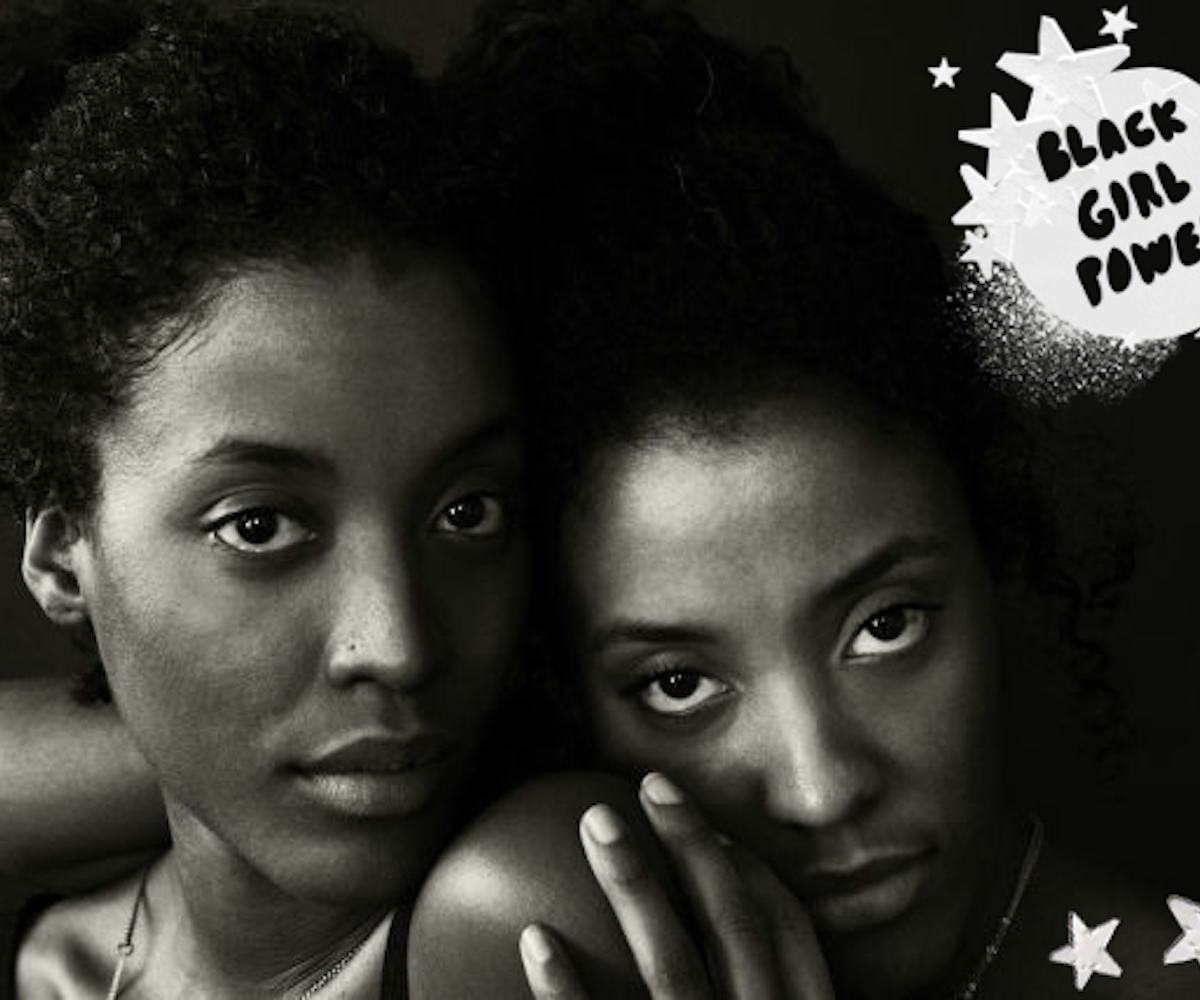 Photographed by Ed Maximus
Sasha And Sable Boykin Are Twinning In Performing Arts
In celebration of Black History Month, NYLON is running a spotlight series called Black Girl Power... The Future Is Bright. Every day, phenomenal black women from different industries will be featured to tell their stories—revealing how they became who they are, showing what they have accomplished, and pinpointing how they navigated their careers. Black women deserve to be celebrated 365 days of the year, and we hope that this series will inspire everyone to believe in the power of #blackgirlmagic. 
Sasha and Sable Boykin are models, dancers, and twin sisters. Born, raised, and based in New York, the twins have been involved in dance since they were children. Having attended performing arts schools, they also participated in theatre and music programs which cultivated their shared interests in drama and acting. Later on, they both fell into modeling and have been featured in music videos, commercials, and campaigns for brands like H&M, Adidas, Facebook, and Reebok.
"I find all forms of artistic expression completely liberating," says Sable. "It's an amazing tool to use as a platform to draw awareness to things I'm passionate about like social injustice, climate change, poverty in America, and feminism."
As expected, the twins work together frequently, but not as often as you'd think. "I prefer working with Sable because it does not feel like work at all," Sasha says. "People assume we do EVERYTHING together and that we get booked for jobs together because we are twins, but it is less frequent than people think. We want to work together more. That gal is my best friend."
"We love working together and actually prefer it. Although people think we work together a lot, it's usually the cool freelance or independent projects that allow us to work together," adds Sable.
Their other interests include activities that align the mind with body and soul, and environmental issues. (All of this can be viewed on their personal website, Bunntyland.) "We love creating, acting, dancing, doing yoga, biking, meditating, cooking vegan food, and traveling," says Sasha. "We especially love these things when shared together or with other people we love. Connecting with all types of people and expanding my mind is what I live for."  
"I really appreciate when I can do work that is a bit deeper than just selling a product or an idea. When I can present something that provokes thought or a conversation about something important, I feel great," says Sable. "We're interested in women empowering other women, young people getting involved in important causes, and in black youth knowing and understanding the power and brilliance they possess and using it in this world where technology and media tell you otherwise." 
Get to know more about these talented sisters in the interview, below!
How do you both maneuver your industries as black women?
Sasha: 
I keep on going. We've received lessons in all types of ways: the hard way, the easy way, trial and error way, failing and trying again way. I've found the only thing that really works is not giving up. Nothing is handed to you until you've worked hard—that's when the things you've wanted start to come your way.
Sable:
I own whatever it is that I do and try to remain as truthful and grounded as possible. Self-confidence and worth are important in industries that are always judging you and where you have to fit into a mold. If something isn't right for me, or if I feel I'm not honoring myself or that I'm selling myself short in some way, I've learned to draw the line and say, 'I'm good enough, I need to do me.' 
Growing up, where did you both look for inspiration? Who or what inspires you now?
Sasha: 
Growing up, I looked up to artists like Aaliyah, Destiny's Child, and Tia and Tamera. We, of course, loved Olsen twins growing up. We also looked up to people in our lives like our mom, our dance teachers, our rites of passage leaders from Spirit of a Woman, and our peers. Unfortunately, there were not as many positive black women to identify with in mainstream media as there are now. As a child that did not see myself in media, I sometimes did not know if I was beautiful or desirable at all. 
One time in elementary school, my sister and I had a birthday party to attend, which our mother took us to. It was for an Indian girl who was the same skin color as us. She liked dolls so my mother bought her a beautiful black Barbie that was one of the limited-edition types. Even though I was a little girl, I had a feeling of unease—I was curious to see how she and her parents would respond to a black Barbie. When our friend saw her, she was ecstatic. She loved it! I saw the sense of appreciation her parents had for my mother. This was a turning point for me. We were the only black girls at the party and our gift was treasured. There was validation that black is beautiful. I was only about seven years old at the time but this memory has stayed with me.
Sable:
I looked for inspiration in my teachers, historic figures, my surroundings, my peers, movies, art presentations, and my family. The most inspiring force to me is young artists, especially young black artists. I want to know where they're from, what they like, their artistic processes, and their mottos and inspiration. I think we all have to possess a resilience, determination, and discipline that this industry demands when you're young, black, and not particularly mainstream.
Could you describe a moment where you both felt like you defied the odds or broke a barrier?
Sasha: 
It is difficult to pinpoint a specific time because I face challenges daily. I once shot a commercial in South Africa, where I got the opportunity to work with many great professionals—most of whom were men. Some of them were put off by my free spirit and unconventional style. I spoke to everyone on set daily, regardless of their position on the project and whether they spoke English or not. I established an open relationship with the director where I could ask questions and speak freely concerning the project, and built a professional relationship with clients. By the end of the project, we felt unified as a team. I gained the respect of the men who found me to be too vocal or even "rough around the edges." This was an interesting and important learning experience for me. It reminded me to stand my ground, be myself, and remember that everything we do has a purpose.
Sable: 
I was being talked down to by a casting director and had to reevaluate my place in the industry a few years ago. Being a model in New York City, you automatically need to have thick skin—models are used to being brushed off and treated like products, human hangers, and trophies. I was infuriated that another human being could verbalize such disgust and disapproval based on my appearance as if I wasn't a living and breathing person. I decided then and there, I was never going to allow someone to dictate my value based on the way I look or because I couldn't fit into their mold. I didn't stop modeling, but I did change the way I went about my jobs and castings from then on. I realized that I didn't need the short-lived validation by companies that value you only for a season or based on what look is hot right now. Self-value and worth needs to be generated from within and needs to last longer. It was a great learning experience. It was liberating and the beginning of a new journey for me. 
How did you grow into your identity? 
Sasha: 
Growing into my black and mixed race identity happened young. I did face times of feeling uncomfortable and like I didn't belong anywhere. Growing up in a diverse community was amazing, but we did not generally see many other black girls or even girls that were 'mixed.' When we would hang out with our girlfriends from Brooklyn, we would pretend to be Trinidadian—which people already assumed because of our hair—and most of them had West Indian backgrounds.
Sable:
I grew into my black identity at a young age too. I grew up in a very ethnically diverse environment where people spoke more than 70 different languages in my high school. Certain encounters, where people from other ethnic backgrounds tried to challenge my blackness or compare it to other black people they 'knew,' really forced me to realize that some people may have thought that I was the exception—the acceptable kind of black or the easy-to-digest version. I've always identified strongly with my black heritage although I am mixed—I am what I am and I'm proud to be me. My parents did a good job in making sure we had outside sources of education, and that when we would pick up books, watch certain programs, and look at our peers in community activities we participated in, we would be reminded and validated of our greatness.