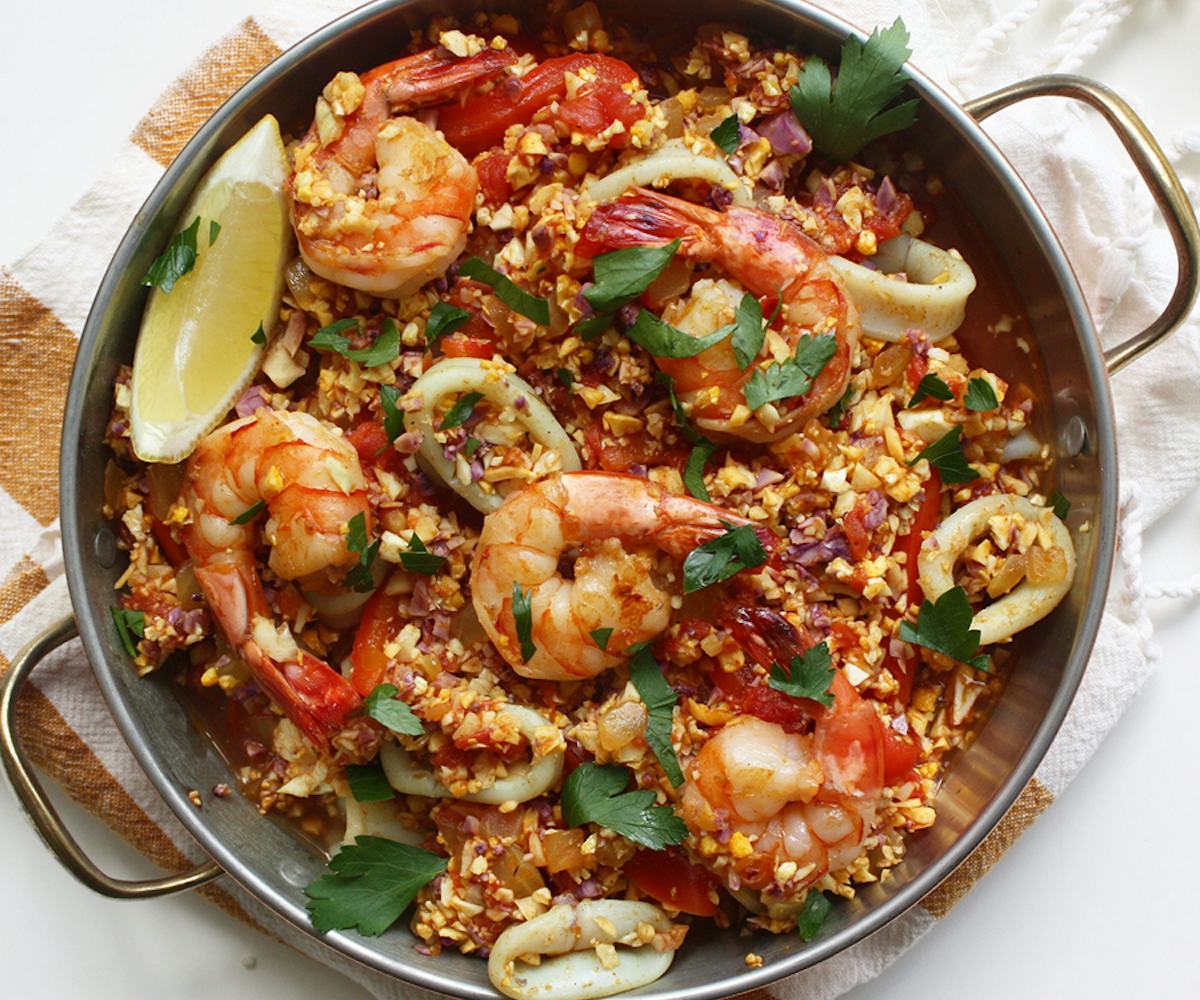 Celebrate July's Buck Moon With This Paella
… and switch rice out for something lighter
Howl if you want seconds.
We eat to celebrate, digging into cake like it's a trophy. (And on some occasions, it's shaped like one.) Ice cream stacks at birthday parties, steak dinners from celebrity chefs on anniversaries, edible underwear at bachelorette parties... the full moon shouldn't be celebrated any differently. After all, you can't howl at the moon on an empty stomach.
Prepare to feel those emotions you can't quite explain on July 19 when the full moon rises. According to the Farmer's Almanac, this moon is dubbed the Buck Moon because that's when our deer friends' antlers begin to sprout.
While we love a heap of ice cream standing guard over a tower of cake and under a shower of rainbow sprinkles, we were pulled toward dinner for this cycle celebration. Full moon feasting calls for something hearty, like seafood paella. Brimming with flavors and packed with spices, this dish paints your palate like a Pollock. There are splatters of refreshing tomatoes contrasted with splashes of smoked paprika. An herb butter smeared heavily over multigrain bread will fix your dairy craving on top of that too.
Make kitchen counters your altar to the moon and spread local produce, grown under its night watch, out over it—tomatoes, cauliflower rice, garlic, onions, peppers. And before you follow any recipe instructions, honor the unwritten but crucial first step: turn your music up. We recommend Edith Piaf's "Non, Je Ne Regrette Rien." Simmering sauce has never felt so epic. Dance and feast in the moonlight with the recipes below. 
Tri-Color Cauliflower Rice Seafood Paella
Serves 4
Ingredients:
3 small heads of cauliflower (white, orange, and purple) or 1 large head, cut into florets (makes about 4 cups)
2 tbsp olive oil
1/8 lb of cleaned squid, sliced into rings
3 lemon wedges, divided
¼ lb of shrimp, shelled and deveined (about 8 shrimp)
1 sweet onion, diced
2 cloves garlic, minced
1 bell pepper, chopped
1 tsp smoked paprika
1 tsp turmeric
1/8 tsp cayenne
1/8 tsp sweet paprika
¼ cup white wine
¼ cup vegetable or seafood stock
2 medium tomatoes, peeled and chopped
salt and pepper, to taste
Parsley, to garnish
Directions:
In a food processor or blender, pulse cauliflower in batches until the pieces are about the size of a grain of rice. Be careful not to over pulse or the cauliflower will turn into powder. It's best to process the cauliflower florets in batches. Once all cauliflower has been chopped into rice size bits, place in a bowl and set aside.
In a paella pan or skillet, heat olive oil. In a small bowl, season squid rings in the juice from 1 lemon wedge, salt, and pepper. Add to skillet and cook until done over high heat, 3 to 4 minutes. Remove from pan with a slotted spoon and set aside.
Add shrimp to the pan and cook until pink, about 1 to 2 minutes per side. Remove from pan with a slotted spoon and set aside.
Reduce heat to medium-high, and add the diced sweet onion to the pan and cook until translucent. Once the onion is cooked and your kitchen smells like heaven, add the garlic and bell pepper. Cook until softened, about 5 to 7 minutes.
Mix in the spices, salt, and pepper until completely incorporated. Add wine, stock, and chopped tomatoes. Reduce heat to medium and let cook until thickened, about 12 to 15 minutes.
Once thickened, add the cauliflower rice and stir in, cooking until soft but not mushy, about 5 to 10 minutes. Mix in the shrimp and squid. Serve with parsley and remaining lemon wedges.
Herb Butter Spread
Ingredients:
1 tbsp herb medley, finely chopped
1 stick unsalted butter, at room temperature
Directions:
Mix herbs of choice into softened butter. Serve with fresh bread or crackers.