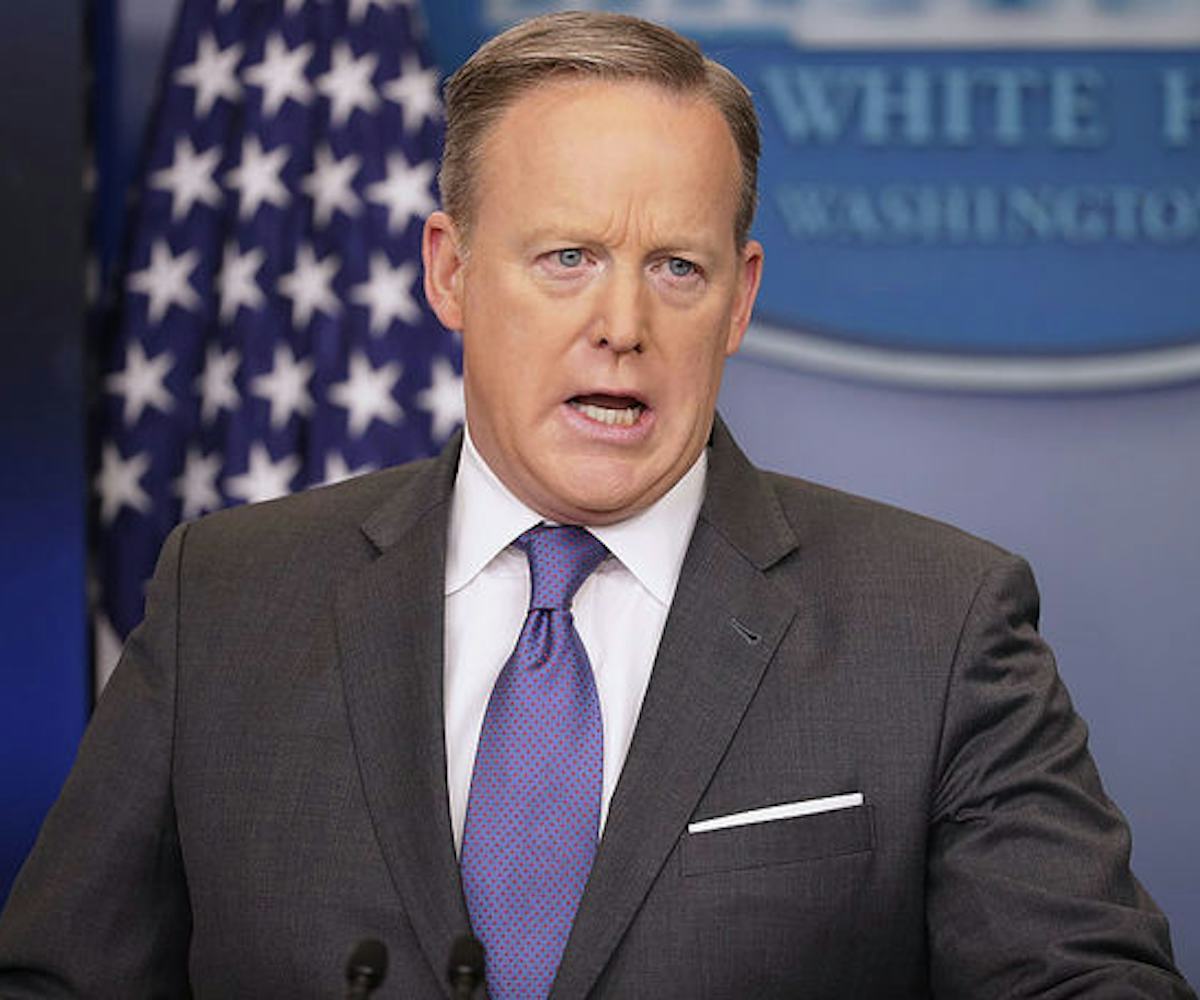 Photo by Chip Somodevilla / Getty Images
On Emmys Appearance: Don't Let Sean Spicer In On The Joke
People were less than amused to see him on stage
The 69th Primetime Emmy Awards had barely begun and already the night's most talked about moment had gone down. During his opening monologue, host Stephen Colbert shocked the audience in the theater, and those watching on television at home, when he brought out Sean Spicer. Just like Melissa McCarthy's caricature of him on SNL, the former White House press secretary rolled out on a podium and made a crack about the size of the Emmys audience. "This will be the largest audience to witness an Emmys, period, both in person and around the world," he told the crowd. Get it? It was a reference to that time he lied to reporters about the size of Donald Trump's inauguration on his first day on the job. Inside the auditorium, people laughed, but there were likely many more people who were cringing on the inside.
Until he was unceremoniously dumped by Donald Trump earlier this summer, Spicer was the literal face of the Trump administration's disregard for the truth. But recently, Spicer, trying to assimilate back into the rest of society, has begun something of an apology tour. Earlier this week, he showed up as a guest on Jimmy Kimmel Live! Kimmel did his duty, by in turns mocking Spicer for his role in the Trump administration and grilling him on the lies he told. But still, Spicer came off as somewhat likable, at least compared to the grim-faced Pinocchio that emerged in the White House briefing room day after day.
But his appearance at the Emmys represented something different. Yes, Spicer was willingly the butt of the joke. But the thing is, the lies that Spicer perpetrated weren't funny. Spicer is the man who sacrificed his credibility and own (presumed) morals for a gig he knew would elevate him to the level of national figure. He correctly assumed that even if he flamed out as press secretary—which he did—there would be huge paychecks waiting for him on the other side, in the form of speaking gigs, book deals, tell-all interviews, or a spot on Dancing With the Stars if he wanted it (he didn't). It's a lot easier to forgive Spicer for the lies he told when we see him on the Emmy stage, laughing at himself while the biggest stars on television crack up at the preposterousness of it all. But some people on Twitter were less amused.
But if Spicer being embraced by those who until now appeared to have shunned him, take some solace in Billy Eichner's report from backstage.
The Sean Spicer you see above is the one you need to remember (and laugh at). Not the one in the tux. Either way, the after-parties should be interesting.