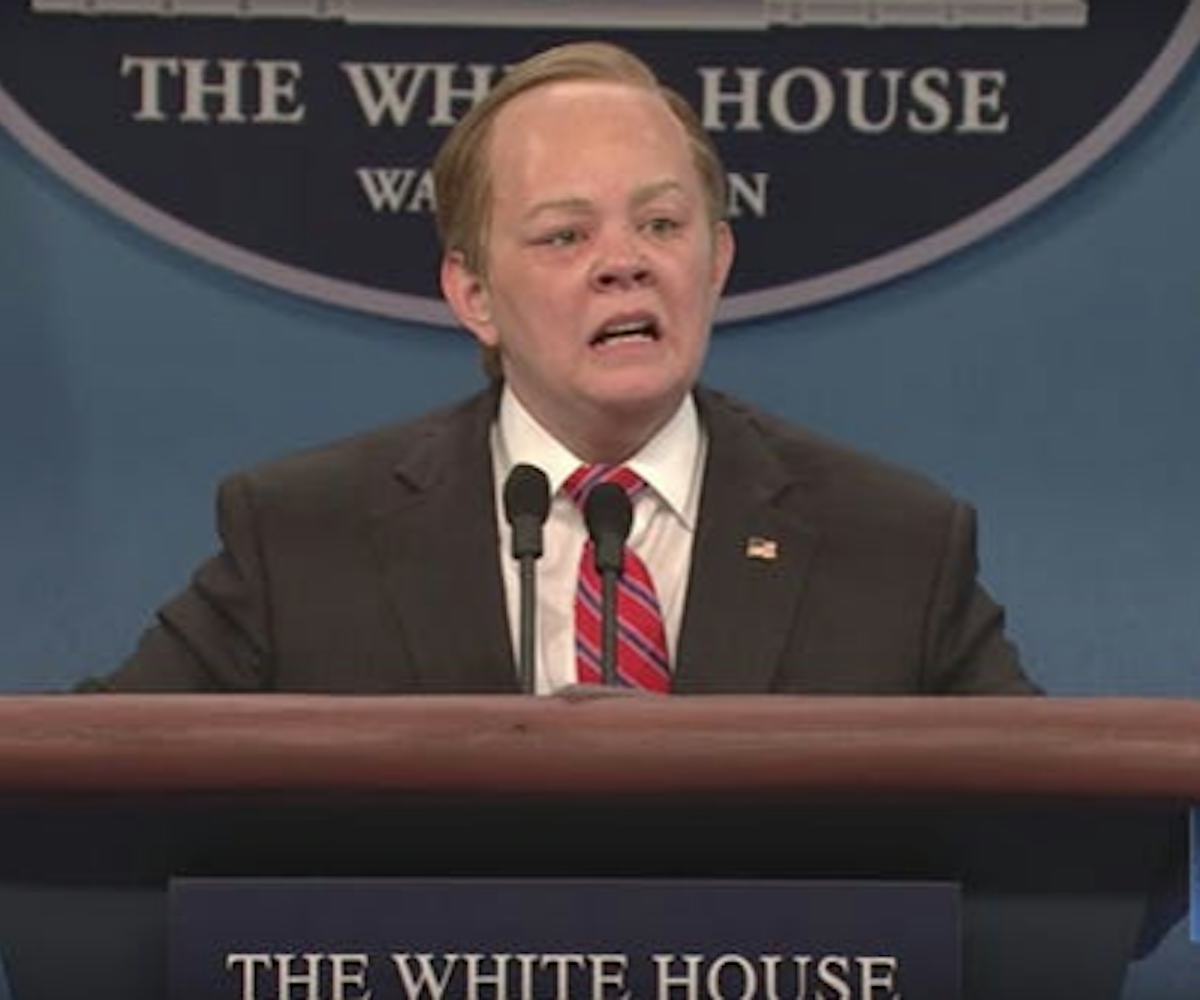 Photo via YouTube/ Saturday Night Live
Sean Spicer Resigned From The White House In Protest Today
No news on how 'Saturday Night Live' will recover
White House Press Secretary Sean Spicer, also known as Trump advisor Steve Bannon's favorite whipping boy, resigned Friday morning from his position in the Trump administration. The New York Times reports that Spicer abruptly quit in protest of "the appointment of the New York financier Anthony Scaramucci as communications director." The timeline certainly does add up. Trump officially offered Scaramucci the job at 10am this morning, and news of Spicer's resignation broke less than two hours later.
The Times says that "the president requested that Mr. Spicer stay on, but Mr. Spicer told Mr. Trump that he believed the appointment was a major mistake." Scaramucci's appointment was opposed by many top Trump advisors, including Bannon and Chief of Staff Reince Priebus, because of Scaramucci's intimate relationship with the Trump family. "Natural schmoozer" Scaramucci has, Politico reports, already been blocked from several other key appointments, mostly because his arrival in the White House signifies a decrease in the influence of current key players like Priebus and Bannon.
And, as is now clear, Spicer. Of course, Spicer's prominence in Washington already seemed to be waning. He had all but disappeared in recent months, particularly since White House briefings started being held off-camera. (When Rosie Gray of The Atlantic "asked why the briefings are now routinely held off-camera, White House chief strategist Steve Bannon said in a text message 'Sean got fatter,' and did not respond to a follow-up.")
Will we miss Spicer? No. He proved himself on Day One to be a lying accomplice to Trump's grandiose ideas of himself when he pretended that Trump's inaugural crowds were the biggest in history. Will we miss Melissa McCarthy's Spicer impression on Saturday Night Live? Actually... still no. We will not miss one single thing about the gradual erasure of all the horrible people complicit in this administration, including moderately funny sketch comedy bits.
Sean, bye.