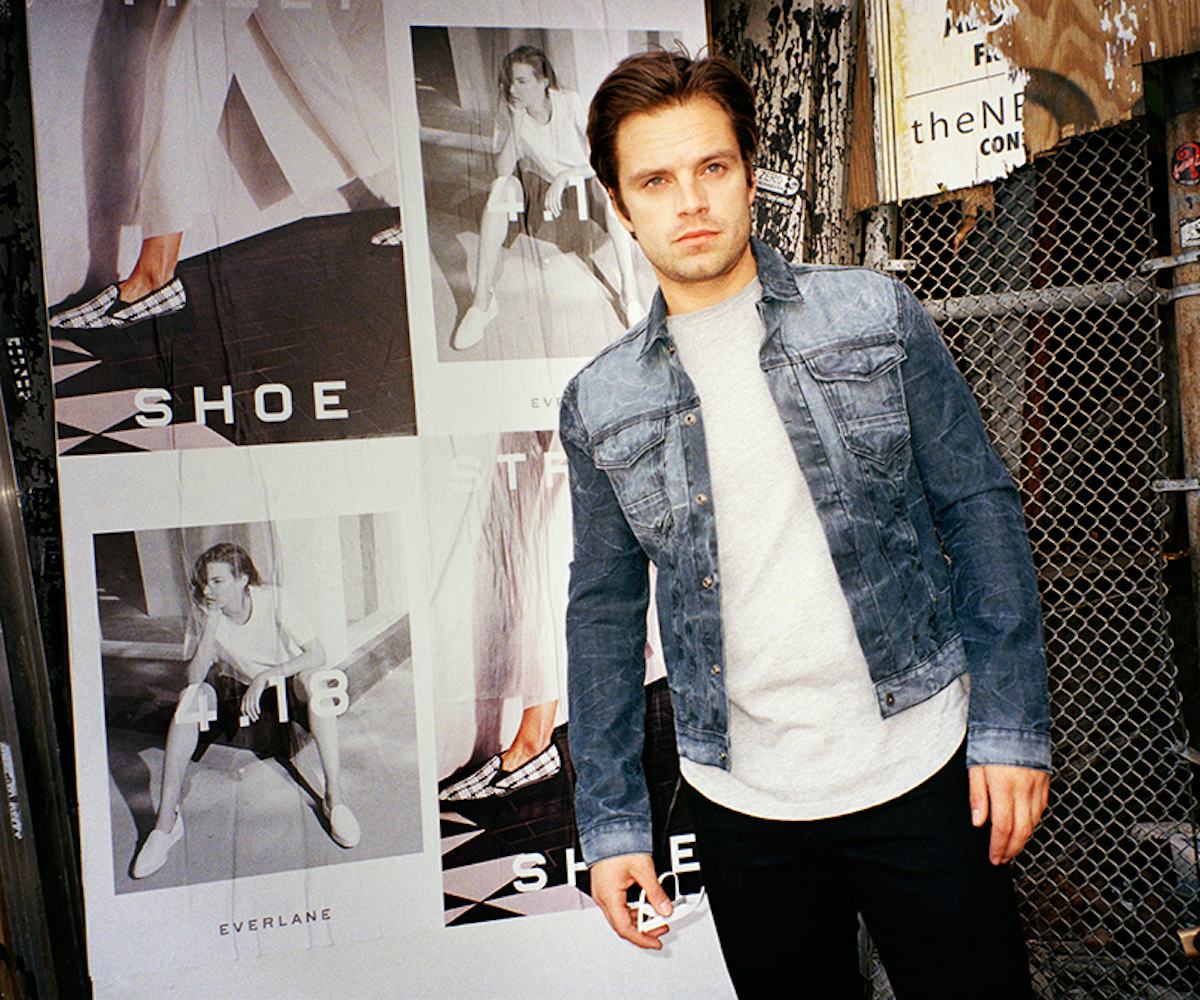 Photographed by Eric T. White
sebastian stan is a casting director's dream
For Sebastian Stan—former villain of
Gossip Girl
, romantic interest in
Black Swan
, ongoing Marvel antagonist, and recent Meryl Streep collaborator—change is the only true constant. He spent his childhood pinging around the globe, from his native Romania to a German-language school in Vienna, before landing in New York's Rockland County.
As we speak, he's on break from filming Captain America: Civil War, which provides a rare opportunity for the actor to relax, and be in one place. And, like the rest of the world, Stan is somewhat hooked on prestige TV. "I can't wait to seeTrue Detective Season 2," he says. "And I really like that show The Slap—Zach Quinto's a phenomenal actor…always showing a different side." But since this Captain America is the third installment of Stan's mammoth nine-film Marvel deal, these respites are becoming fewer and farther between.
Stan's road to superhero stardom really began in Rockland County, where for the first time the actor could finally establish roots. "[Moving all the time] was like being in a horror movie," he says sardonically, his intense tenor trailing off into a laugh. "Maybe that's a bit of hyperbole. I mean, I feel really blessed to have had that background," he continues, "but back then it was really difficult. You want to be like everybody else, you know, fit in. There was a time when I was switching schools just about every year until I landed in Rockland."
Despite the turbulence, Stan's ambitions have been unusually constant: He's always been the performer type. "I was a crazy kid," he says. "I loved doing impressions at gatherings for family friends or whoever was around."
When he was a child, his mother encouraged him to go on auditions, and the prodding bore early fruit. "I just realized I was actually in a Michael Haneke movie," he says. "They were looking for a kid to play a Romanian orphan, I guess, and I got that part. I was maybe 10 years old." 
Still, it wasn't until he arrived in the States that Stan buckled down and devoted himself to the craft that's winning him so much attention and so many high-profile jobs these days. 
"When I was maybe 15 or so, sophomore year of high school, we did Cyrano de Bergerac—our drama teacher called me over the summer and told me I had to play the role. It was sort of a weirdly long and intense play for the age group," he says, chuckling, "but those days jump-started everything."
By the end of high school, Stan was already going into Manhattan, doing auditions, and taking the train back to Rockland. In college, he was landing small gigs, including one in that New Yorkiest of launching pads: a Law & Order episode.
Soon he was making his Broadway debut opposite Liev Schreiber, in a revival of Eric Bogosian's Talk Radio, an experience that set the tone for Stan's impressive, and increasingly tested, work ethic. "I learned a lot from watching Liev every night during rehearsals and the run of the show," he says. "You can't take anything for granted; you show up every day, no matter what's going on in your life, ready to work opposite someone who's gonna be there 150 percent."
Stan, steeped in the theater, can wax poetic, and slightly nostalgic, on the subject: "There's a different kind of motor behind it, an engine. You're part of something that's been around far longer than you. When you step on that stage, you've gotta have respect for all that's come before."
That training—performance after performance, come what may—has served Stan well in the high-stakes world of Marvel blockbusters, where he's getting comfortable, and quickly. "At this point I'm spoiled," he says. "It's a nurturing environment, a lot like a family. The movies are always engaging, always engrossing, and only getting better and better." 
Perhaps the clearest sign of Stan's arrival in the big leagues is his upcoming appearance opposite Meryl Streep in Ricki and the Flash, the story of a deadbeat-mom-cum-rock-star attempting to reinsert herself into her family's life.
"It was a 'pinch yourself' experience," he says of working with Streep. "It's one of those things…you never know a person's process. I still don't know if I met Meryl Streep or Ricki, you know?"
Besides the brush with Hollywood royalty, the film was a foray into new territory for Stan, whose role as Ricki's soon-to-be-married son, Joshua, was a step away from his usual billing. 
"I've never really played a character like that before," he says. "He's the oldest of the three siblings, and he doesn't wear his emotions on his sleeve, despite all the turmoil that's gone on in his family. I'm usually cast as the guy who's, like, emotionally damaged, with those feelings closer to the surface."
But again, if Stan can handle anything, it's change—and he knows there's plenty of it in his future. "It's certainly informed who I am today," he says. "I'm always moving, always on the road, always something new."