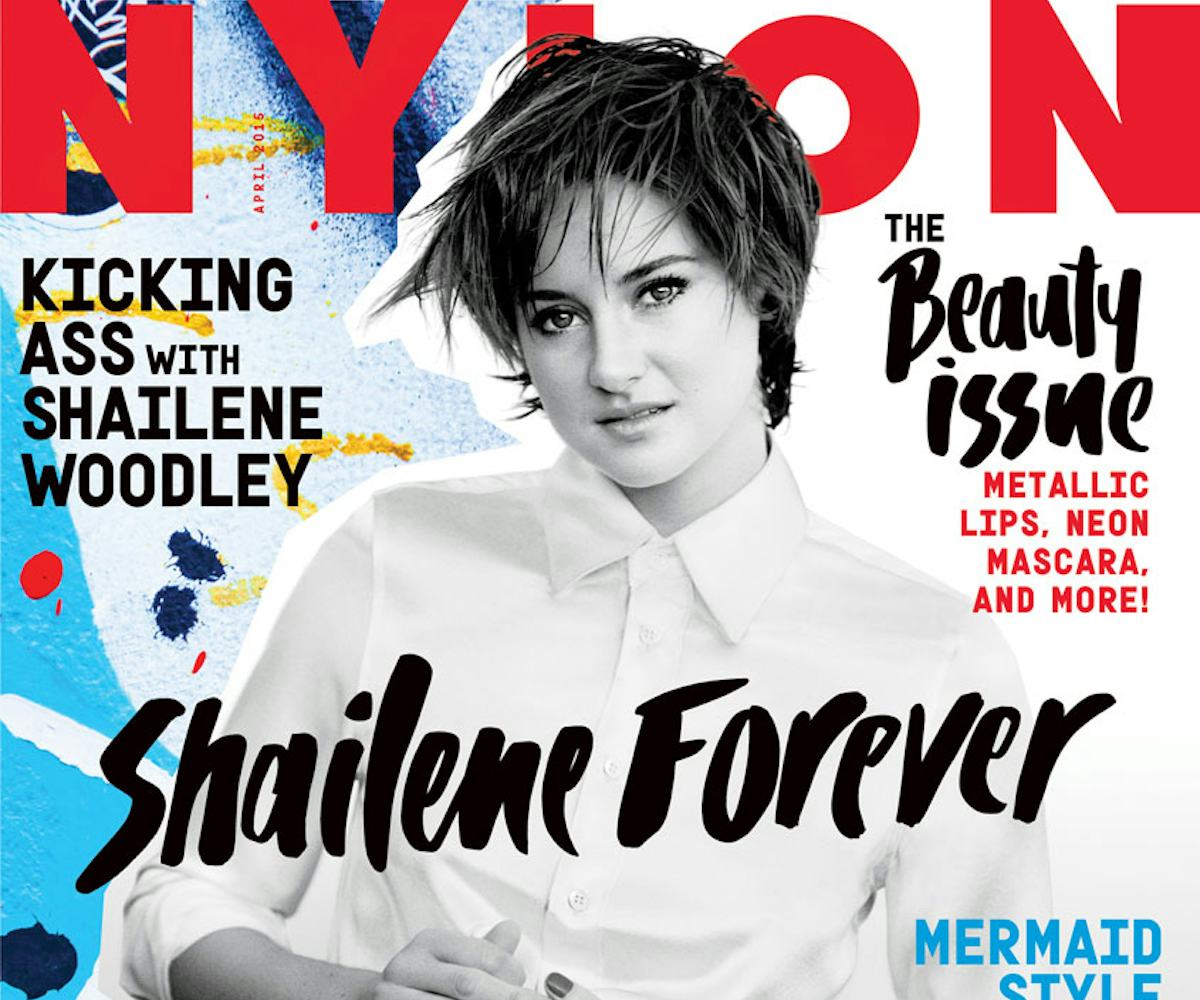 Photographed by Hilary Walsh
shailene woodley is our april cover star
Shailene Woodley is our April cover star, and if there's one thing we've learned from our time with her, it's that she's literally the coolest. The short-haired, sisterhood-loving actress is everywhere right now, thanks to the hype around the upcoming release of Insurgent. But based on her talent, brains, and unique, tomboy-chic style, Shailene is poised to be a Hollywood mainstay. All this despite the fact that she once called acting a hobby, saying she'd walk away if it ever become a career. When we asked if she feels the same way now, she said, "It's still just a hobby, just something that I live and breathe to do."
In our cover story, Shailene opens up about The Fault in Our Stars and Divergent, telling us about her experiences playing the instantly iconic characters Hazel Grace and Tris. Here's what else to look forward to in our April issue.
On her career path: "Two years ago it was very easy for me to understand and also emotionally tell the story of a 16-year-old, and now, I feel like I could not tell that story as truthfully because I just can't empathize with it. I'm not there on an emotional level anymore."
On playing Tris in the Divergent series: "Tris was not born a superhero, but what I love about her is that you can watch her progression into a strong young woman. Whenever I go back to playing Tris, I feel like, yes, I'm going back to Tris, but I am also going back to Shai and who Shai was in 2012, and who she was in 2014. If I hadn't changed, it would be easier...but the last two years have been very powerful for me. I'm starting to empower myself."
On why Tris is important: "When fear comes knocking on her door, she doesn't run away—she stands up to it…. And I thought that was a really beautiful message to be sending out to young women."
On not identifying as a feminist: "The reason why I don't like to say that I am a feminist or I am not a feminist is because to me it's still a label. I do not want to be defined by one thing. Why do we have to have that label to divide us? We should all be able to embrace one another regardless of our belief system and regardless of the labels that we have put upon ourselves."   
On media scrutiny and celebrity culture: "I mean, if we spent as much energy focusing on the genocide that's going on right now in parts of Africa as we spent on that one article, think about what we could accomplish. Change is not going to come from focusing on the small things that actors say."
Click through the gallery to check out the beyond-gorgeous photos from the story, and don't miss NYLON's entire April issue, out on March 31, 2015.