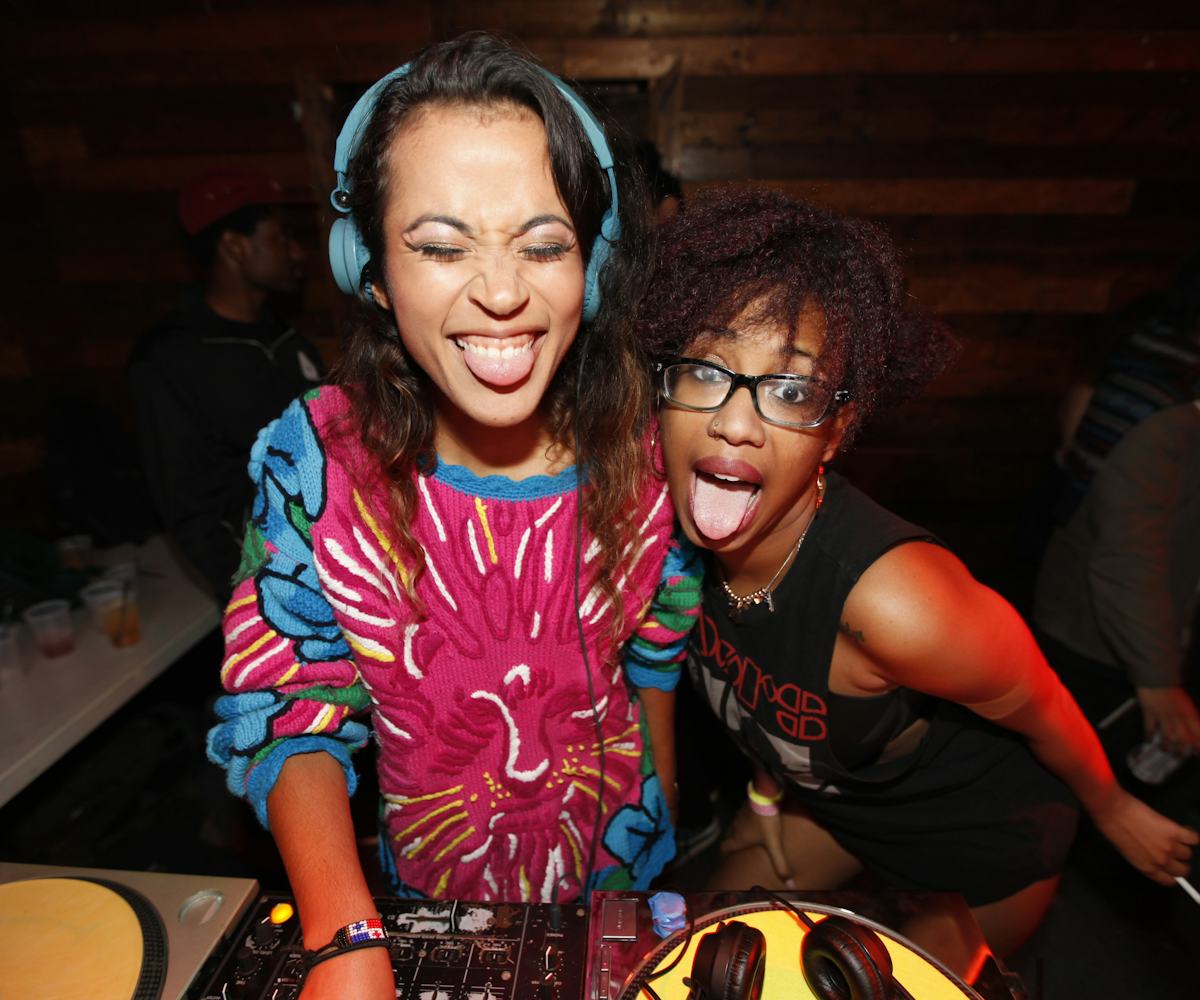 Photo by k1k0
Body Positivity, Twerking, And Safe Spaces: How Orlando's Shake 'n Bass Is Redefining Nightlife
"When people twerk, it's not an invitation for sex, it's a big fuck you to rape culture"
On a usual Sunday night, after any day drinking, dinners, or movies have been taken in, most return home to slumber in preparation for... sigh... Monday. Where others are tucking in, a tiny Orlando, Florida, bar called Backbooth instead prepares for the maddening frenzy ahead. Come 11pm, the doors are thrown open, chest-shaking bass is flipped on, and bodies begin accumulating about the innocuous brick front, thrusting out their arms for wristbands. Over the next four hours, Shake 'n Bass will be thumping to everything 110bpm and under, packed with sweaty bodies grinding, twerking, and kicking their heads back for tips of booze straight from the bottle. If you think this sounds like every average club outing, we wouldn't blame you. Except, it's not.
"I remember a few months ago a man was literally bouncing his head on this lady's ass," says Alessandra Roper, aka Ma-Less, one of the founders of Shake 'n Bass, "and I got on my hands and knees to get next to her, and asked her, 'Are you okay with him doing that?' to which she replied, 'Oh my god girl, fuck yes!'"
While Roper, along with Samisoni Koroitamudu (Big Makk), Michael Khan (Dr. Khan), and David Rodriguez (K1K0), initially started Shake 'n Bass as a tropical bass night with a firm no-judgment zone, the event is now equally famous for being a safe space for women to dance, and perhaps more specifically... twerk. Every Sunday, attendees hop in front of the DJ booth in short shorts, cropped tops, and sneakers, ready for the workout ahead. They twerk without abandon, often in crews, and often on each other, with thighs, hips, and buttocks proudly on display. In other clubs, this behavior might be condemned by peers, lead to unwanted touching, or be flat-out banned by staff, but Shake 'n Bass will have none of that, thank you very much. "I feel like creating a safe haven was just the right thing to do," says Roper. "I know, for me personally, I would've felt less inclined to dance if I was being groped by the people around me, and I feel like the people on stage felt that way too. So with respect to that, we just rolled with it. We talked to security and everyone was on the same page." She pauses, then emphasizes, "The person twerking is in control. They say if they want to be touched or not and who gets to touch them. I want to add that groping, slapping ass, and grinding still happens but we stress that it has to be consensual."
Consent is a word that unfortunately is still often muddled when partying (and especially liquor) are involved, and clubs can be a minefield for women to navigate, with every thrust of the hip or locked eye gaze seen as a beckoning invitation for male attention. "I always hated the feeling of going out and having to deal with guys basically thinking you're their prostitute for the night because you're twerking," says regular Jalissa Diz. Shake 'n Bass bucks this trend, in no small part due to Roper and the rest of her team. While there's now an implicit understanding with patrons, every once in a while a hand reaches where it shouldn't, and Roper is swift to admonish, order security for a quick escort out, or as she did a few months ago, get down on all fours to ask a girl mid-twerk if she needs assistance. She's even been known to text attendees the next day to check in on them. No wonder everyone nods in agreement when asked if they feel comfortable there.
"I know that when girls are on that stage—even if they've never danced a day in their life—for that moment they feel confident." Diz's face lights up as she explains. "Listening to people hype you up and cheer you on makes you almost feel like Beyoncé. Sometimes, making yourself happy is one the most self-respecting things you can do."
The call of confidence from being cheered on is an obvious perk to Shake 'n Bass' atmosphere, as is the act of reclaiming twerk—a swaggering, thrusting dance that is definitely a core workout—as a stroke of empowerment rather than objectification. Lest you roll your eyes at this second note, what happens off stage might be more convincing than what happens on it. Dancer Sonny Sosa was shocked her first time attending the night. "Instead of females sneering and judging, they were smiling and patting me on the back showing mad love. Instead of dudes trying to touch me and get out of hand, they complimented me and showed respect." Roper seconds this. "I think what people need to understand is that when people twerk, it's not an invitation for sex. At Shake 'n Bass, it's a big fuck you to rape culture in a way because we're basically telling the world: I can be sexual but that doesn't mean I want to have sex or I want to have sex with you. We all understand this, and the people who come to Shake 'n Bass understand this, and they respect that. If they can't understand this, we kick them out."
Another regular Leah Sharma notes that while the environment within Shake 'n Bass is supportive, it doesn't shield from the rest of the world, which often wedges in opinions once the night's photos splash across the internet, ripe for crucifixion. "I've often been called a whore and a slut for dancing at Shake 'n Bass," she says. "But we don't do it for attention, and we don't do it for anyone but ourselves. It empowers us, it gives us self-confidence and self-esteem." Though no one is ever safe beyond the cultivated safety of an immediate community, regulars note that they hope the philosophy causes a ripple effect over time. "The people who just don't get it are removed," says attendee Ginery Jimenez. "No one ever likes to be excluded, and that's typically when you start to question yourself. Like, 'Oh, what did I do wrong? Why don't they agree?' These people will eventually all be excluded from those who have progressed, and realize what value we have. It's only then they'll question themselves and, hopefully, grow as well."
As Backbooth continues to bump, clap-centric 100bpm anthems laying the soundtrack for a pile of sweat-laden bodies with lower ends higher than their fronts, they're changing the way women feel about dancing, their own bodies, and boundaries, one beat at a time. Roper reflects on how Shake 'n Bass has affected others: "We don't care about what you wear or don't wear, we don't care about who you sleep with, we don't care about age. Whoever walks in that door is treated equally." Her voice pauses and gets softer as she's touched by a memory. "I can recall overhearing a woman in bathroom, and she said, 'I love Shake 'n Bass because I feel like it's the only place I can go to and be proud of my big hips and my big, big butt!' I almost started crying tears of joy because that's exactly what we're striving for."
If you want to try your hand on stage, Shake 'n Bass is held every Sunday night from 11pm to 2:30am at Backbooth, 37 W. Pine Street, Orlando, FL 32801. For more information, visit their Facebook page.