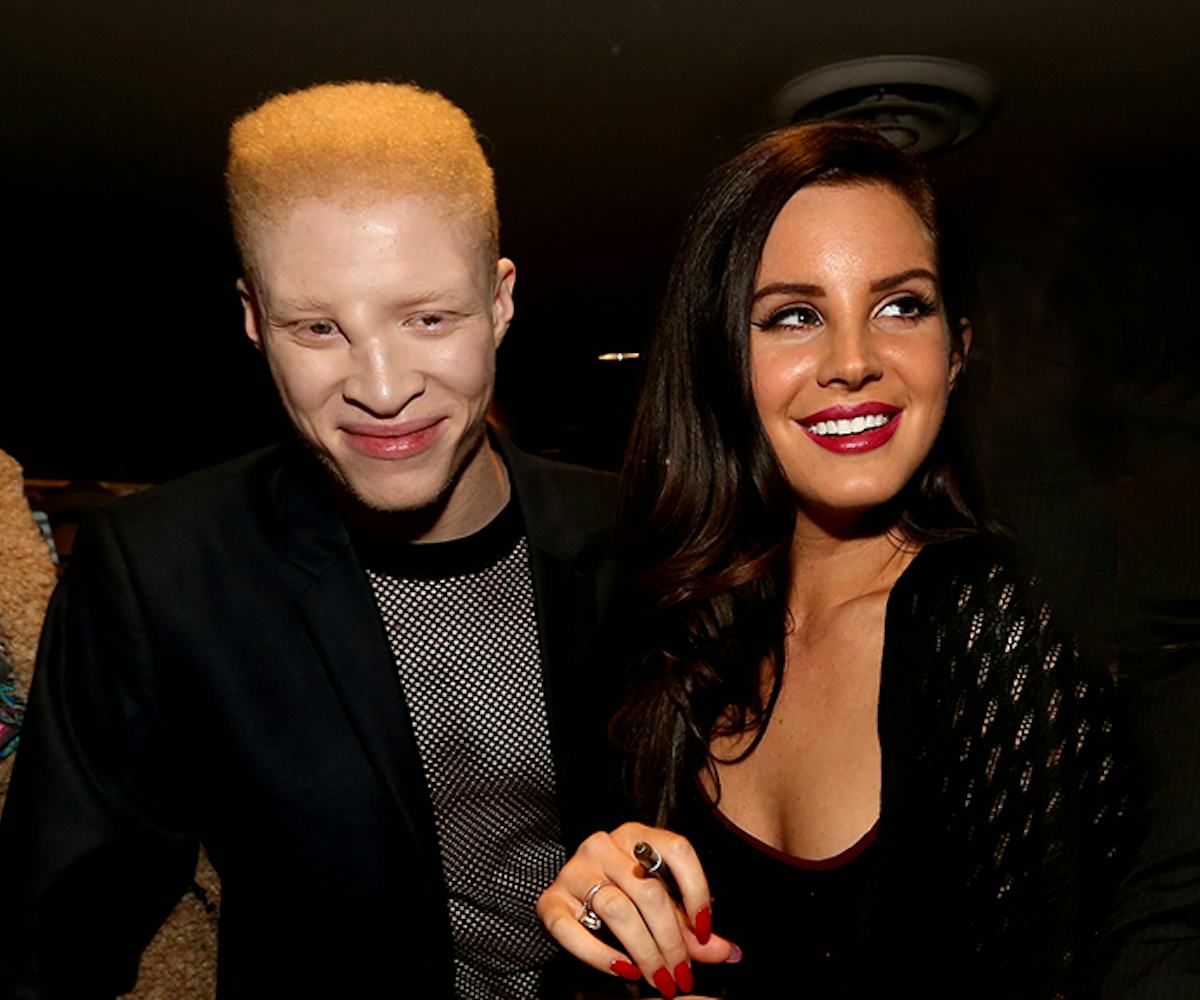 photo by getty images
the insider: shaun ross
meet lana del rey's tropico co-star.
Throughout Tropico, Lana Del Rey's debut short film, you'll be captivated by many things: the cinematography, the slo-mo shots, the beautiful costumes, Del Rey's piercing stare, her dream-pop songs, and her companion throughout the movie's four vignettes, Shaun Ross. A model by day (who you may have seen posing with contestants on the most recent season of America's Next Top Model), Ross was discovered by Del Rey via a mutual friend and became her muse for her modern fairy tale. 
We got the opportunity to chat with the albino model this morning. He called us from Art Basel in Miami to talk movie making, embodying characters, and, of course, working with our favorite musical enigma. Read on for Ross' take on the film below, and if you haven't seen it yet, watch Tropicohere. 
How did you get involved in Tropico?
My friend Tala Yasseri is the owner of her own company called The New York Issue, which specializes in event planning and I have always spent a lot of time around her. Tala introduced me to independent fashion photographer Naomi Shon, who was revamping her site with new content. So Naomi and I shot together twice, and the second time we shot was a very Compton-inspired shoot. I never knew until after that shoot that Naomi is good friends with Lana Del Rey. Later on Lana saw the shoot and said,  "This is the aesthetic I want, and I want to use him when I film Tropico."
What was the process making the film like?
Filming Tropico was very unreal at times because it is only a dream to be on such amazing sets. The energy always comfortable on set, with everyone from Lana to Mandler.
What was it like to work with Lana Del Rey?
Working with Lana was impeccable in every way possible. She is such a sweet person. I did not know what she would be like, so I was nervous, but after I met her I was like, "She's like my homie from back home." She is very into people giving her insight and judgment and super open to learning new things. I loved filming with her, she is so easy going and humble
Did you get a lot of insight or direction from Del Rey while filming?
I actually did get a lot of insight from Lana. She taught me how to play a character I didn't think I had in me.
How would you describe the environment on set?
The set was so cool in every way possible. I loved it every day I was there. The staff was so kind, and even the production was just impeccable.
How did you get into the different roles you portray throughout the film?
I honestly don't know. I like to say that I am a chameleon who can adapt to any setting.
The costumes are amazing. What was the process of working with the costume designer like?
Well Johnny Blue Eyes, Lana's stylist, is the one who styled me, and he was super cool and had a vision that he made come to life in such a short time. We tried many options for different scenes, but he knew what he was doing, which is why we looked amazing.
How would you describe Tropico to someone who hasn't seen it yet?
Cinematically phenomenal.