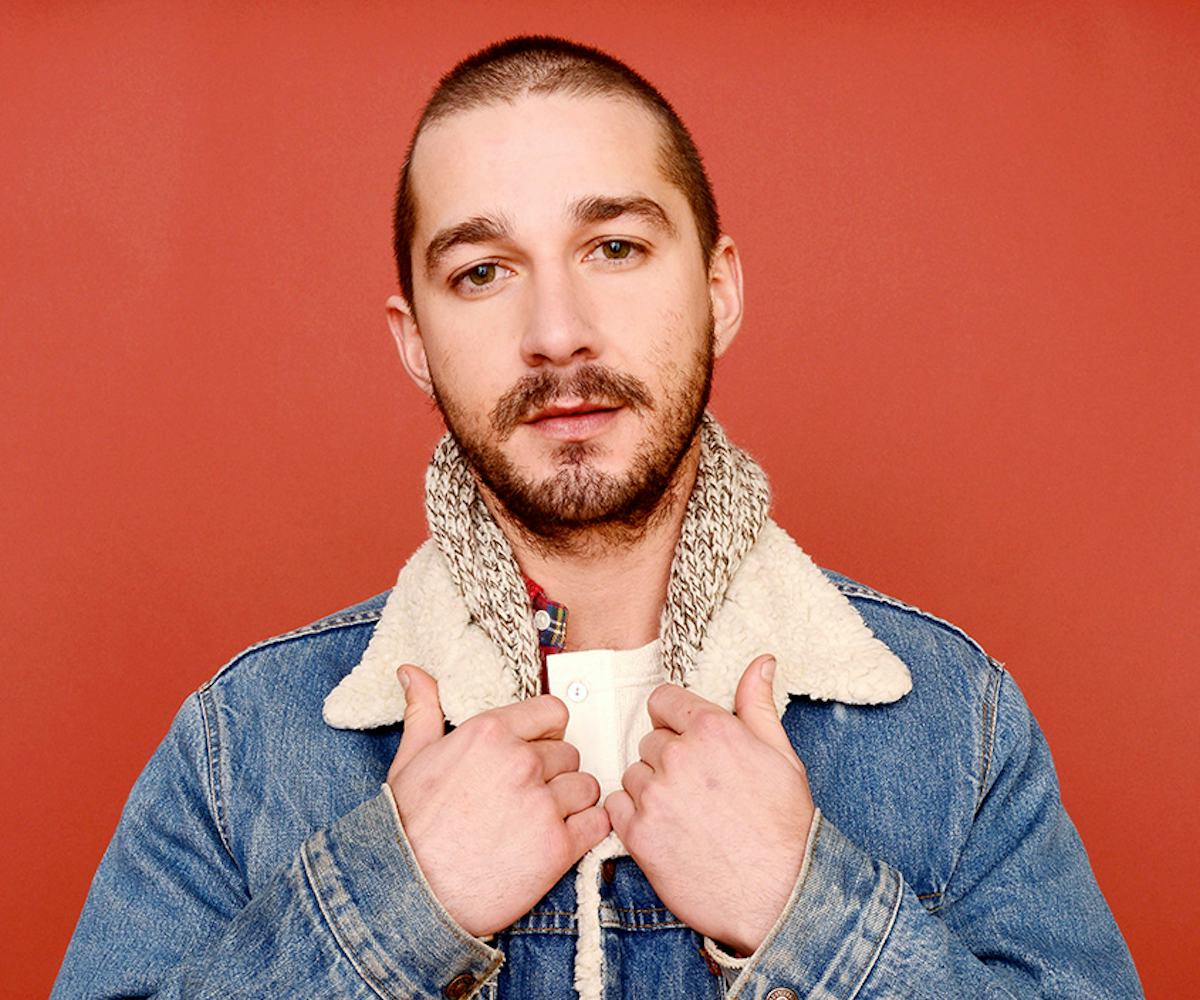 Photo by Jason Merritt/Getty Images
Shia LaBeouf's First Interview About #AllMyMovies Is As Bizarre As You Think It Would Be
"Making pizza can be an art."
When it comes to the self-aware, artistic celebrities of our time, there's nothing more entertaining to us than reading their thoughts in an in-depth interview. Last week, Shia LaBeouf gave New Yorkers the opportunity to watch all of his films with him in a special art installation titled #ALLMYMOVIES. It was the experience of a lifetime—Shia laughed, we cried, and everyone fell asleep at some point. This week, LaBeouf presents the first interview about the project conducted by artistic collaborators Rönkkö and Turner. The actor discussed how #AllMyMovies helped him deal with unsettled feelings of loneliness and self-loathing, and how he hopes to break down barriers in the art world. 
Turner: Someone walked up in the gallery we were in today and said, "Hey, are you Shia?" And normally every time we're together, it's like "No, no, no." But for the first time ever today, "Hey are you Shia?" "Yeah."
LaBeouf: I would never claim my name. And today, it's just something different. It's as simple as that. And it's not through the thought it's just "that's me" and I'm cool with that. It's the first time really in my life, before the other shows, because all of the other shows never changed my coffee order name. This shit changed my coffee order name, which in turn, changed my sense of self.
On becoming an artist, LaBeouf insisted that anyone is capable of doing it because anything great can be art. "You're not born an artist, or everyone is. You're not born an actor, or everyone is," he said. "It's about drive, a dedication level to this very specific thing... Making pizza can be an art." LaBeouf further elaborated on the moment he fell asleep, which was his genuine reaction to watching the shittiest version of himself.
"I think it started after Lawless. When the movies started getting shit. I'm telling you. When the movies started getting shit and they knew that I felt it too, it was the shared secret that we all had…Not just because I'm in it…I'm in the same boat as you, I'm a viewer in this and this is hard for me to watch, too. In fact, I'm gonna go take a nap 'cause I hate myself, not 'cause I'm tired, but because I'm dying right now. And nobody had a problem with that. When I woke up an hour later and watched Transformers 2, they could feel when I sunk in my seat. That's not a performative thing. That's me going through some kind of crisis. And I'm not the only one. I remember right before I fell asleep, I looked next to me and the guy next to me was falling asleep. You can see it on the screenshot, we're both asleep. And the guy behind us is asleep."
Overall, LaBeouf actually makes some solid points, but we can't help but think that he might study the wise words of Jaden Smith during his down time. We look forward to watching his next performance-art piece in whatever form it might take. We'll end this with LaBeouf's own words: "I walked out loving myself."