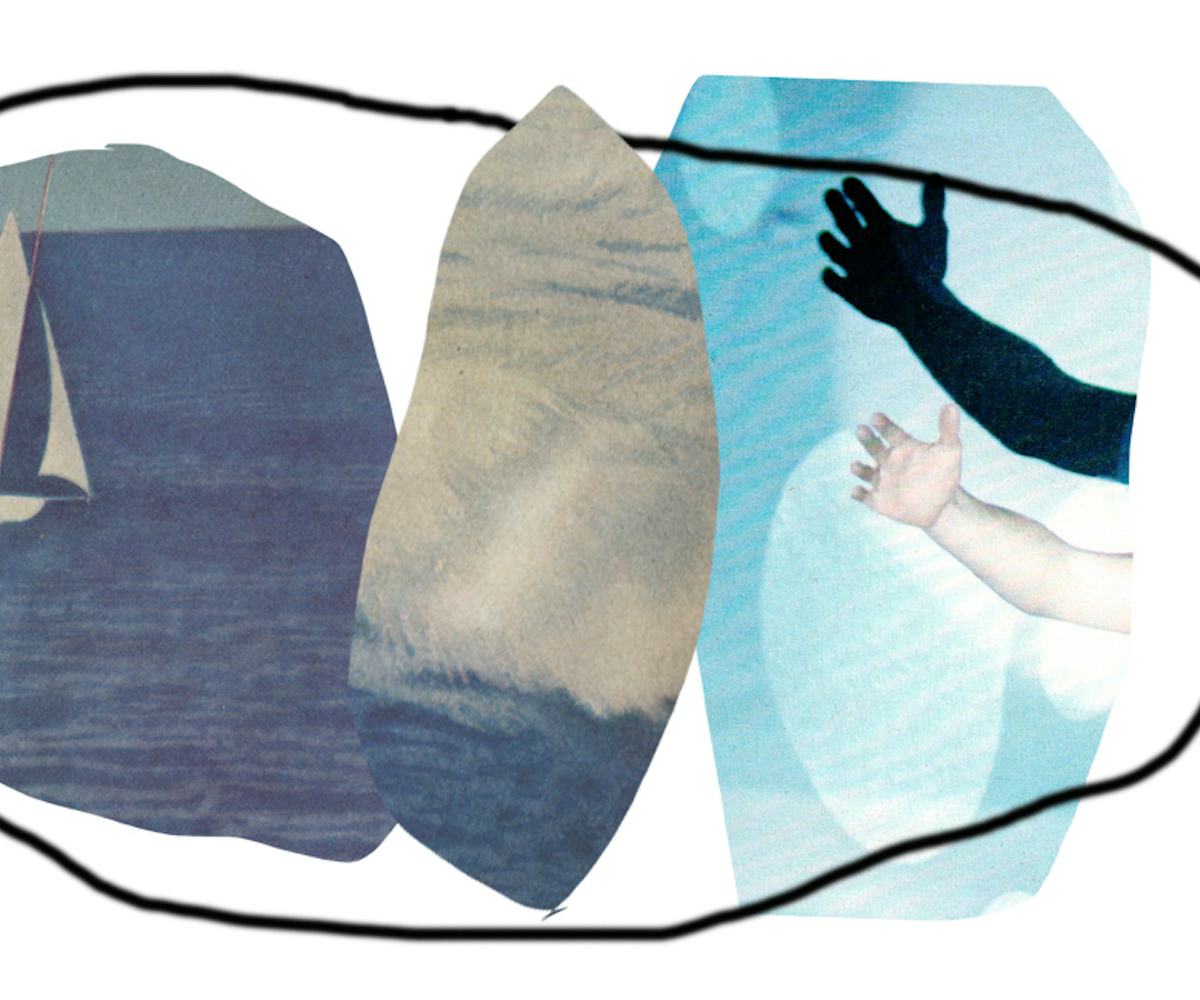 Two Days In The Valley Of Shibari And Sexual Healing
How rope play allowed me to release my shame about sex
I didn't know what to expect when I walked up to the house in Agoura Hills, California, where I would be staying for the weekend. Well, I knew that I would be getting suspended with ropes, in a practice known as shibari or erotic rope bondage. I knew I'd be working through my shame around sex. But still, the weekend felt like uncharted territory, and I was the explorer discovering it.
When I found out Alexandra Roxo, transformational mentor and filmmaker, and Blue, a shibari teacher, performer, and founder of Vox Body Studio, were leading a retreat around shibari and sexual healing, I knew I had to be there. Not only had I been itching to try shibari and explore that kink, but, like almost every other person on the planet raised in a patriarchal society, I also hold shame around sex. This weekend promised the chance to escape my hectic L.A. life and find my way back into my body. From 7pm Friday night to 10am Sunday, I would be unplugged from the world and plugged into my body, my sacred chakra lit, and ready to face my shame head-on.
Alexandra led workshops in which we would lie on the floor, breathing into our hearts and wombs. We were told to make noise and feel our bodies. While this kind of language might sound silly to some, there is a deep healing at play when working within this simple practice. Coupled with partner work that allowed us to melt our walls and guards, we were learning to trust each other and ourselves.
"With my background of acting and directing, I saw a lot of us not fully living in our bodies and feeling our feelings because society has told us that's actually not okay," Roxo tells me. "It's not okay to scream; it's not okay to break a plate; it's not okay to cry uncontrollably. All these things, since you can't do them in public, you start stuffing them away, and then we harden." 
And this hardening happens when we separate our feelings from our bodies. It happens when we ignore our shame instead of recognizing that it's part of our story. When I came into the retreat, I was expecting to learn how to heal. But the thing is, as Roxo explains, we can't—or, at least, it's not as simple as merely erasing our problems. "[Sexual healing] doesn't mean you solve it or rid yourself of your shame. It means that you start to play with it, like clay that you mold. This shame that you're holding, you can make art with it, whether it's a poem or photograph or a new moon ritual." It slowly becomes a practice of embodiment, of recognizing how you feel internally instead of just in your head. During the course of the workshop, I was able to see this firsthand.
Being so present in your body and in your feelings is intense; after my first workshop with Roxo, I was more in my body than I had been in a long time. The combination of breathwork and partner work called for total presence. So when we had our first tying workshop right after, I was already ready, present in my body, excited to learn about and feel the rope. 
Though I'd been to a shibari class prior, it was nothing like the practice led by Blue—perhaps, because she is female-identifying. This class felt safe and comfortable, and I was able to feel safe and supported as I learned some basic shibari skills. But the actual learning was only one part of it. I was also experiencing connection between partners, an energy exchange. It all felt just as powerful as the work I had been doing with Roxo. "I value technique in rope, communication in rope, and energetics in rope," Blue tells me. "Because, to me, all three weigh in equally when you're tying with someone. If we get too focused on the technique and forget the energetics of connecting with someone, and the communication of listening to each other, then we're missing a whole chunk of what rope bondage is." As for what that actually is, well, "rope can be whatever you want it to be," Blue explains.
Working with rope is a way to further connect with and explore our bodies, allowing us to feel safe. This was the external work that mirrored the internal work we had done with Roxo. By working both sides of the coin, you start to feel comfortable and protected in your own skin.
And with shibari, specifically suspension, you're able to let go and immerse yourself fully in the present. There is no option but to surrender to the person tying you up, and to your own body and breath. It's like any other physical activity people do, whether yoga, skydiving, running, all of which people do to feel this sort of intense presence and surrender. As Roxo says, "In the world we live in today, there aren't a lot of places where, as women, it's totally safe to let go."
I experienced this personally Sunday morning when I had my suspension with Blue. I had an idea of what to expect: I would be tied up, rather tightly, and hung from her rig in some slightly contorted position. Before we began, we both sat together and breathed. I connected to my heart, my womb, my pussy, and then gave myself permission to let go. Blue helped connect me to myself; her energy was soft, loving, compassionate, and I felt held and cared for as she started to tie my hands behind my back. During the process of tying, Blue checked in with me, making me squeeze her hand to make sure my nerves weren't compressed. She'd hug me, use her hand to guide the rope around me, and generally just gave me a sense of well-being and love. It was one of the most care-filled experiences I've ever had. And when I was finally in my suspension, face down, hands tied behind my back, and left leg pulled in, I understood what Roxo meant. When you're suspended, you either let go completely and surrender or you miss the magick of being in your body during such a physically intense moment. And while it may seem like you're not in control during this moment, it's quite the opposite.
Blue tells me, "The person being tied is really the one with the voice, they're the ones who will call the scene indefinitely." It was in recognizing this power dynamic that I was really able to surrender; I knew that no matter what, I was safe and that my voice and comfort was a priority.
After 45 minutes, the process of being tied, suspended, and taken down was over. All of a sudden, I was in my body again in a familiar way, and I felt everything. Later, when I slipped into a bath with fresh rose petals, I felt myself melt even more. I was able to feel the embodiment work I'd been doing all weekend in real time, and I was able to better recognize my feelings from my body, and not just in my head.
For me, rope was as much spiritual, as it was physical. It was a way for me to get back in my body and to explore this edge in a safe way. But that doesn't mean that's what rope is for everyone; it is still a kink, and that's something that needs to be honored. "There's a lot of erotic elements to it," Blue says. "I don't want to take away that this is also a kink, and someone may explore it like that. I don't want to pretend that that's not part of it."
By the time I was done with my bath, I had one final circle with Roxo. After I shared my story, we closed the container for the weekend; the work was done. I'd had a weekend of talking about shame, BDSM, kinks, sex, being tied up, more talk about shame and sex and embodiment. I left a more complete person than when I entered.
If you're looking to learn about your body and spirituality in relation to sex and kink, I couldn't encourage you more. Other great ways of getting into your body would be taking five minutes a day to just lay on the floor and breath, free write, scream, punch pillows, or dance around naked. And in regard to BDSM and kink, reading, listening to podcasts, taking classes, and exploring with a partner are all valid ways to learn. You can also join Moon Club, an online monthly mentorship and ritual community led by Roxo and Ruby Warrington, and take classes with Blue at Vox Body Studio. No matter how you explore, I hope you do, and I hope you feel safer in your body because of it.