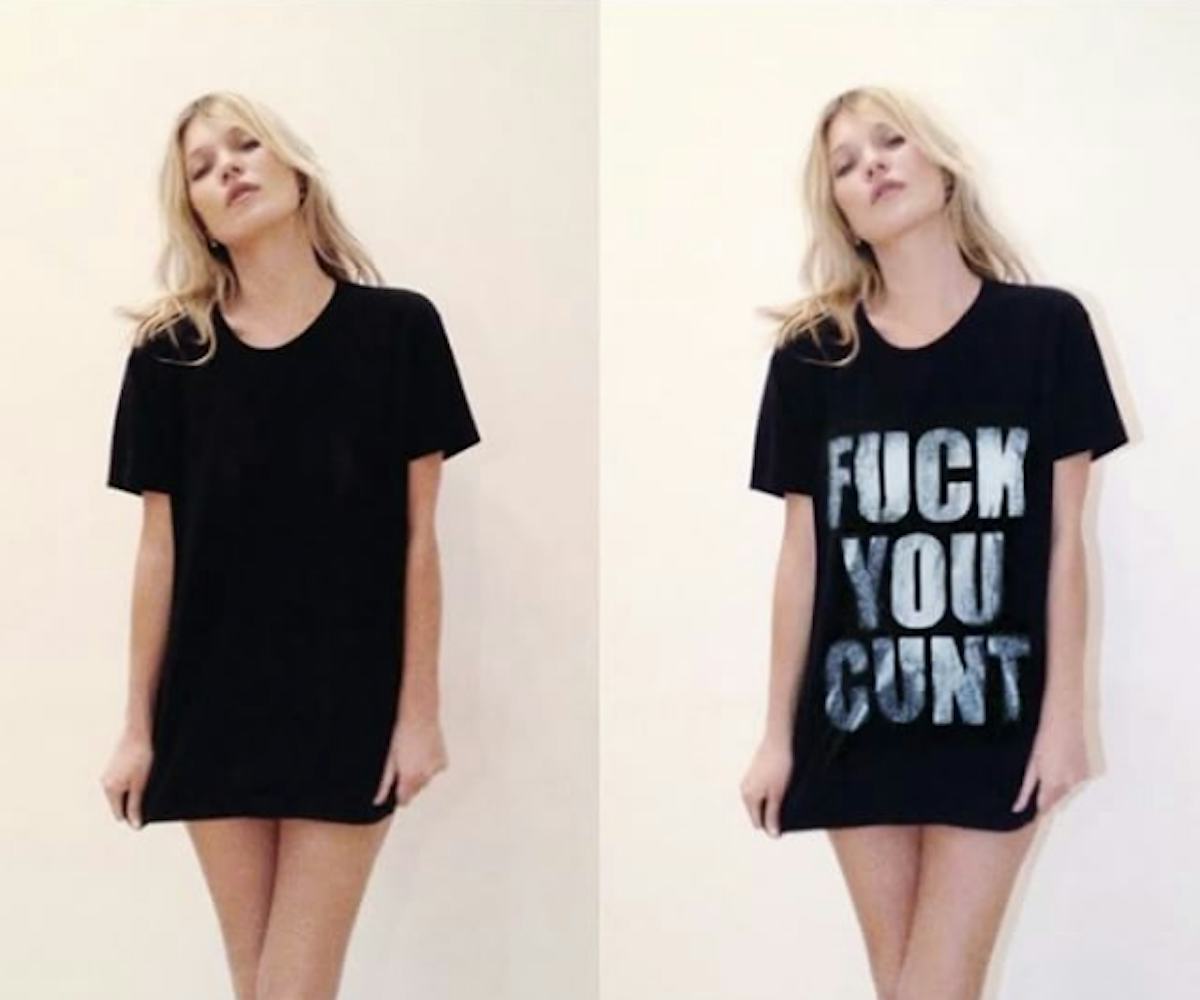 Photo via @showstudio / Instagram
This T-Shirt Hides A Message To The Paparazzi
For all the poor celebrities who can't catch a break
It's no secret that celebrities are forced to surrender much of their personal freedom and privacy to the hands of nosy paparazzi who make it their mission to document every move they make. We can only imagine how mentally and emotionally taxing it can be to constantly be hounded by cameras and flash, so the Director of SHOWstudio and fashion photographer Nick Knight decided to do something about it.
Knight collaborated with model Kate Moss to showcase a T-shirt, titled the ANTI shirt, that displays a very special message for the cameras when the flash goes off. The ANTI shirt appears to be a simple black T-shirt until it gets lit up by flash, and reveals "F**K YOU C**T." Moss, who models the shirt, seems like the natural choice to be part of such a project, as she's been chased and harrassed by paparazzi all her life.
"The idea for the shirt came from the sense of outrage I felt after seeing footage of a pack of male paparazzi pursuing, hounding, and terrorizing Kate Moss and her baby daughter at LAX airport in Los Angeles to the point where they reduced her to hiding under her suitcase as they relentlessly photographed her. The ANTI T-shirt says loud and clear what was probably on her mind," Knight says of his design.
And though most of us aren't suffering this vile invasion of privacy in our own daily lives, Knight gives us the option of purchasing the ANTI shirt for $80 at SHOWstudio. Throw it on for a night out to channel your inner Kate Moss, and send your friends a cheeky little message when they check their pictures the next day.