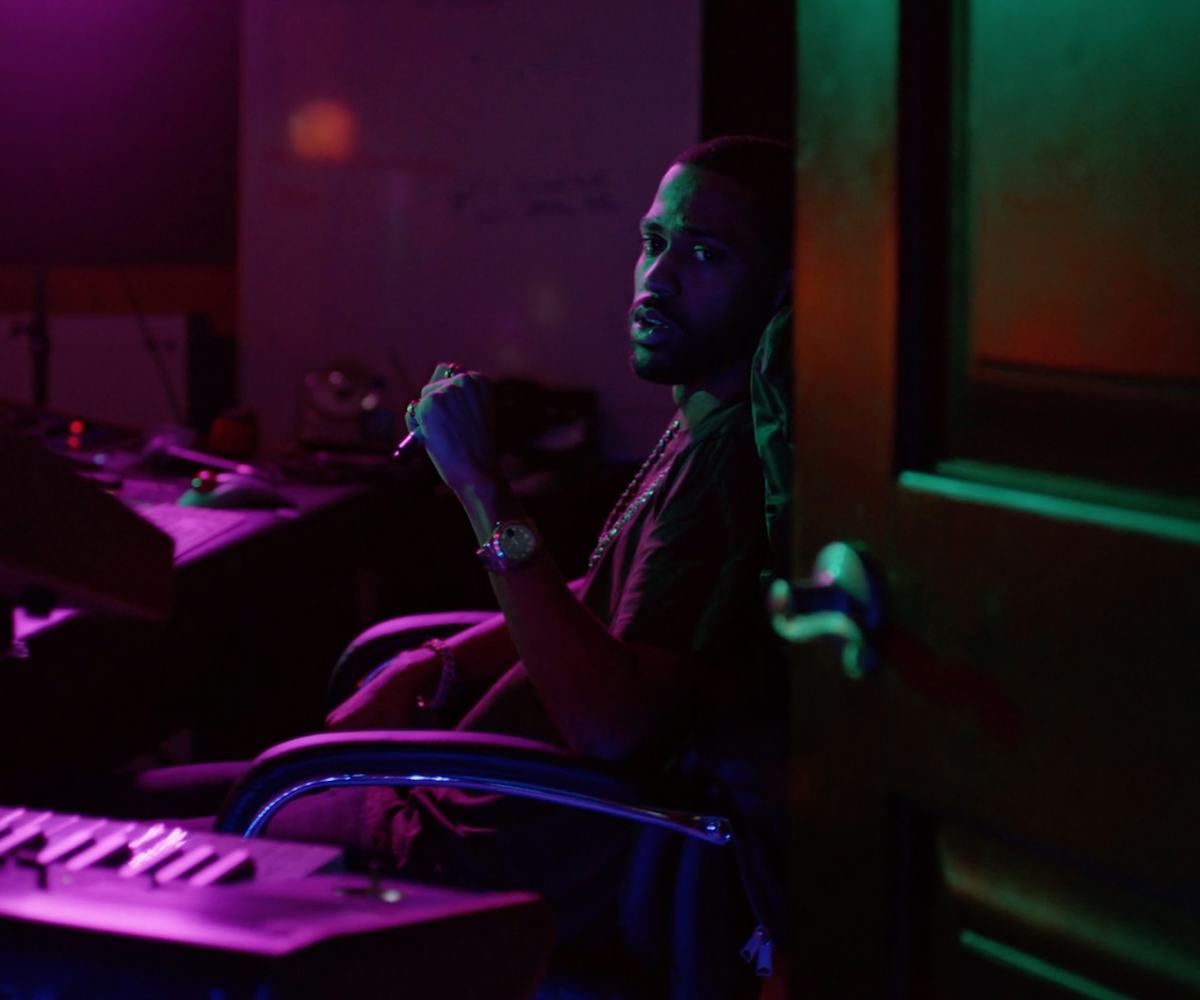 Photo courtesy of Signe Pierce
Artist Signe Pierce Takes Us Behind The Scenes Of Big Sean's New Video
Signe Pierce shares all the pretty little details
Neon, fluorescent lights in hues of pink, purple, and blue are the visual calling cards of self-dubbed "reality artist" Signe Pierce, clearly seen in the stunning spread of Pia Mia Pierce shot for NYLON last year at The London West Hollywood. Pierce is also starting off strong in 2017 with two solo exhibits lined up overseas at Nathalie Halgand Galerie in Vienna and Annka Kultys Gallery in London, as well as participating in the Spring/Break Art Show in New York next month, "overseeing the general aesthetic" of a new nightclub in NYC, and collaborating with Big Sean on some sick visual work for his "Halfway Off The Balcony" music video.
"Overall, I want to spend this year pushing myself, my work, and my mediums to hit on some new peripheries and hopefully reach some new audiences," Pierce says. "The political situation in America has got me thinking a lot about the ways that art can serve as a vessel for information and inspiration, so that's really what's at the forefront of my mind."
We reached out to Pierce to find out how she got involved with Big Sean and what her experience was like working with one of the most underrated rappers in the game right now. Read about it in the interview, below.
Why did director Andy Hines specifically reach out to you about getting involved with this visual?

Andy reached out to me on Instagram a few months ago, basically just saying that he was a fan of my work and my use of color and was looking for a cool project that we could collaborate on together. I loved the videos he did for Juicy J and Kanye West's "Ballin" and Kali Ulchis' "Loner," so it seemed like we could be a good match. On top of that, he directed Big Sean's video for "One Man Can Change The World," which won the 2015 VMA for Best Video with a Social Message, so I was honored to be involved in a collaboration that had already proven itself to be award-winning and awesome. I really have to say how much respect I have for Andy for reaching out to collaborate with me on this as opposed to just dragging my photos onto a mood board to be ripped off and appropriated. He was so open to hearing my ideas and finding ways to implement them into his vision, and I'm super thankful for the opportunity.
What made you want to be a part of this project?
I'm a serious music lover and have always had ambitions of working with talented music acts to collaborate on something that mixes their sound with my vision. I've always said that in terms of art-making, sound and vision are BFFs with each other. When I do installations or videos, sound and music are a huge part of shaping the atmosphere and vibe of my work. Same goes for musicians—the visuals should match the sound that the artist is working with. I've always known that my aesthetic style would lend itself nicely toward rappers/pop stars/electronic musicians, it was just a matter of waiting for the right collaboration to come along. I've regarded Big Sean as being one of the most talented lyricists in the game for a minute, and when I saw that he was working with a lush, colorful palette for I Decided, I leaped at the opportunity to work with him.
Could you tell me more about the aesthetic for the "Halfway Off The Balcony" video?
The album art for I Decided has been curated around the use of colorful light juxtaposed with common settings, which is something I do a lot with my photography. We wanted to accentuate the visual style that Sean and his team were already working with for the video. To me, it's sort of about combining fantasy with reality, beauty, and banality.  It's about taking common scenarios and elevating them to be something fantastical and dreamlike.
Andy and I worked with his longtime cinematographer, Jeff Powers, to create the overall color casts based off of some of my photography. It was my job to implement lighting into the details of production design.  I kept saying that I was using "lights as props," aka using lights to add detail and decoration to the set design. A few core examples of this can be seen in the way that we lit the phone booth with neon and LED edging, or how we made the plants glow on the side of the house.
The palette for the video seems like it's very on-brand for you. Did you have a lot of say in the creative direction for the visual?
I would say so, yes. Andy used a lot of my photography in the treatment for the video, which conveyed the overall look that we were aiming to achieve. We used those photos as jumping-off points for the types of shots we wanted to get. In my photography, I often play with water, reflections, shiny surfaces, neon plant life, and puddles, which were some elements we wanted to incorporate into the video.  
When discussing the overall look, I had been emphasizing how important it was going to be to get some shots with wet streets, so that we could have light beaming and reflecting off of the roads. I'm super DIY with my photography, so I figured we'd just take a hose to the street or something, but it ended up requiring a huge truck to spray down everything. I think this was a testament to how awesome it was to work with Andy—he took my harebrained ideas and inspirations and did whatever it took to make them a reality.
You were primarily responsible for the light design and aesthetic direction, so what exactly went into that? 
In the case of "Halfway Off The Balcony," I was specifically employing parts of my personal visual aesthetic and eye to help create the fantastical world that Andy was seeking to create. "Aesthetic direction" is a term I've officially coined to describe the type of work I keep getting asked to consult on, which largely involves my use of color, lighting, and obsession with optics.
The definition of "aesthetic" is (1) concerned with beauty, or the appreciation of beauty and (2) a set of principles underlying and guiding the work of a particular artist or artistic movement. As a visual artist, I'm continuously inspired by the ways that we can use optics and light to convey and create beauty, be it in a reflection or a camera zoom or in the shadows of an object. Aesthetic design is a way of exporting my artistic style and eye to work with other clients, be it for music videos, interior design, a party or event, or even just for general artistic/branding purposes. It's a way of sharing my vision with others.
What was working with Big Sean like?
I really enjoyed working with Sean on this. We only interacted with each other during the two shoot days, but he was super cool and down to let Andy, Jeff, and I do what we had to do to make it look beautiful. I've always respected Sean for the incredibly witty wordplay and layered jokes he writes into his raps. He's just super funny and intelligent, not to mention down to earth. I have a great respect for the way that he speaks humbly and earnestly about his success and how thankful he is for it, whilst also building up other people, both old and young.