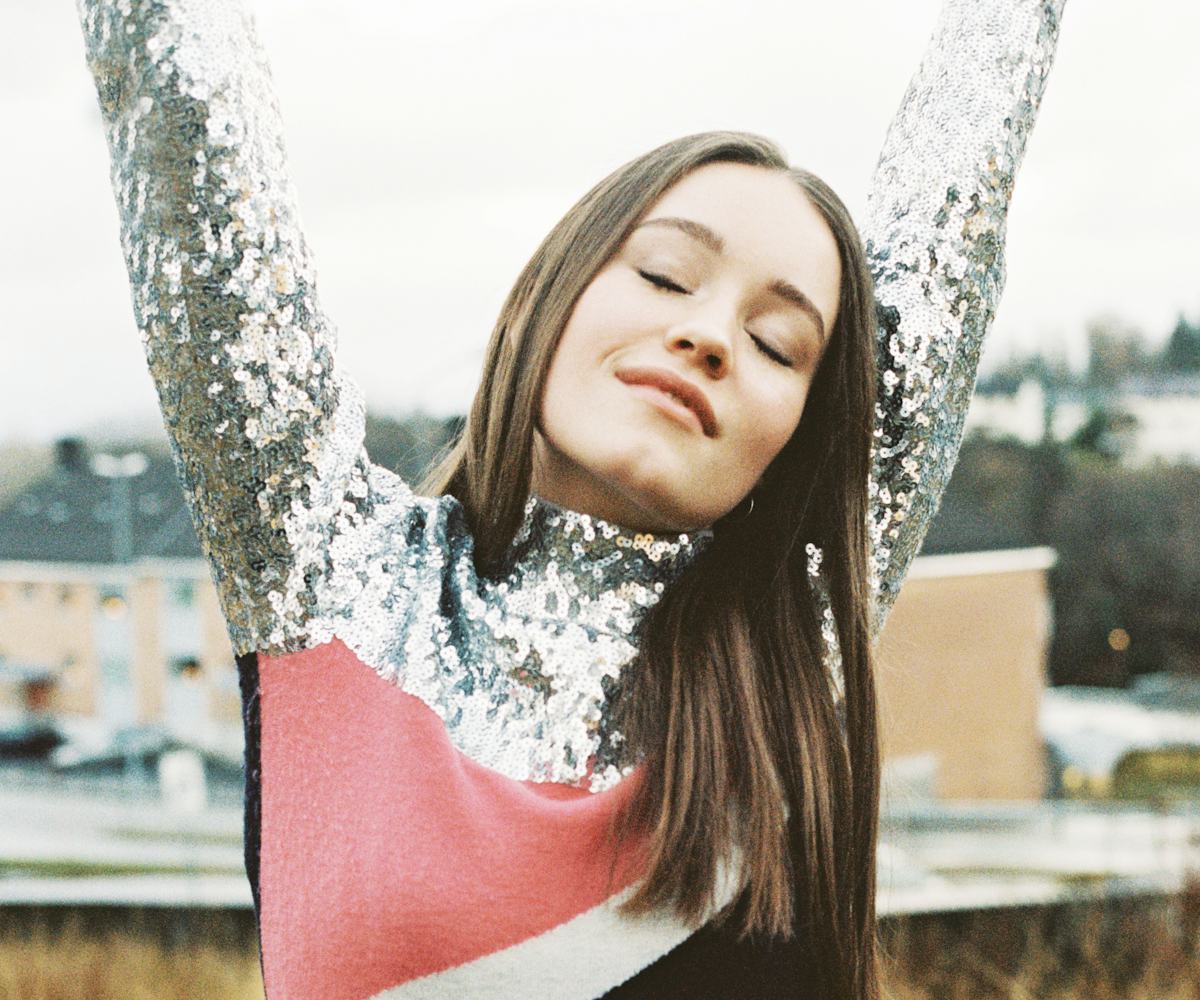 Photo by Francesca Allen
Meet Sigrid: The Pop Star Who Wrote The Ultimate Millennial Empowerment Anthem
If you've been paying attention to the pop world lately, you've probably been hearing a lot about a song called "Don't Kill My Vibe." The bold bop comes care of 20-year-old Norwegian singer Sigrid. Hailing from Ålesund, Norway, Sigrid was only 16 years old when she wrote her first track in two weeks, and then performed it with her brother at a local show.
Through song, Sigrid emits empowerment. Her first single, "Don't Kill My Vibe," is about not getting the respect you deserve, something Sigrid feels like resonates worldwide, especially with millennials. And Sigrid's second single, "Plot Twist," (which came out last month) is an anthemic banger that explores what happens when you finally get over someone. 
Splitting her time between Bergen and London, Sigrid just dropped her debut EP, Don't Kill My Vibe, via Island Records. (Last week, we had her break it down track-by-track.) Before she becomes the next pop sensation, we caught up with Sigrid about getting respect, the Norwegian music scene, and making people feel "something" with her music.
How did you come up with "Don't Kill My Vibe"?
"Don't Kill My Vibe" was made in a writing session, by Martin Sjølie and I, after he'd asked me what I'd been thinking about lately. I started talking about this earlier writing session that was quite difficult. The song is about the feeling of not being respected as a person, and I think that's something that speaks to millennials. 
How does Norway's music scene impact you?
Well, both my brother and my sister, who have the most brilliant voices I know, are very musical. Plus, my brother's an artist, so my family has been really important. Apart from that, the Norwegian music scene is quite small, so everyone knows everyone, and I love that! Bergen, where I live now, has a really good music community, and everyone plays in 10 different bands. 
Who are some Norwegian artists you look up to? Who is cool in the pop scene there? 
Where to begin? [I look up to] female artists like Aurora, Astrid S, Amanda Delara, Julie Bergan, Ane Brun, Hanne Kolstø, Dagny, Fanny Andersen, Emilie Nicolas, Jenny Hval, and Susanne Sundfør. Then, we have Lars Vaular, Karpe Diem, Blood Command, Hajk, Highasakite, Great News, and Bloody Beach. Okay, there are loads.
What's the message behind "Don't Kill My Vibe"? How does it blend in with other music that you've made?
The message [behind the song] is to speak up. I wrote the song, together with Martin, because I was so pissed at myself for not speaking up in that previous writing session. Most of the songs I write are full of power, and I'm suspecting it may come from my love for grotesque Renaissance art and the Eurovision Song Contest. But, then again, there are always a couple of raw and vulnerable songs, and that's an important part of me, too.
What was the first song you wrote? 
That would be a song called "Sun." My brother was playing a show in our hometown Ålesund, and I was still living there because I was in high school. Anyway, he wanted me to join as a backing vocalist and perform a solo song, but he wouldn't let me play Adele. It had to be an original song, and I really wanted to play with him, so I wrote a song in two weeks.
How did Norwegian culture influence your music?
The lyrics in my music are really just me talking about life, but, I guess, nature can provoke those feelings. When you're surrounded by majestic Norwegian nature, it's very easy to start thinking about stuff you don't have time to in everyday life. 
You released an EP. Tell me about it. What were you listening to when you made it?
I'm so excited and terrified at the same time, but mostly excited. I was listening to the same stuff I've always been listening to, like Coldplay, Neil Young, Adele, Joni Mitchell, Ellie Goulding, Kings of Convenience, Robyn, and Fleetwood Mac. Then I added music like Grimes, Skepta, Maggie Rogers, Hajk, and more.
Do you like getting comparisons to Adele, Lorde, and Florence Welch? Or do you want to stand on your own?
I'm just blushing now. They're some of my favorite artists, so I can't say anything other than I'm very flattered. 
Is Sigrid your real name? 
Yes! I remember I hated it growing up, 'cause it's an old Norse name only grandmothers are called. But I love it now. Thanks, mom and dad! 
Which musicians influenced you?
Joni Mitchell, Adele, Florence + the Machine, Neil Young, Robyn, Grimes, Ellie Goulding, Lykke Li, Nelly Furtado, to name a few. 
How do you want to change the pop scene?
My goal is to write catchy songs that make people feel something. 
Where do you see yourself in five years?
Probably in a studio making new music. And I do hope I'll have a cat. 
What's the most important lesson you've learned as a musician so far?
Collaborating is the best!