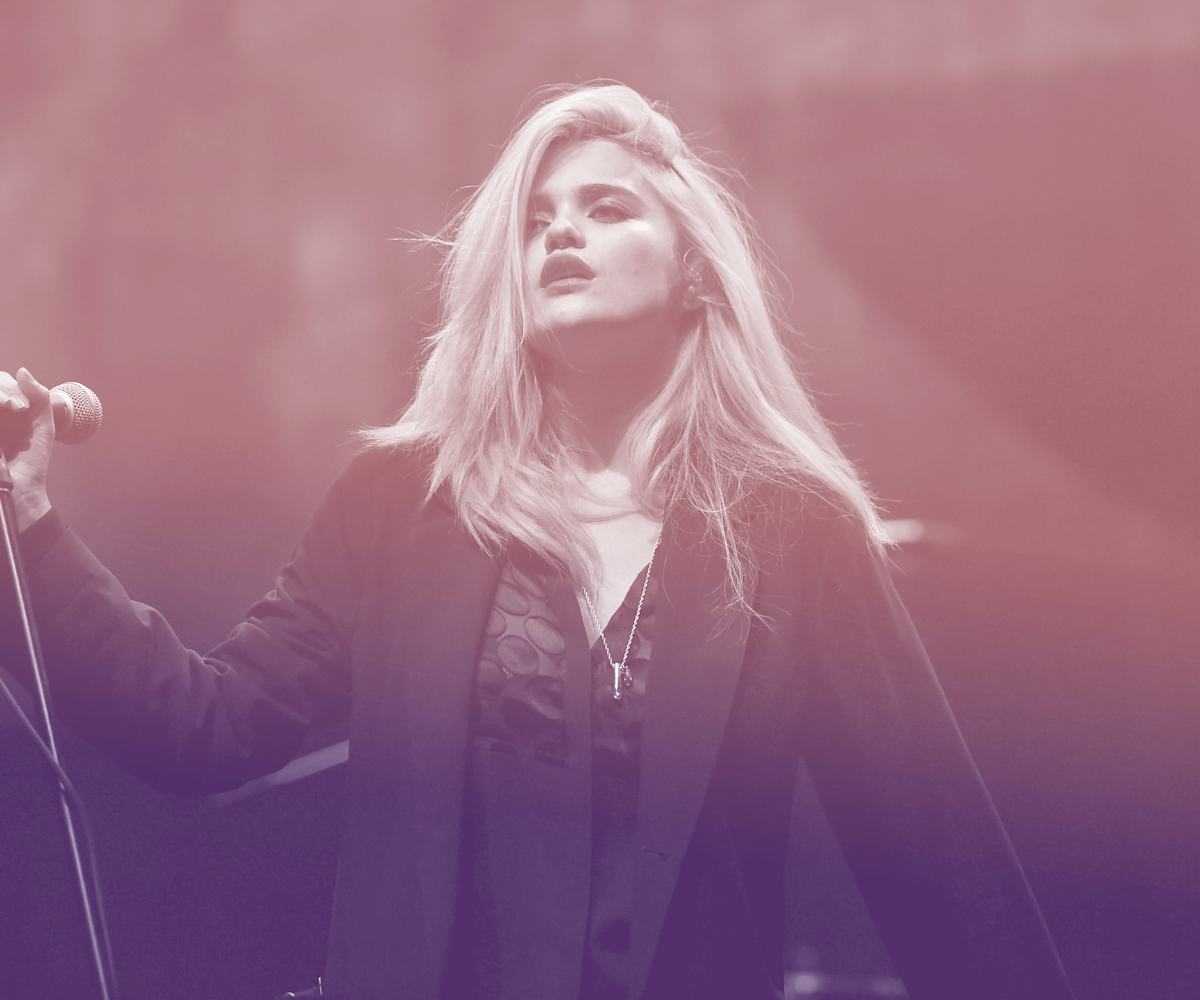 Photo by Alberto E. Rodriguez/Getty Images for Sundance
Where In The World Is Sky Ferreira?
Sky Ferreira was right: Everything is embarrassing.
Our current state of affairs is a mess of confidential leaks and blubbering talking heads. The pop sphere is similarly being turned on its head: Miley Cyrus has gone (relatively) country, pop-punk is punk again, Lana Del Rey is smiling, and Beyoncé could very well give birth to Gemini twins. Sky Ferreira, pop's Lynchian enfant terrible, is out there somewhere with a sophomore album called Masochism. But where?
The very last we've heard about the album came this past April when Ferreira teased some material on Instagram. Whether the tunes were new or simply old demos remains unanswered. She is featured on The Jesus and Mary Chain's new album, though! There's something with which to tide over impatient ears. 
Impatience has become a key trait of fandoms. The need for new material on a consistent basis parallels the rise of streaming services and the never-ending 24-hour news cycle. Taylor Swift previously released a new album every two years; she broke that cycle this year. Rihanna famously released an album every year but spent three years teasing what was then called R8 before dropping Anti in late January 2016. Ferreira, meanwhile, hasn't put out anything of her own since her 2013 debut, Night Time, My Time. Prior to that, she dropped a series of EPs throughout 2011 and 2013, carving out a nice space within the alt-pop scene with her rock 'n' roll attitude and air of nonchalance that made her the poster child for cool girls before the Cool Girl became Zeitgeisty.  
Label grievances, which she aired publicly, have long haunted her career. A 2014 interview with The Guardian illuminated the pace her debut was made with, which reportedly took five years and 10 albums worth of scrapped songs. Ferreira says the album we have now was written and recorded in "pretty much two weeks." From there, she alleged the label stole her intellectual property and limited its support in terms of promotion. (We reached out to her rep for comment on the story but were dismissed.) To say the road to Masochism has been rocky is an understatement.
Still, though, Ferreira persists. She's called out the impatient fans who seek to disrupt her creative process with demands for new material, saying, "There isn't a timeline on music or creativity in general." She's flexed her acting muscles in films like The Green Inferno and has a starring role in the forthcoming Twin Peaks revival. Ferreira has also fulfilled a couple modeling goals, most recently appearing in Libertin Dune. As for Masochism, it's coming with all its rumored Fever Ray- and The Knife-like inspirations. Night Time may be Ferreira's, but it's this time, right now, that is hers for the taking.