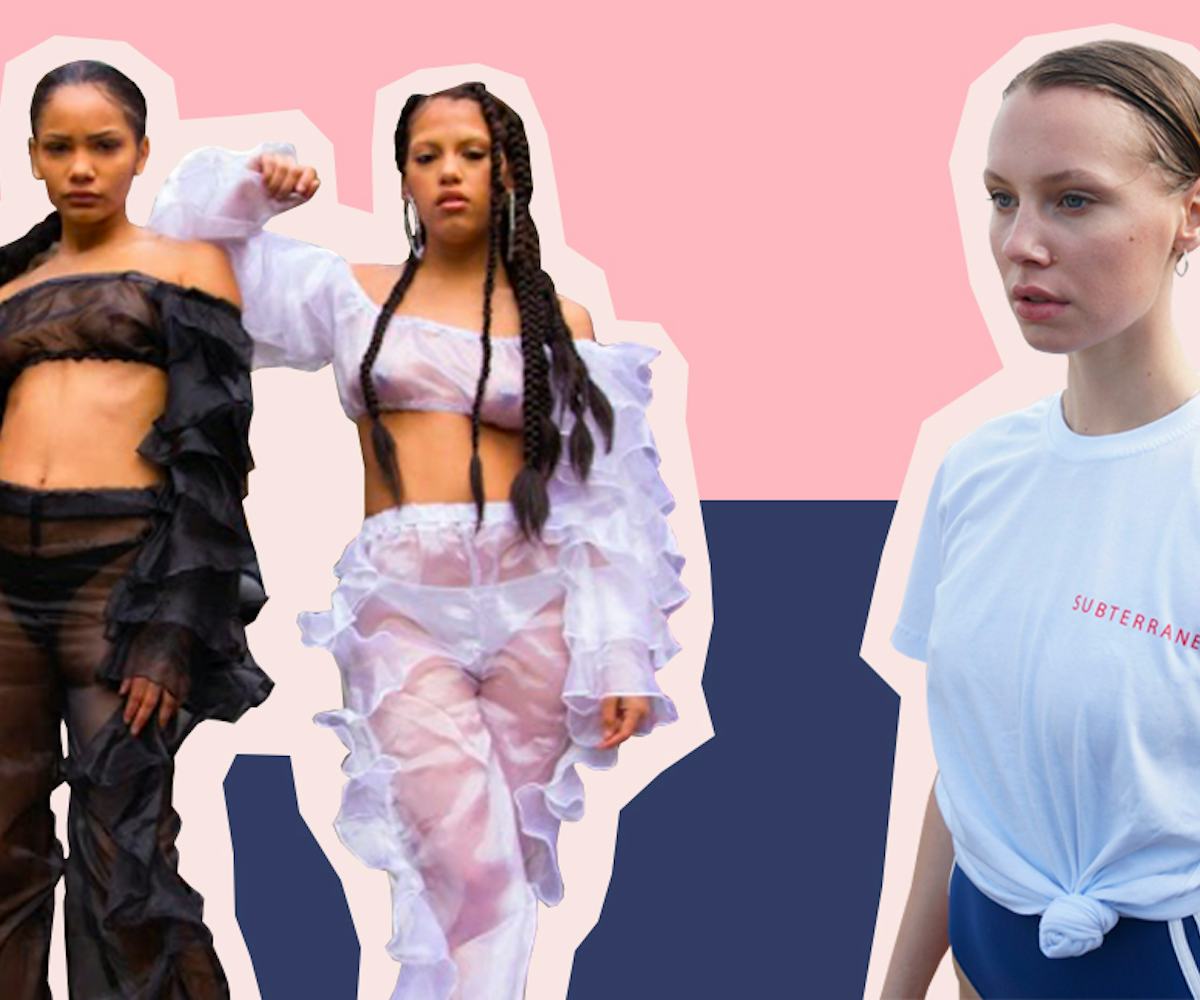 Photos Courtesy of Slashed by Tia and Subterranei
Meet Two Young Designers Whose Names You'll Want To Know
We weren't showing at NYFW when we were in college
Amidst all the hype of the legacy fashion brands that put on runway shows during New York Fashion Week, it can be hard to get the scoop on the best new designers just starting out. While each year you can catch fresh faces at the many college-driven shows that compile star-students' work, a select few young designers have already made a name for themselves, and are producing their own solo shows for the first time in 2018. Two, in particular, caught our eye, and you'll want to get your eyes on their collections ASAP.
Maybe you haven't heard of her (yet), but you've definitely seen her designs: Teni Adeola, aka Tia of Slashed By Tia, turned her low-key business making backless tops for her Instagram and Snapchat followers into a huge success, all while studying at Parsons School of Design. All your favorite celebs—including Lorde, SZA, and Dua Lipa—have been spotted rocking Slashed's sheer ruffles onstage and off. This year, Slashed takes a step closer to couture with a runway show at the Church of the Ascension in downtown NYC.
Flip Slashed's Renaissance-inspired ruffles on their head, and you'll get an idea of what young designer Subterranei is going for—very utilitarian, very hard-edged, and equally as cool. Subterranei, aka Alina Tsganova (and also a Parsons student), makes its NYFW debut at an immersive exhibition in just under a week.
Get to know the two young designers ahead of their first NYFW shows, below.
SLASHED BY TIA
How do you balance school and Slashed By Tia, especially during your first NYFW?
Honestly, I don't know. I try to stick to a really strict routine, especially during the week. So if I know I have a 9am [class], I won't go out, even if I really want to. I just try to keep everything as organized as possible: I write everything down. I try to pre-do my work so I'm not dying. When I have finals and stuff, you can't escape it, but throughout the week I try to keep balance. 
When did you start designing? 
In my freshman year of college, so probably my second semester. 
What made you start? 
I started making these silk cross-back tops 'cause I was really self-conscious about my boobs and I wanted to hide them, but I wanted it backless. So I started making these tops, and I'd post them on my Snapchat and Instagram, and then my friends started really liking them. So I started making them and selling them, and I started designing more and got into ruffles. 
What's the inspiration behind the new collection? 
Definitely still a similar direction, definitely still very much Renaissance. I have this ongoing theme of Renaissance clothing for people of color, 'cause I wrote my high school dissertation on 16th-century Spanish dress in paintings and just, throughout my research, there were hardly any people of color in these paintings, and if there were, they were wearing cotton or wool. Really uncomfortable fabrics. And the royals were wearing ruffles and velvet and pearls and just the most beautiful fabrics. So I guess I've tried to incorporate that into a modern-day, hip situation for this collection. 
Why did you choose to have your runway show at the Church of the Ascension? 
Mostly because religion was a really big thing during the same period that I've been working with. The church I'm having it in is so beautiful, the murals in the background, I feel like, go with the clothing. And I'd be pushing, but I think it just goes with the vibe of the clothing and paintings. So many of the things that I study in school when I walked in the first time, it just stuck with me. I visited a few others but that particular one I'm having it in, I feel like just goes with the clothes. It's not going to be just a runway show, it's going to be more of an experience. 
Who are some of your biggest style influences? 
Bianca Jagger. Just 'cause those YSL suits were always so... she wore a suit on her wedding day. She's just such a look, I love her. Honestly, she's the only person that comes to mind, otherwise I just kind of dress how I feel, and I feel like living in New York has made me able to explore that. Because I grew up in Nigeria and obviously they're way more prudish there, and there are a lot of things that you can't wear. Then I moved to London, and I started getting into my style more. But then once I got to New York, it was like, "No one cares. I can wear anything I want." If it's sunny and I want to be really bright and cute or whatever when I'm going out, I can do really edgy looks. I feel like New York just gives this vibe that makes you want to dress up.  
How have the reactions to Slashed varied in people you know from Nigeria and London versus people here? 
My mom doesn't even really see the Slashed clothes, and when she does, she's like, "This is see-through, they wear something under it. Right?" And I'm like, "Yeeeeeah." 
Living in two different countries definitely shapes you and makes you pop into everything. People I haven't seen in years will send me something and be like, "Oh my god, you made this!" Which feels really good. My family are all very excited. They weren't initially. My parents wanted me to study law. But I escaped that, and they're really supportive. I have great friends that I've made here in New York that help me so much and are really supportive. 
How do you get started planning your first NYFW venture? 
This year has actually gone really smoothly 'cause I have people helping me do it. Just like freelance planners that reached out and who love Slashed By Tia and said they'd love to put this together and they just knew what to do. So that's been really helpful for me. We've gone through the casting stage which I held in New York at VFiles, and it was amazing. So many different girls came. There was a huge line, I was so overwhelmed and humbled by that experience. This Friday, I'm having fittings. But on the logistics side, they pretty much handled everything which was really really good. 
Do you have any good self-care routines that keep you going through the madness of NYFW? 
No. When it's that week, I'm just going to an event and rushing home and not taking my makeup off and typing my homework with one eye open [laughs], but I think for me, afterward, just taking a weekend to relax and catch up on sleep with face masks and drinking water. 
You gained a lot of traction on Instagram, which is a notoriously oppressive platform towards women's bodies. How have you navigated that space?
Honestly, I feel like people think of something see-through or something mesh and automatically have this tacky or trashy thought. But that's not always the case, it just depends on how you go about it. I see my clothes as art, and when they're worn and when we do these shoots, the girls become a part of it, just like the kinds of paintings so-to-speak, and I feel like it's just easy to remain there and it's easy to understand. I feel like when girls wear my clothes, they look so badass, yet so soft and ruffly. 
SUBTERRANEI
When did you start designing?
It happened a few years ago. My godmother was the woman behind me starting to design, 'cause she owns her own showroom back in Moscow. It's called Fashion Incubator Number 1. She held a series of projects to help support young up-and-coming designers, and she knew I was interested in fashion but hadn't designed before, and she asked me to do a collection with her and she provided me the space and a team. That's how I did my first two collections. After that, I realized our tastes were not quite the same. She was, like, the second designer, and the designs were much more girly and there were a lot of sequins and lace and stuff, and Subterranei is nothing about that.
What was the response to your first solo collection like back in Russia?
I'm super-surprised, I had a lot of positive reviews for my first solo collection. I was just amazed at how people accepted it with warmth and interest.
Does your godmother like it? 
Yeah, she does! I mean it's different. She wouldn't wear it, for sure. But yeah, she does like it. 
What is the inspiration behind your forthcoming collection?
I like to think of it as self-preservation and self-protection so the main component of the collection, main emphasis, is on the word "self." It features a lot of battle-ready warrior designs and slogans like "at war" and "stay protected," and, for me, it's about being true to yourself and resisting your surroundings and a lot of pressure we have from the outside fashion market and influencers literally buying an identity and forcing you to sort of keep up with the trends and whatnot. It's about, just in general, staying true to your own self, your subterranean truth. 
In the past, you've used plenty of tactile, sort of utilitarian fabrics. Are you using similar materials for this line? 
I am using Latex—like, beige, really rubbery Latex. For me, it goes back to the idea of protection and self-preservation because I consider this material of being almost second skin-like. So you're literally wrapping yourself in Latex and staying protected and ready for defense. 
How do you balance school and design?
I find it a bit challenging to keep up with my studies, but so far, so good. Especially considering that I only transferred to New York and this course, fashion design, two years ago. Before, I was majoring in graphic design and fine art. So I'm a little new to all this.
Do you have any self-care routines to help with the balance? 
I do regularly—daily, before going to sleep—20 minutes of meditation, and then usually I write down some notes of what I have to do tomorrow. And then in terms of physical exercise, I do yoga classes twice a week. 
What was it like planning your first NYFW venture?
It's [like] diving in. Self-management and discipline and also keeping all the things I need to prepare for the presentation in my head. I'm absolutely new to this. I had my mother's support previously and my godmother's support in doing the group presentations back in Moscow, but this is my very first solo show, and it's all about me, my vision, my brand, and everything. It's a little tricky, but it's exciting. I'm happy to put my vision together, and it's going to come out as a surprise for me as well. 
What can we expect from your NYFW presentation?
The idea, for now, is that I'm going to have a lot of sort of concrete bricks and stones that I'm going to pile together and assemble almost furniture-like installations with models hiding behind them, lying on top, or just walking around. Also, it's about creating these barriers, these concrete walls that are mimicking the idea of the collection and protecting them from the world outside. 
How did you land on the name Subterranei?
When I was studying in England back in my boarding school, we created this name with my friends as our blog's name. We wanted to create this blog and just explore underground culture in London a little bit, 'cause we were super-new to it and living outside London. It was very exciting for every free weekend that we would have to go to the center and just stay up all night, try for unknown places to us. Especially clubs and rave culture and all of that. We did maybe six to seven posts, and it ended there 'cause my friend wasn't writing at all, and I got tired of keeping it up. So the name transcribed into my brand, and it literally means underground in Latin, but the original word is subterraneus, so I changed the ending a little bit to become Subterranei.