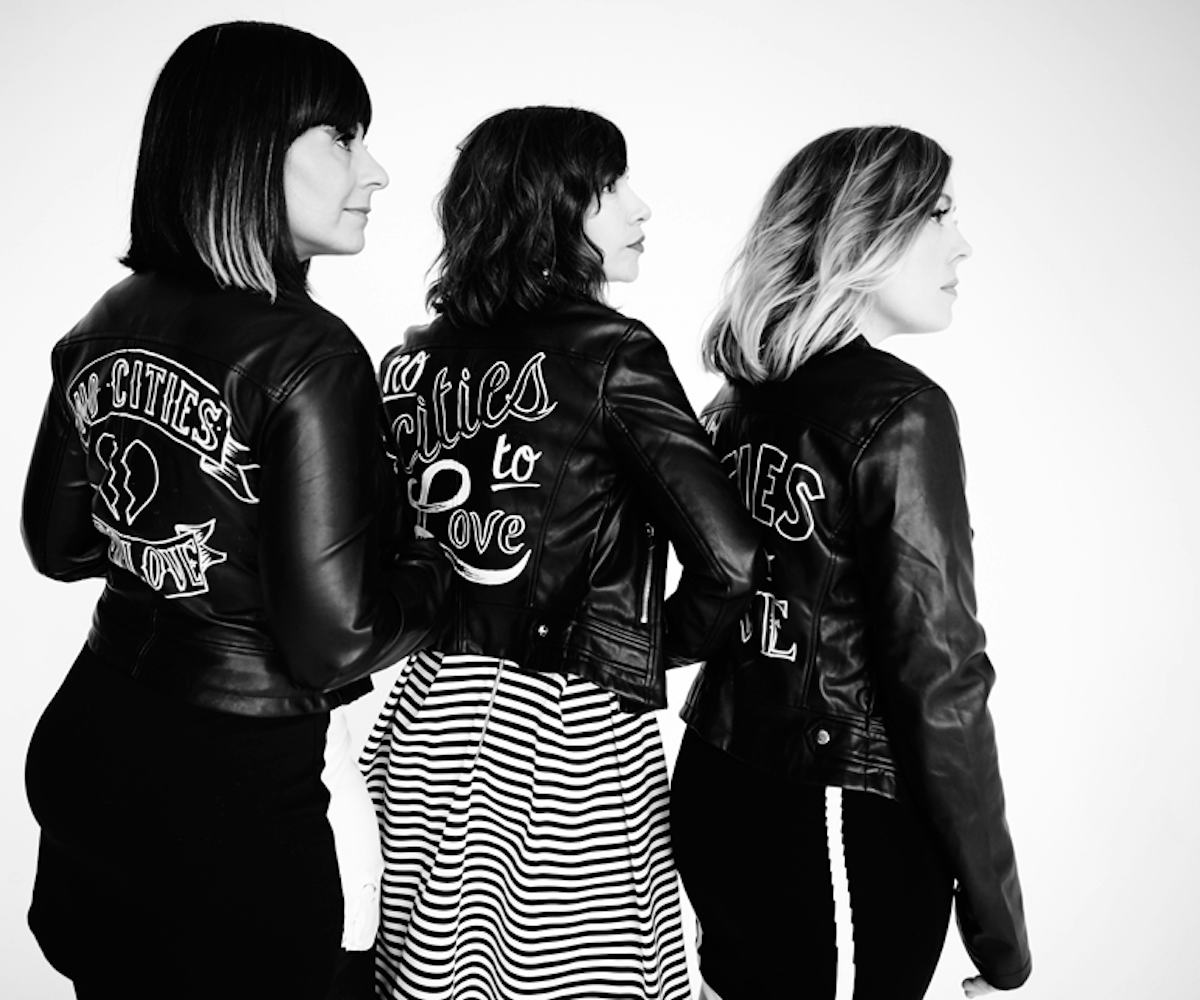 photos by jimmy fontaine
indie-rock royalty sleater-kinney are restarting together
"As you get older, you're expected to quiet down and settle down—and I don't feel settled or quiet," says Sleater-Kinney drummer Janet Weiss, packed into a West Village diner booth with her longtime friends and bandmates, singer-guitarists Corin Tucker and Carrie Brownstein. "I mean, listen to the record," adds Weiss. Her hearty laughter competes with the clatter of an early-December lunchtime crowd, but she's right. Sleater-Kinney's No Cities to Love, the band's first new album since going on "indefinite hiatus" in 2006, and its eighth overall, finds the pioneering Pacific Northwest rockers as vociferous as ever. "There's a desperation in that music," says Weiss. "Just for it to exist, and for us to fight together to express ourselves honestly."
It's a sentiment echoed in No Cities' fiery "Surface Envy": "We win, we lose, only together do we break the rules/ We win, we lose, only together do we make the rules." Which is also a fair approximation of the two-year-long period of writing and recording the album, which involved deliberately redefining the parameters of the trio's dual-guitar sound. "We can do things too easily and too intuitively, so part of the process was to push past those ideas that felt natural or good but weren't the best musically," says Brownstein. "We had to make it not sound just like Sleater-Kinney the first time around."
Sleater-Kinney the first time around were the stuff of indie-rock-fan exuberance and critics' year-end best lists. Formed amid the Olympia, Washington riot grrrl scene in 1994, the trio would record seven albums, all vital and all collected in Start Together, a lavish vinyl box set released on Sub Pop last fall. It was on the heels of Start Together's release that the now Portland, Oregon-based band made the surprise announcement that they had recorded a new album and would tour behind it, beginning in Spokane, Washington, on February 8.
But it wasn't like the band members hadn't kept busy in the intervening years: Tucker recorded and toured with her own Corin Tucker Band and raised two kids; Weiss continued with her longstanding indie-rock group, Quasi, and did a stint in Stephen Malkmus's band The Jicks; Weiss and Brownstein played together in the shortlived alt-rock supergroup Wild Flag. Most unexpectedly, Brownstein stepped up her sketch-comedy game with Portlandia, the singular IFC show that she and former Saturday Night Live cast member Fred Armisen created and star in. The hit series just entered its fifth season.
Interestingly enough, Portlandia plays a role in the Sleater-Kinney reunion story: While Brownstein and Armisen were screening early cuts of the series for Tucker and her husband, filmmaker Lance Bangs—Tucker cameoed in the first season, and Bangs has appeared on the show as well—Tucker brought up the idea of getting the band back together. "I said, 'Are we ever gonna do that again?'" recalls Tucker. "And then it was like, Huh!" She throws her hands back, mimicking the excited reaction of Armisen and Bangs, who vehemently championed the idea.
Armisen is such a huge Sleater-Kinney fan, in fact, that he's even offered to roadie for the group—though that's unlikely, given his full-time gig as leader of the Late Night With Seth Meyers house band. "I think if we actually asked him to do any job on the tour, he would," says Brownstein.
"Merch!" exclaims Weiss. "Fred would be the best merch seller."
"We'd sell twice the amount," says Brownstein, warming to the idea.
Once Sleater-Kinney 2.0 got underway in earnest, Brownstein and Tucker spent many an hour together listening to an unlikely mix of songs for inspiration: Kanye West's "New Slaves," Peter Gabriel's "Games Without Frontiers," David Bowie's "Fame," Turkish psych-folkie Selda Bağcan's "Yaylalar." "I would be like, 'What about this song? Let's write a song like this,'" recalls Brownstein. "But anything that we funnel into this band comes out sounding really different."
Bowie got channeled into album closer "Fade," which Tucker wrote from the vantage point of a "rock star" character: "If we truly are dancing our swan song, darling/ Shake it like never before." It's a "tongue-in-cheek" reference to the fact that this could be Sleater-Kinney's last go-round, Tucker explains. "We're here today," she says. "'Fade' is about this idea of living in the moment: We don't know if there's gonna be another album, so let's go for it. Or, if we're gonna be in this band, let's fully embody this kind of heroic person onstage, and step into the idea of being a rock star—the drama, all of it."
On the chance that this is Sleater-Kinney's swan song, concertgoers would be well-advised to pick up a souvenir at the show. Just don't be surprised if you find a certain nerdy, bespectacled comedian working the merch table.
You can stream No Cities to Love here.