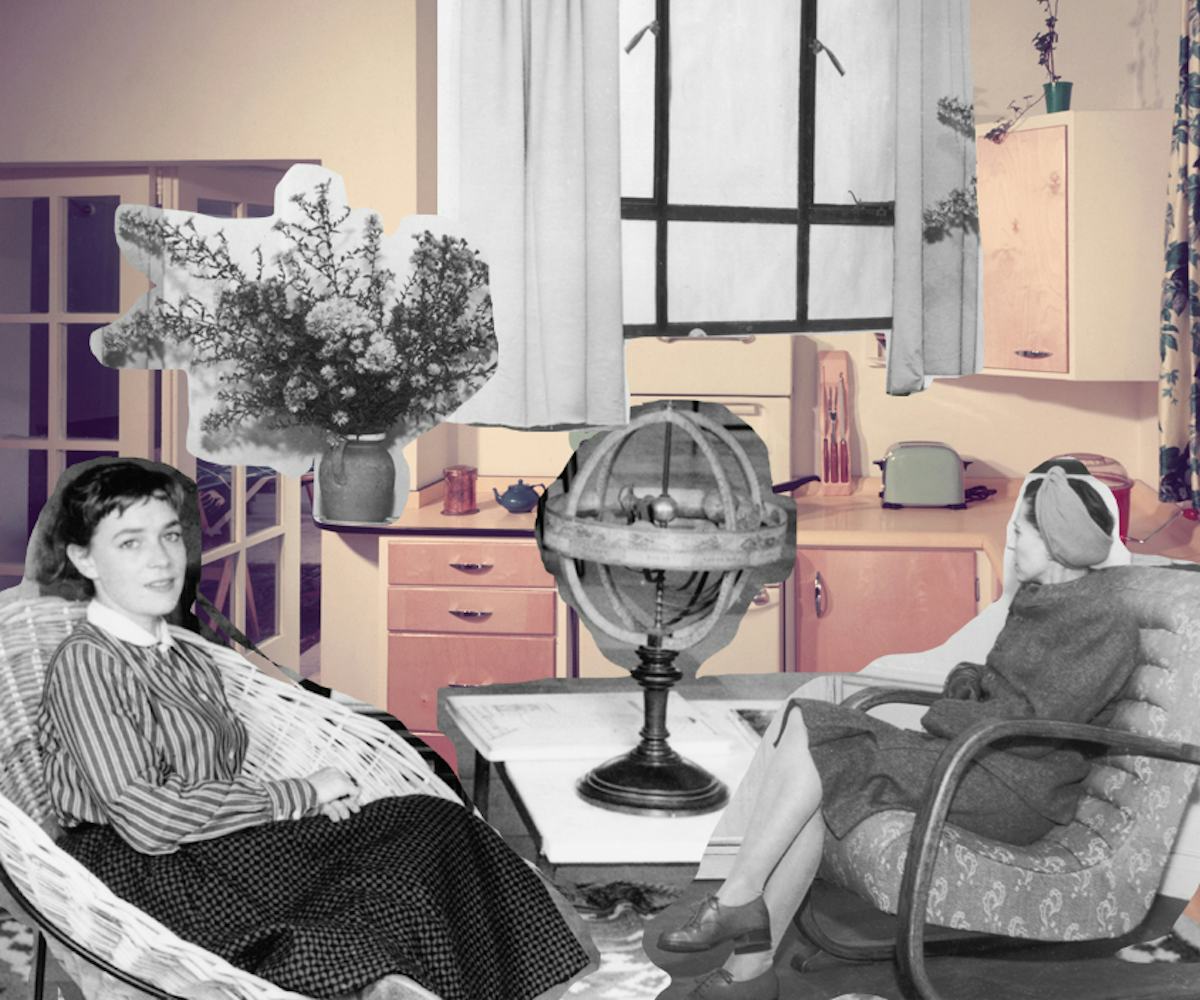 Collage Photos via Getty Images
How To Make Your Tiny Bedroom Look Lux
If you work in a city, you probably bust your ass to live there—and the real estate market doesn't make it easy for you. The market doesn't care how hard you work, or how much you have to sacrifice to put a roof over your head. So what that means for many, is that they have to make do with a space better fit for Gus Gus than a human adult.
Words like "bedroom" and "living space" and "dining area" have become more like hopeful suggestions rather than factual descriptions of spaces. But even if your bedroom is the size of a matchbox and fits nothing more than a bed, there are still ways to make it look chic and adult without breaking the bank—it's all about color, texture, and illusions. Yes, just like your broker convinced you of the illusion that the space was cozy and not teeny, and charming and not old—you can convince your bedfellows and guests that your bedroom is minimalist and not basic, concise and not confined.
Color Scheme
Neutrals and mixed textures are best. Dark or vibrant colors call attention to edges and are more visually overwhelming. If there's ever a color option, chose the lighter one. Whites, grays, nudes, and creams always complement each other.
Walls
The more you put on the walls, the more they'll close in on you. Pick no more than one piece of art or decor to put on each wall and make sure it's properly framed and mounted. Nothing makes a small room look like a dorm room more than a haphazardly hung poster or a picture wall.
Floors
While rugs can draw attention to the lack of square feet, they can instantly transform the vibe of your room. Stick with neutrals or natural colors like beige, white, tan, ivory, brown, gray. If you can't live without color, your floor is the place to put it, but remember the more color you add to your space, the more attention you'll draw to the size.
Books
Books can make sophisticated decor, but that doesn't mean you should gather every book you've ever owned, including ripped copies of drugstore novels and pamphlets about energy fracking. If you're going to put your books on display, make sure they're your best ones. A floating shelf is a great way to avoid overcrowding and a simple way to smarten up your room. A small stack of your prettiest hardcovers on the nightstand is another option — put your lamp on top of the stack to give it some height.
Desk
If you can fit a desk in your room, keep it clean. If it doesn't have drawers, buy yourself some baskets and boxes and keep your loose ends inside. The chicest desk has fresh flowers, an appropriately sized lamp, a small cup for pens, a notebook, and your laptop —all wires neatly tucked behind and untangled.
Mirrors
If you spend money on anything in your room, let it be a large mirror. Nothing will open up a tiny space like a hefty reflector. A mirror will not only create the illusion of more space but it will physically bring in more light by reflecting it from the windows.
Storage
All of your clothes and accessories belong in your closet. If you have a small room, you cannot afford to pile your week's clothes on your desk chair or line your shoes up along the wall. Find a way to make your closet work. If you don't have a closet, buy under-the-bed storage or keep your shoes in the kitchen cabinets. Do not line your walls with anything, it will only decrease the space.
Decor
Succulents and candles always add a sophisticated and romantic vibe. Though, don't over do it with the candles—it's easy to accidentally make your room look like a vigil. Succulents are much easier to take care of than flowers. Plus, they take up less space and are a great pop of color against neutrals.
Windows
No matter how small your window is, adorn it with curtains. The bigger and the more opaque the better. Mount them as high as you can—the longer they are the more elegant they look.
Electronics
If you have to have a TV in your room, mount it and hide the wires. Make sure you have enough extension cords and power strips to avoid horizontal wires stretching across your walls. Make sure all wires are white if you can help it, and toggle them together. Nothing can mess up a room more than a bunch of meandering unsightly wires.
Bed
This is the focal point of the room. Go for white linens and as many pillows as you can fit. Getting a smaller bed doesn't necessarily make the room look any bigger. If you can fit a large bed in the space and still fit a nightstand, go for it. Headboards can lux up any bedroom but they're also really expensive. If you can't afford one, get a bunch of different sized pillows and load them up against the wall. It will add height to your bed. Another headboard alternative is to hang a large framed photo behind the bed.
Lighting
If you can get your hands on some cheap wall sconces, be it at Ikea or a thrift store, they're always a better bet than standing lamps. They take up less space, and make the room look more permanent and less transient like many bedrooms can end up looking like.