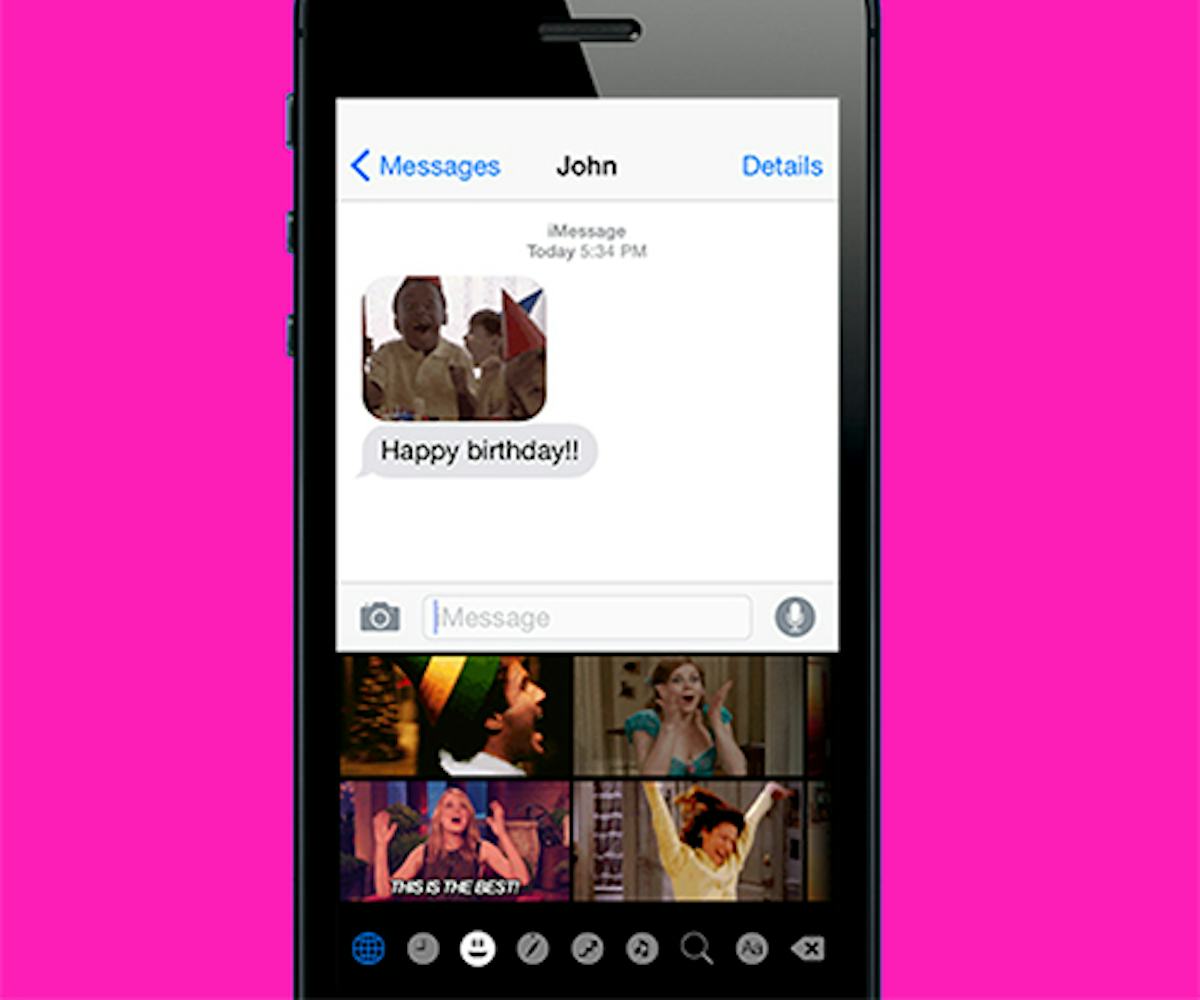 all photos via riffsy inc
emojis are cool, but gifs are better
say "hello" to your new fave keyboard.
How many times have you been in a text convo with your BFF only to come across a moment where there are no words. Instead, your brain searches through its GIF archive and pulls out the perfect animated image for that moment. Only problem is that you then have to go searching through the Internet, Googling all kinds of search terms, like "eyeroll," "Lauren Conrad," and "Over it," to find the one you need. Often, your BFF will respond before you find that magical GIF and the moment will have come and gone. That is, unless you have the GIF keyboard. Yes, that's right, I said the GIF Keyboard.
Thanks to awesome developers, Riffsy Inc., you can install a keyboard exactly how you installed your emojis and have the ability to type in GIFs instead of text. Just as emojis have little icons denoting emoji themes, the GIF Keyboard comes with icons denoting GIFs. Choose between movie, music, trending GIFs, and more, or save your own collections.
Perhaps the best part about this awesome new keyboard is that it's as fast as typing text; which means no more searching through the internet to uncover that perfect GIF. Instead, you can already have it saved to your keyboard!
The only downside to installing this new way to chat with your roomie is that you have to enable full access, which means giving the developers access to anything you say in your text messages (including some stuff you might not want anyone to see—and no, I don't mean your sexts, I mean your credit card number, should you happen to send that to someone via text message). Just something to keep in mind when you download.
In all honesty, we thought the coolest thing to happen to digital messaging this year was either the fact that Pusheen is now available inside Facebook comments, or the fact that we were supposed to see 250 new emojis, but the latter still hasn't happened yet and....
So, yes, it looks like GIFs might just actually be the new emojis.