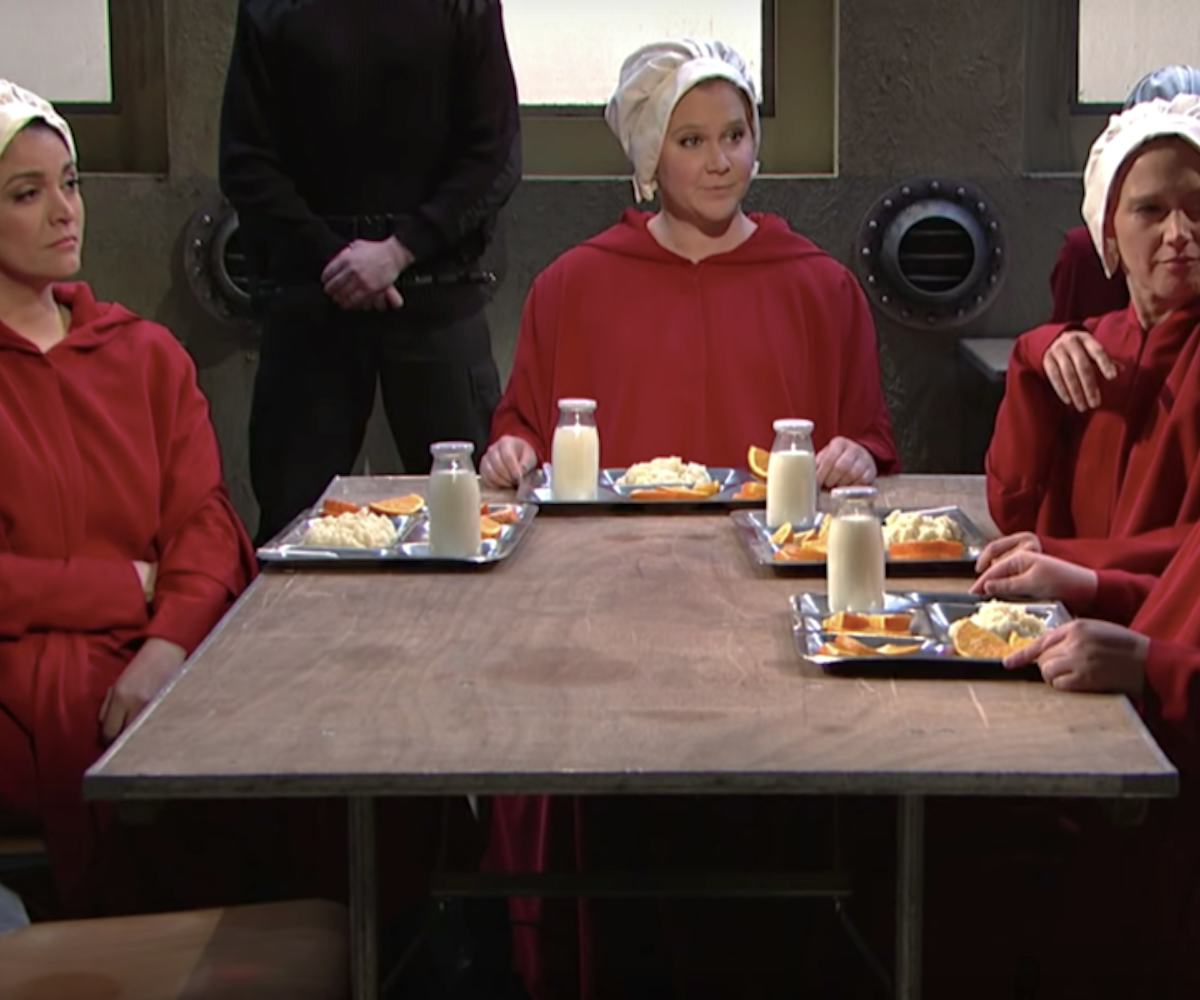 Image via YouTube/Saturday Night Live
'SNL' And Amy Schumer Mash Up 'Sex And The City' With 'The Handmaid's Tale'
"I couldn't help but wonder…"
Amy Schumer's second time hosting Saturday Night Live was full of hilarious moments, but the best sketch of the night by far was the trailer for "Handmaids In The City," aka a perfectly uncomfortable mashup of Sex And The City and The Handmaid's Tale with Schumer as Offred-meets-Carrie Bradshaw. Why the mashup in the first place? Because, as the voiceover in the trailer points out, "Let's face it ladies: In 2018, The Handmaid's Tale is basically our Sex And The City."
Of course, no Sex And The City parody would be complete without some well-placed puns and an "I couldn't help but wonder," and "Handmaids In The City" certainly delivered.
"As I waited for the girls in downtown Gilead, I was feeling like an uptown Galead," Schumer's Offred thinks aloud while sitting at a lunch table alone. "And I couldn't help but wonder: Are women allowed to do anything anymore?"
Cecily Strong, Aidy Bryant, and Kate McKinnon join Schumer as fellow handmaids at lunch (much like all of SATC's iconic brunch scenes), and they discuss life in Gilead with the same sass we'd all expect from Samantha, Miranda, Charlotte, and Carrie.
"Under his eye!" Bryant's character says in a sing-song voice. Schumer replies, "Under his eye, what about under my eye? Look at these bags!" 
Then, Strong chimes in. "Oh, stop it Offred, you know it doesn't matter what our faces look like," she says, as Schumer finishes her sentence. "...As long as we're fertile!"
The four handmaids go on to discuss things like threesomes, designer bonnets, and giving birth, all before Schumer's Offred/Carrie gets tased by a guard for making a joke. 
You can watch the full sketch below, and as the trailer's voiceover points out, "You'll laugh, you'll cry, you'll say, 'Oh my god, this could be me and my friends...you know, with the way things are going."