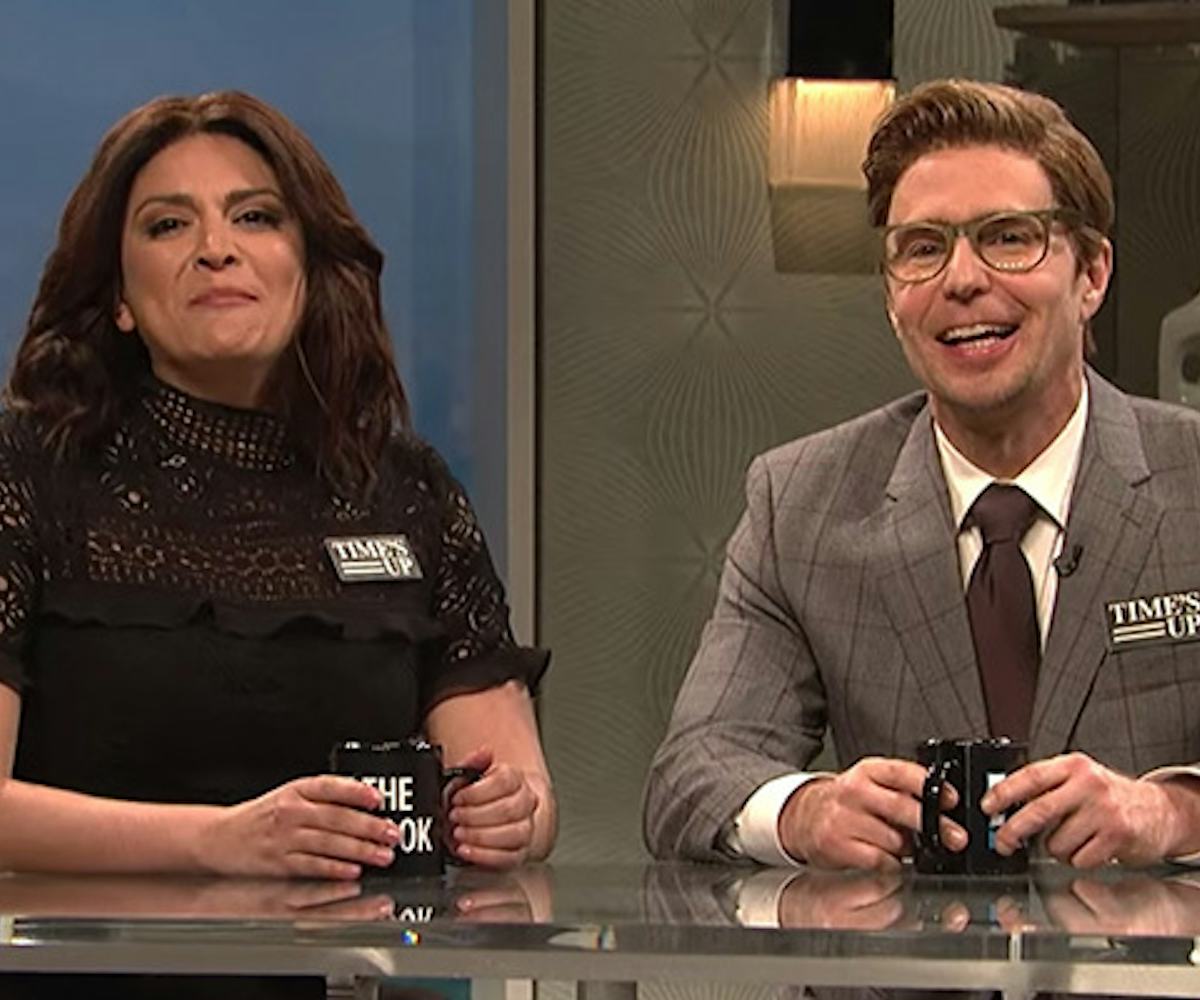 Image via YouTube/Saturday Night Live
"SNL" Pokes Fun At Changes In Red Carpet Commentary Since Time's Up
"We are now fashion positive."
Throughout the years, there have been multiple campaigns attempting to elevate the conversation on the red carpet. In 2015, actresses like Reese Witherspoon rallied around #AskHerMore, encouraging entertainment news hosts to ask women more than the usual "who are you wearing?" And in 2018, Hollywood said Time's Up on gender inequality and sexual misconduct. We're now fostering a culture of accountability, where E! hosts are held responsible for their racially insensitive remarks and there really isn't such a thing as a fashion "don't." Naturally, Saturday Night Live had to poke fun at all of it.
In a new sketch, host Sam Rockwell and cast member Cecily Strong play E! hosts in a segment called "The Look." They try to be "woke" when commenting on different red carpet ensembles. "We are now fashion positive," Strong says. "Times are changing and we're trying to keep up. I'm so out of breath." 
Rockwell and Strong, both wearing Time's Up pins, are joined by fashion legend Angelo Dolphintuna, played by Keenan Thompson, and a director of a women's shelter, Silvia Nunez, played by Melissa Villaseñor. When Villaseñor's character tries to explains what she does, she's promptly cut off.
"Amazing!" Strong says before moving on to the red carpet looks. When describing Kate Hudson in her Valentino dress, the panelists go above and beyond trying to be politically correct. Rockwell says she looks "empowered" and Thompson says she looks "just as good as a man, if not better." Strong says she's doesn't "even see a dress," she sees "a CEO." 
When Villaseñor says Hudson looks beautiful, she's shamed for judging people based on their looks. Then they move onto a segment that was formerly named "Puke or Barf," but now that "women are brave," it's called "I Respect Her Choice." 
Kate McKinnon also joins them and nails an impression of Frances McDormand. It's definitely worth watching. 
Check out the full sketch below.