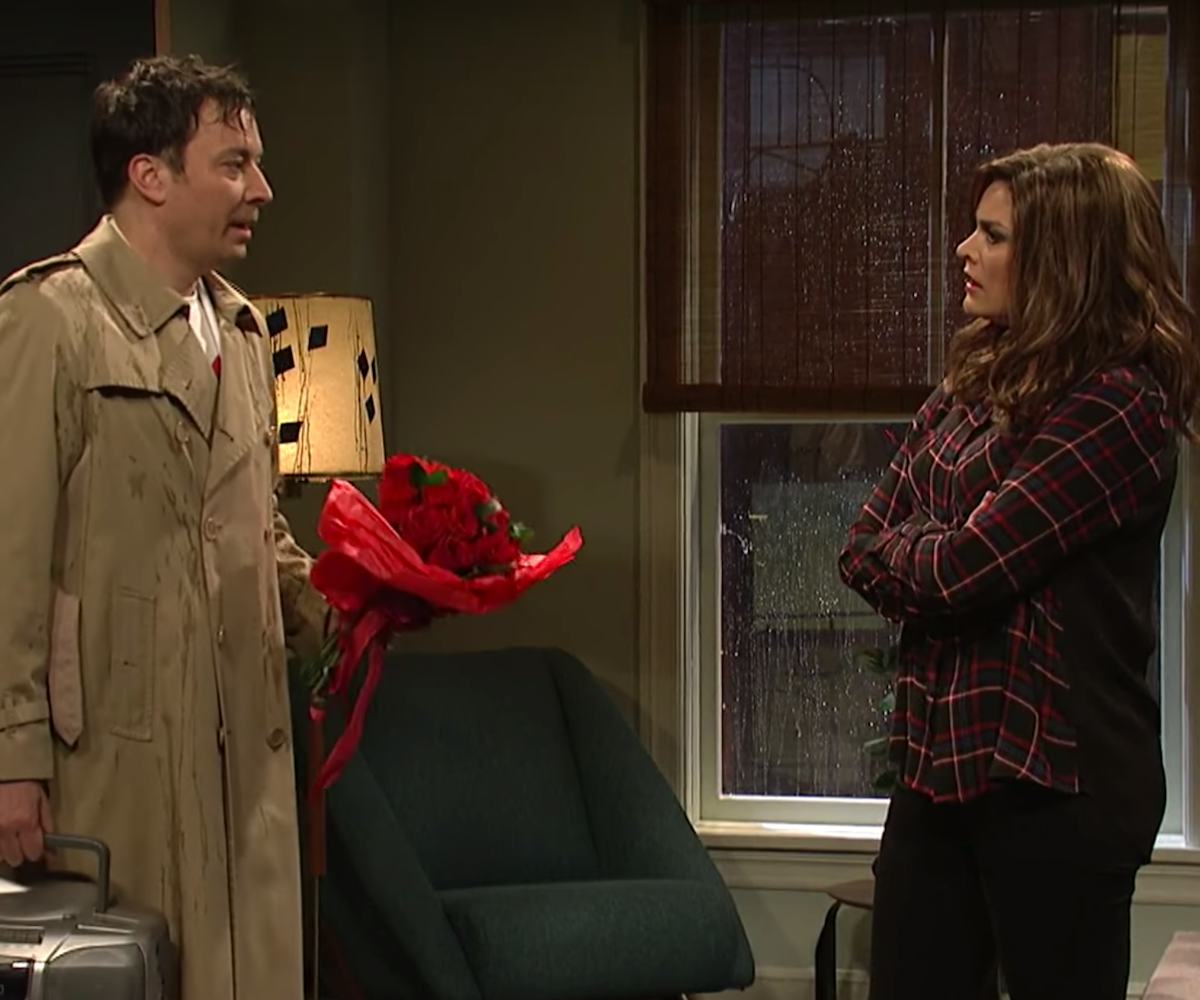 Image via Youtube/Saturday Night Live
'SNL' Brilliantly Makes Fun Of Pepsi And United's Latest PR Disasters
Talk about a date gone wrong
In a sketch that aired last night called "Take Me Back," SNL brilliantly makes fun of both Pepsi and United Airlines for their recent PR disasters. Earlier this month, Pepsi aired a controversial ad featuring Kendall Jenner ending systemic racism with a can of soda. The tone-deaf "short film" didn't go over well, obviously, and Pepsi pulled the ad 24 hours later. The company, in the understatement of the year, admitted they "missed the mark."
And of course, there was the horrific video that went viral of Chicago police officers forcibly removing a passenger from an overbooked United flight. The airline's chief executive Oscar Munoz initially sent out a non-apology—saying they were sorry for re-accommodating customers, not for dragging a man down the aisle by his shirt—eventually changing his tone a few days later, saying, "I want you to know that we take full responsibility and we will work to make it right."  
SNL writers want the two companies to know that people won't forget that quickly. In the sketch, host Jimmy Fallon shows up to his ex's apartment at midnight when she's on a date that's going well. Fallon serenades her '90s-style by singing Savage Garden's "Truly, Madly, Deeply" with two backup singers, complete with Fallon's high-pitched voice and painfully awkward choreography. "I know I made one of the biggest mistakes a person can make," Fallon says, "but I'm sorry. And I'm asking you to take me back—forever." As he's on one knee to propose to his ex, played by Cecily Strong, we find out that he was one of the officers on the Untied flight, and his unforgivable act is dragging a man off a plane that week. "That's what you did?" one of his backup singers asks, horrified. 
Once Strong kicks them out, she goes back to her date, only to find out he's the director of the Kendall Jenner Pepsi ad. "Nooo!" she screams—and in that moment she's all of us. Check out the full sketch below.