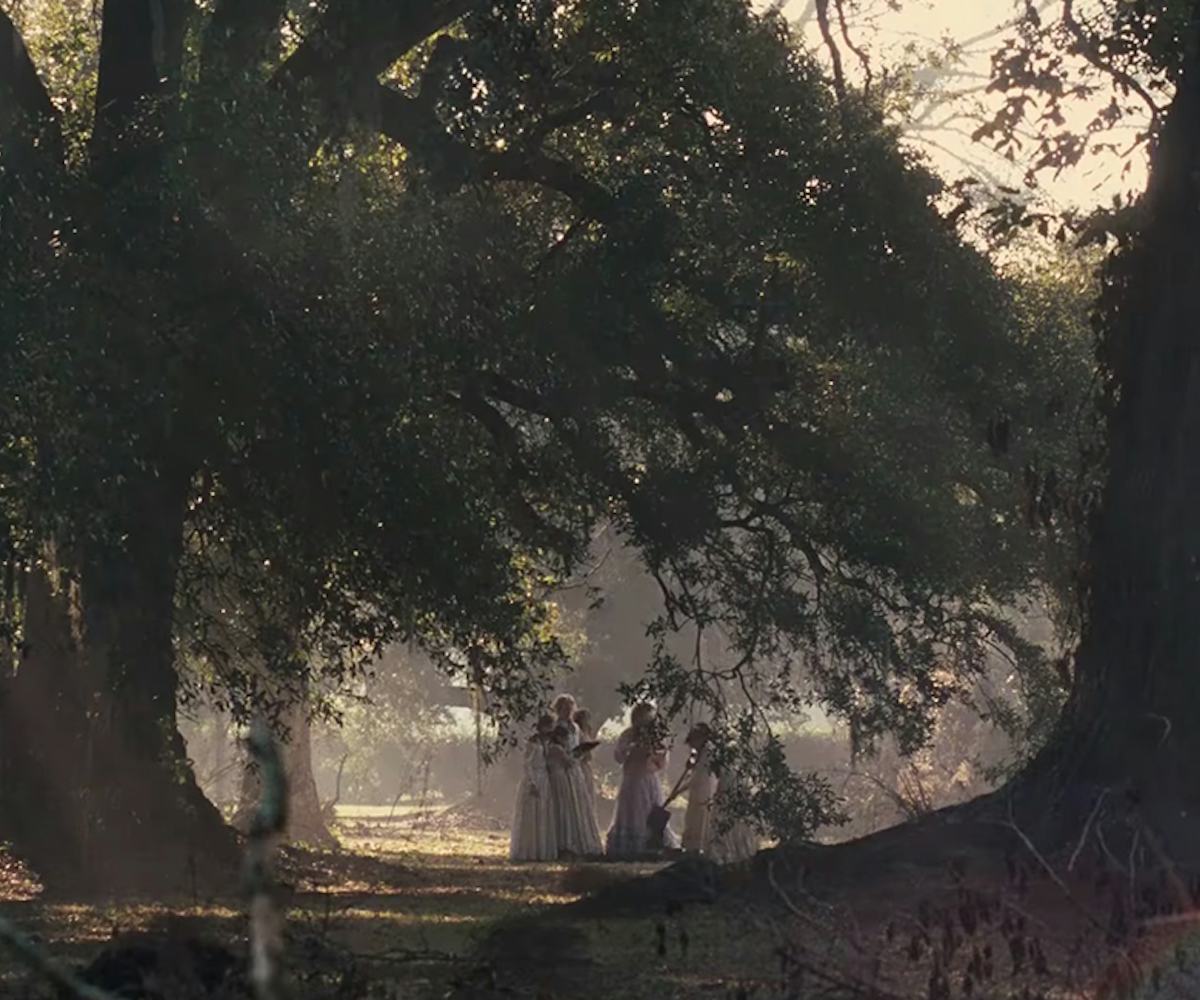 Photo via Focus Features
Known For Her Musical Choices, Sofia Coppola Does Something Strikingly Different With 'The Beguiled' Soundtrack
The film's soundscape is as lush as its visuals
Sofia Coppola's films are synonymous with two things: woozy shots of sunlight shimmering through tree leaves and iconic musical moments. In the past, Coppola has liberally used contemporary pop cuts that don't always historically make the most sense in her films—like the infamous Kevin Shields remix of Bow Wow Wow's "I Want Candy," that purrs underneath Marie Antoinette's Champagne fountains and bejeweled pugs, and Air's breezy "Ce Matin-Là" whirring through the 1970s depicted in The Virgin Suicides. They're stirring choices—whose emotive sounds linger on long after the screen fades to black.
Yet Coppola's latest, The Beguiled, which just earned her the Best Director award at Cannes, is peculiar in that it subverts her tried-and-true sonic formula. Instead of featuring, say, the likes of M83 juxtaposed against some 19th-century parlors, the film is not only complemented by but is entirely anchored with the careful use of several pieces of source music. These pop standards of yesteryear, arranged by composer Laura Karpman, are rounded out by the dual forces of potent sound design (done by the Academy Award-winning Richard Beggs, of Ghostbusters and Apocalypse Now) and a discomfiting underlying score composed by the French pop group Phoenix. It makes for a combination that's, well, beguiling. 
Based on a novel by Thomas Cullinan, The Beguiled is a period piece that takes during the American Civil War and follows a handful of women at a Virginia finishing school. The students, including Alicia (Elle Fanning), aren't exactly there of their own volition; either they couldn't make it home, or there is no more home for them to go to. So they pass their uncertain days gardening and learning French with their teachers, Edwina Morrow (Kirsten Dunst) and the school's headmistress, Martha Farnsworth (Nicole Kidman). A distraction in the form of Corporal John McBurney (Colin Farrell), a wounded Yankee soldier, unexpectedly arrives. His presence soon disrupts their lives, and desire and duplicitousness emerge in equal measure.
While thrilling to watch, The Beguiled is not without its flaws. Despite being entrenched firmly in the Civil War, the film never gives slavery more than a passing mention, and there are no people of color present anywhere in the film. It gets about a C+ on the Bechdel Test, at best. Yet it's tough not to be seduced by this steamy Southern gothic, an aesthetic that arguably wouldn't be possible without the precise sonic universe it resides in. The music of The Beguiled oozes with tension and terror alike and has a kind of synesthetic quality to it that makes you almost feel the Spanish moss rustling underneath your feet.
For one scene that finds Miss Martha running around outside in a panic, the frontman of Phoenix, Thomas Mars (who's also married to Coppola), says that the intention with the score was to make viewers feel on edge. "We played a lot with the tempo to create almost like a nauseous feel... to make sure there was this tension that's being built," he tells NYLON. "[For] a lot of our music, the sources of inspiration come from deeply European roots that we try to elevate," he says. "A period piece around the Civil War, which is pretty foreign to us, that has a contemporary aspect. We had a find a way, arrangements, and instruments that would transcend the time, that would make it relevant."
The score that they arranged, in between sessions for their latest album Ti Amo, was actually culled from a single piece of music: composer Claudio Monteverdi's "Magnificat." The piece, written in 1610, is part of the sung Vespers, elaborate musical pieces that were performed in conjunction with saint's feast days. "It's called polyphonic music, but if you stretch it down, it sounds like what we wanted," Mars says. "It sounds like ambivalence, there's a romantic tension that can be violent." The band heightened this by slowing down parts of the "Magnificat" to extreme levels, up to 200 times slower than normal, and by filling in the chords with synthesizers when it was lacking tension. Mars says they had their work cut out for them, though. "It's sort of like the Swiss Army knife of music because it's very pure—it's like a primary color," Mars says. "You can be inspired by it, you can use it."
Coupled with Beggs' sound design finishes—the battle raging in the distance, never too far away, and chirping birds—the plucky score serves as a critical part of making The Beguiled jump off the screen. But it's the key use of several songs in the film itself that drives the film itself. The Beguiled opens with one of the young students, Amy (Oona Laurence), singing "Lorena," a song that comes to have a special significance in the film as things escalate with Corporal McBurney's presence. 
"Lorena," may not be Top 40-worthy now, but it was one of the most popular love songs of the era that also transcended the Mason-Dixon line. The song, written by Henry D.L. Webster and composed by J.P. Webster, was a standard written just before the Civil War. It would come to be sung by people in both the Northern and Southern parts of the United States, as well as the soldiers fighting on both sides, according to Karpman. "It was really a significant emotional piece, a song that moved people so much to change their actions," Karpman says. "I never had a discussion with Sofia about it, but I imagine, it reflected the story. You had this weird mash-up of North and South happening in this house, and all these emotions that go along with it." Instrumental renditions of the pivotal song have been used in the likes of Gone with the Wind, and in Ken Burns' definitive 1990 documentary Civil War, as well.
Others, like Stephen Foster's "Virginia Belle," were adapted for scenes where the students are playing music in the parlor. Karpman—who had previously collaborated with Raphael Saadiq on the music of the WGN series Underground—says that the music of the Civil War period often exposed surprising tales of migration. For instance, her research showed that the songs of New Orleans's famed pianist and composer Louis Gottschalk (who was Jewish and Creole) were often standards in Southern girl's music books—not unlike the ones used in The Beguiled. "The fact that that wound up in a Southern women's parlor is incredibly ironic," Karpman says. "There are all these in secrets of music in the South that are particularly interesting." 
In this way, the source music of The Beguiled tells side stories in addition to setting a pivotal emotional tone throughout the film. "That's the neat thing about exploring these kinds of things, because what you're able to do is create a landscape that's authentic but also has all kinds of references," Karpman says. "If people notice, far out. But if they don't, it doesn't matter because it becomes a part of the conceptual landscape. And I think one of the really cool things about the movie, sonically, is the Phoenix score, the source music, and Richard's sound design all fit together as a kind of weird hybrid score that's based on all these psychological levels and blend into each other."