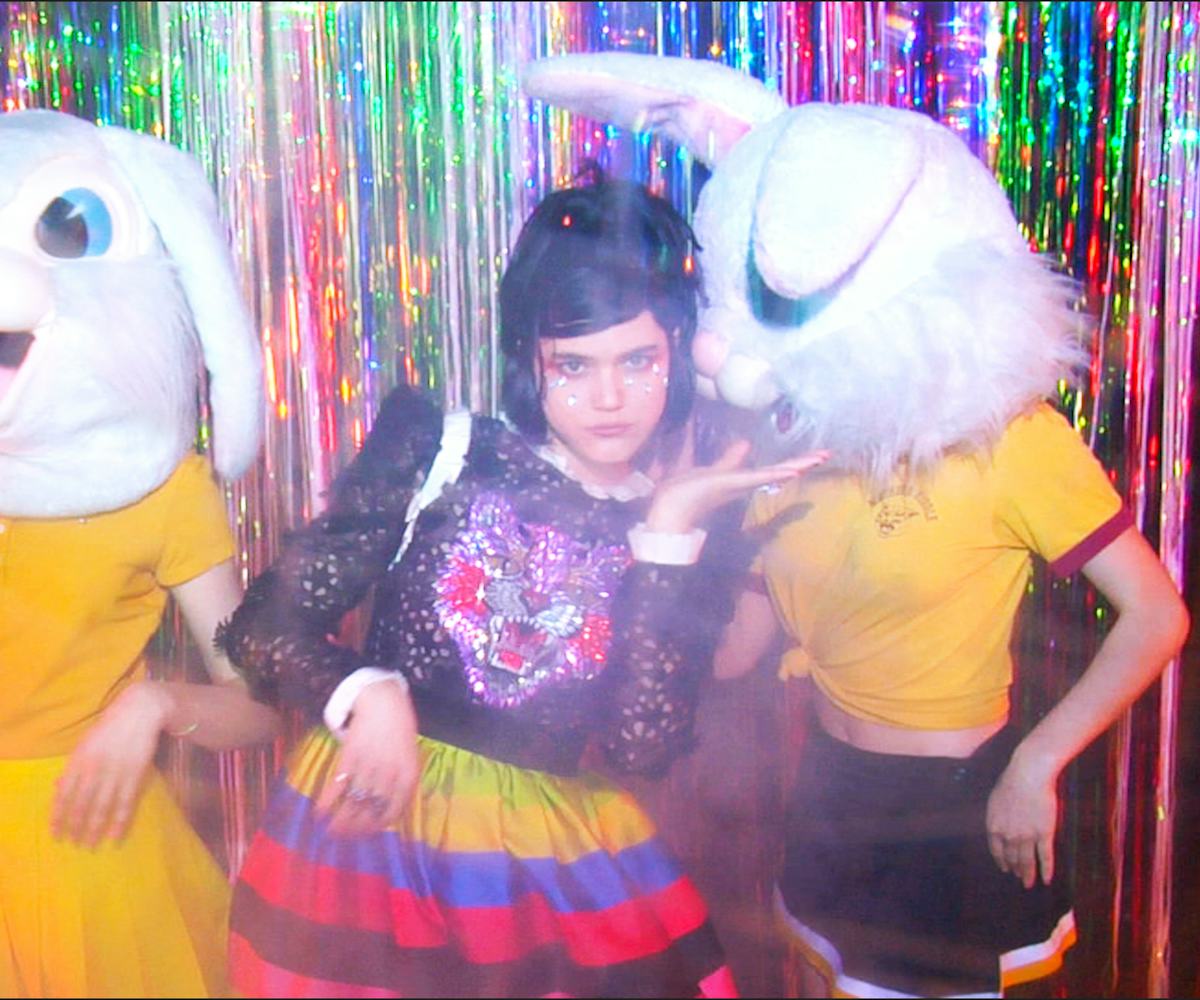 Soko's New Video Is An Emo Rainbow Goth Girl Wonderland
Soko wrote a love letter to all the weird creative kids out there
"Sweet Sound of Ignorance" is the first song I've released since my album My Dreams Dictate My Reality, which came out two years ago.
So I'm a little nervous.
In August, I moved from L.A. to NY to record my upcoming album with Patrick Wimberly and challenge myself out of my comfort zone. I put so much of my entire being into making music: heart and soul, tears, sweat, and blood. The song is the result of purposely isolating myself until I lost track of time, people, life, reality—a form of self-induced cabin fever. In a nutshell, it's about being very anti-social and a lonely crybaby in desperate need of a cuddle, yet terrified of intimacy, but the track sounds pretty happy if you don't pay attention to the words. It's a contrast I always treasure in music—happy-sad music.
For the video, I decided to create a full trip inside my head. I love cartoons, and I cherish my inner child always and forever, so directing my own videos is always a good way to unleash it. There is something very exciting and satisfying about being able to express my full vision, raw, vulnerable and unaltered.
I shot the video in L.A. with an old Sony Camcorder video camera, surrounded by a handful of talented friends. Alia Penner, whose art I love, was on the art direction front and made my dream cartoon set come true. I wanted to create a full Alice in Wonderland-turned-goth Snow White (with a Gucci rainbow dress!) experience, playing imaginary instruments, stuck in my little kid's playhouse, and being exactly what I wish to be—safe, free.
The cherry on top of the cake was when Margaret and Rainey Qualley came in as super guest stars…YES, it is them dancing silly under those bunny heads! (Though IRL, they'd make your jaw drop if you ever take a dance class with them, true story!)
So, now you can see how much of an Emo Rainbow Goth Girl I am…
And I will leave with this: You may seem like an anti-social, awkward weirdo to the rest of the world, (and there's no way you'll ever be able to control those haters so don't!), but deep inside, know that the world you create, the way you decide to see life, may be a lot more fun and colorful than people may ever dare to imagine. So don't give up on those unique quirks of yours, cultivate them!
Director -
Soko
DP - Nicolas Amato
Producer - Molly Ortiz
Editor - Tina Vaden
Production Design - Alia Penner
1st AD - Wyatt Noble
Camera/G&E - Levi Trent Williams
Set Builder - Justin Walker
Set Decorator - Lilit Grigoryan
Associate Producer - Justin Madsen
On Set Photographer - Cameron McCool
Artist Management - Dylan Sosa
CAST
Dancers - Rainey Qualley + Margaret Qualley
SPECIAL THANKS
Janell Shirtcliff, Werkartz, On the Mark Rentals and Charome Kaocharoen, Dugan O'Neal, Patrick Wimberly, Keaton Lindsey, James Richardson, Miles BA Robinson, Bobbie Gale, GUCCI, Greg Nise