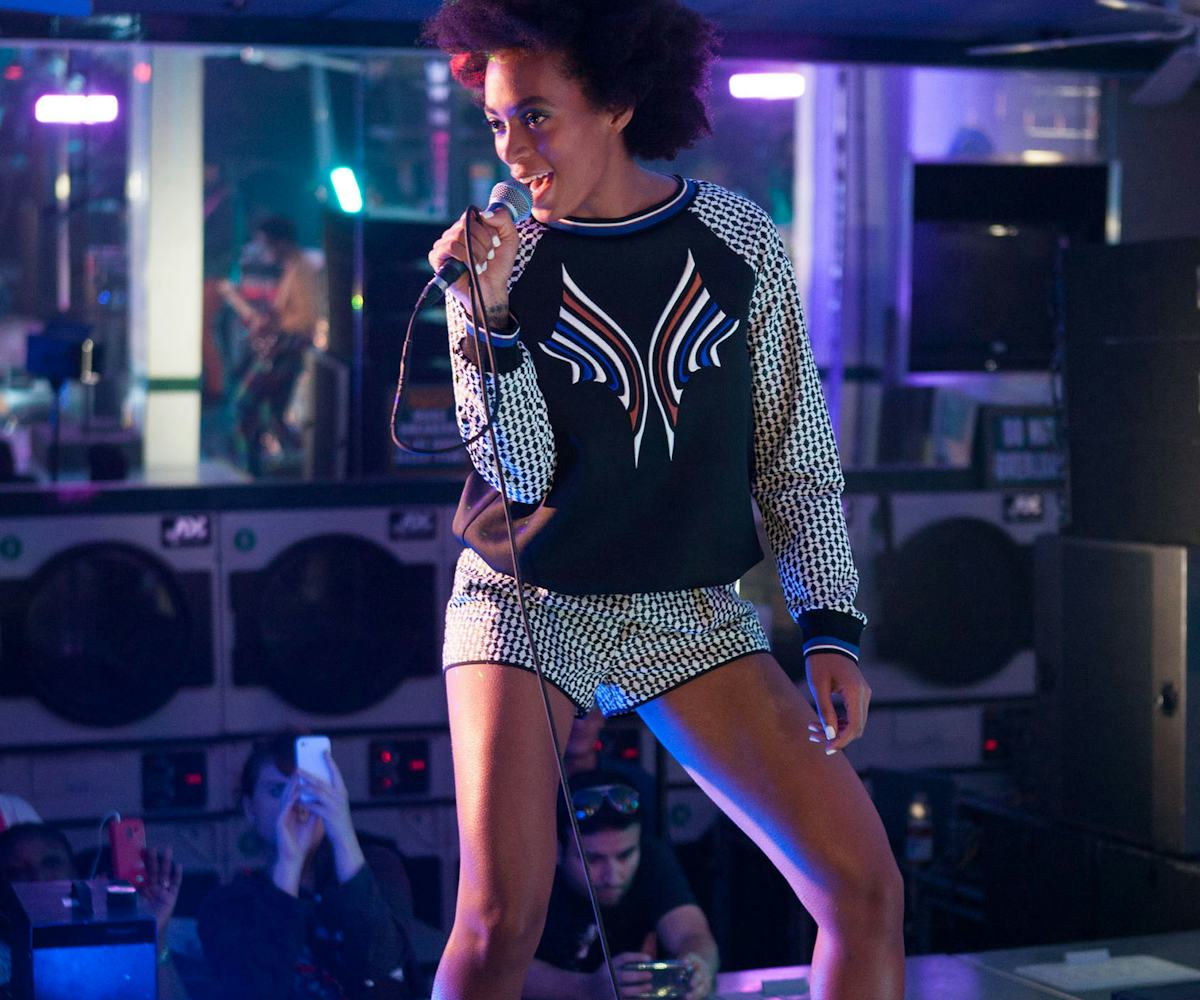 inside solange's secret show
shh! we're gonna spill the beans on solange's secret show!
Try not to be jealous, but we were invited to a super secret Solange concert last night. (We've got the Instagram photo to prove it!) Only about 75 people made the cut for the show sponsored by Vitamin Water, so yeah, we're feeling pretty VIP.
As if a secret Solange concert wasn't cool enough already, the show took place at Atlantis Laundromat in the Boerum Hill neighborhood of Brooklyn. The washers and dryers stayed in place, but rainbow lights and DJs were added to turn the space into a full throttle night club. After performing her hits like "Losing You" and "Bad Girls" to a crowd of crazed fans, the singer sat down for a chat to divulge a couple secrets about her upcoming album and her day-to-day life. Between the performance and the interview, it was easily one of the more personal celebrity appearances we've ever seen.
To make you feel like you were there, we compiled all the reasons Solange is the coolest. 
1. SHE'S MOVING TO NEW ORLEANS: Well, part time at least to catch up on the soul food and Southern life she's been missing. After all, she is a Southern girl at heart.
2. SHE KNOWS ALL ABOUT POKEMON: Her son Julez, who is in the second grade, is a wizard at Pokemon and Solange has picked up some tips from him. Who do you think her favorite Pokémon is: Charmander or Jigglypuff?
3. SHE LOVES POP MUSIC: And she doesn't think "pop" should be a bad term. She said of the style, "The music that I grew up loving was pop music, and it was incredibly intelligent, multi-faceted, and interesting, and had all of these nuances that created just good music, but the fact that it was pop music–meaning popular music–didn't define it any less in terms of artistic measure."
4. SHE DOES THE BEST DIRTY PROJECTORS COVER: "Stillness is the Move" never sounded better. Sorry, DP.
5. NIVEA IS HER JAM: She covered "Laundromat" by Nivea too, and then proceeded to talk about how much she loved old school R&B like Jaheim and Tweet.
6. SHE HAS THE GREATEST DANCE MOVES: Check out our Vine video for proof.
7. HER BASS PLAYER… is left handed and plays a five-string bass. I think this is the very definition of cool.
8. HER OUTFITS ARE INSANE: She danced away in Preen by Thornton Bergazzi and Rise by Aldo patchwork pumps. Matching sweatshirts and shorts are the new leisure suit, people.