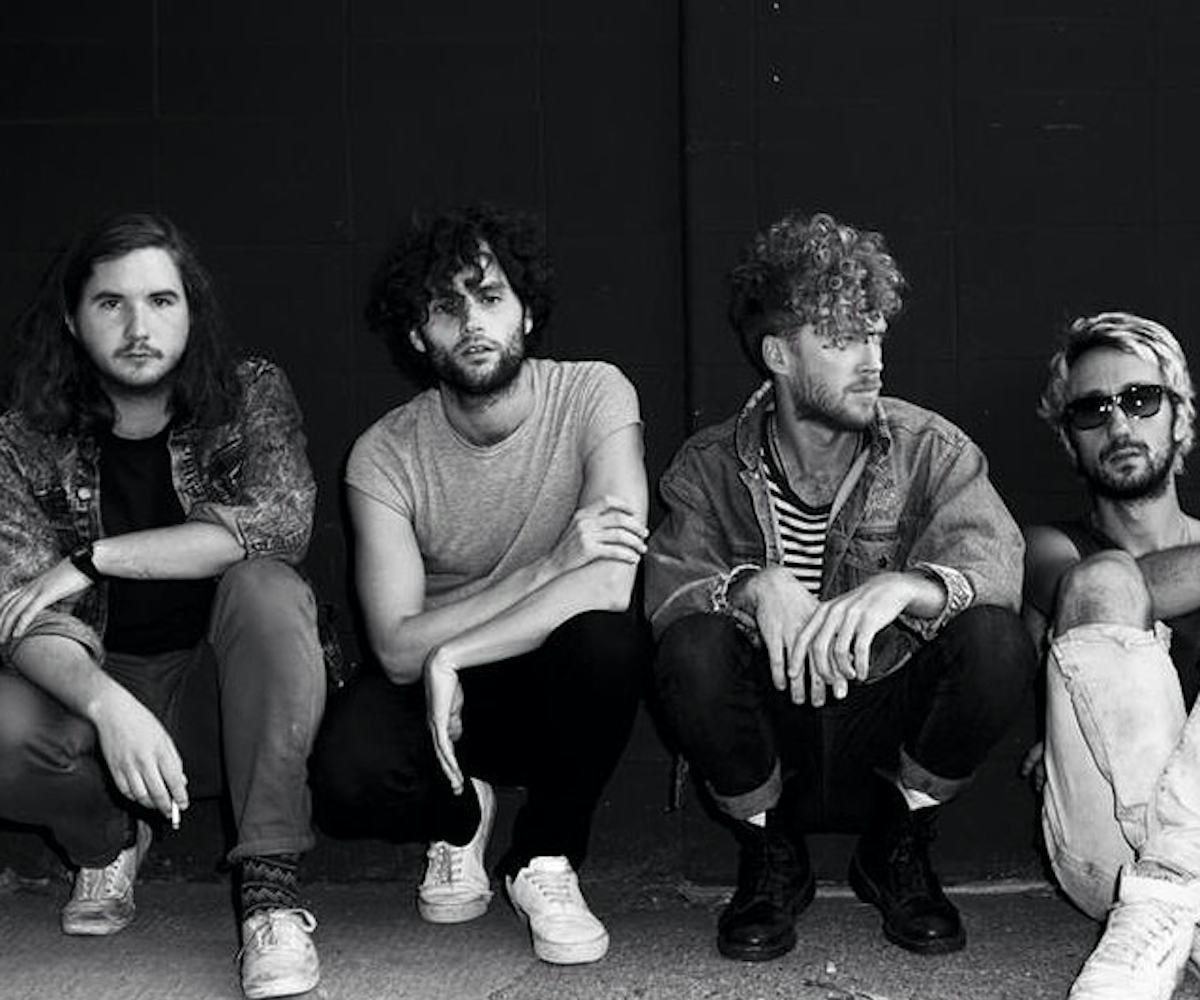 photo via @mothxr instagram
mothxr's new song will inspire baby-making everywhere
penn badgley and his band debut their new single "stranger."
Much like the rest of the Internet, we haven't been immune to the musical prowess of MOTHXR—the Brooklyn-based band whose dark, sensual jams would help them reach their inevitable success even if their frontman Penn Badgley wasn't Gossip Girl. Over the past few months, we've been replaying their songs, "Easy," "Victim," and "Centerfold," on a nearly non-stop loop, only pressing "pause" to go see the guys—Badgley, Simon Oscroft, Jimmy Giannopoulos, and Darren Will—perform live. And even though we haven't grown tired of those three songs just yet (it's quite possible we never will), we're so pumped that the band is finally releasing a new song for us to add into the mix.
With a funk guitar backbone, synth whisps, layered beats, scattered profanities, and smooth-as-honey vocals, their brand new baby-making jam "Stranger" will have you swaying from side to side like a Baptist at their best. Read our interview with the band, then check out track below!
When did you guys first get together and decide to make music?
Oddly it's a neighborhood band. Jimmy and Darren have know each other for the better part of a decade, living in Brooklyn. When Penn moved to Brooklyn, he met those two, as did Simon. Last October we left Brooklyn to record the vibe we'd been fostering there for years, basically. It took almost no time for it to manifest once the 4 of us sat down together in a room: some vintage analog gear and 8 days in L.A. was all we had at first. We had 5 songs recorded, "Easy" among them, and two we had just begun--one of those was "Stranger," which we finished in New York.
What sounds and techniques did you focus on with "Stranger"?
Everything begins minimal. As we do with all songs, we started "Stranger" with a beat. We're turning knobs finding synth tones, no doubt reflecting our late-night drives around L.A. or the dregs of autumn in New York (or the claustrophobia of December in Chicago, where we mixed the record). And those locales only heightened the tension, making space for guitar to trickle & stab, for vocals to wonder over disco pulse. It's a little Halloween disco, actually. Eerie, foreboding tones and some playful "Thriller" vibe.
How would you classify your music?
We'd all label it differently. But it meets at the crossroads of new wave, neo-soul and electronic music, stripping down each and rebuilding a simplistic reinterpretation with a color palette inspired by the analog instruments in the room at the time.
What are you guys working on at the moment?
We're releasing music and media as we're inspired to do so. We have a bank of songs, some unreleased videos. We've spent the year touring, making the live show its own sound/experience. Our last shows of the year will be a Tuesday night residency at Pianos in New York starting December 2nd.  After that, we'll find a room to record more music.  When it's cold and dark, we go inside to work, and so far that has worked nicely.