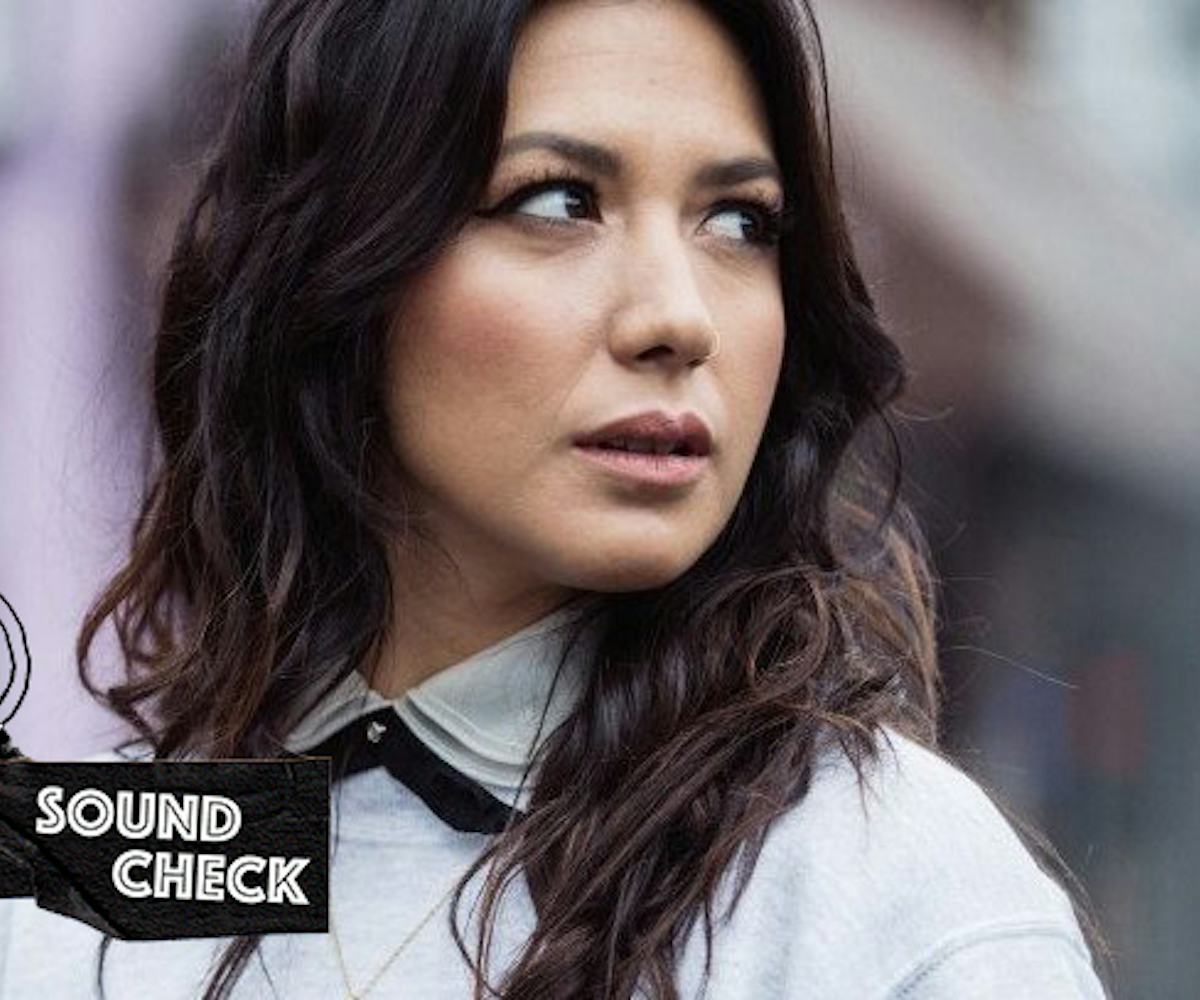 PHOTOGRAPHED BY ERIC RYAN ANDERSON. STYLED BY TIFFANY GIFFORD. WWEATSHIRT FROM CLOSET CASE VINTAGE, SHIRT FROM STAR STRUCK VINTAGE NASHVILLE, NECKLACE BY MICHELLE BRANCH FOR ICONERY.
Soundcheck: The 26 Best Music Releases Of The Week
Michelle Branch, Nick Hakim, Mount Kimbie + more
Every weekend, we're bringing you #SOUNDCHECK—your new destination for the best of the best new music that hit the web over the course of the week. Because you should always be prepared when someone passes you that aux cord. This week's round features 26 of our favorite emerging and established artists including Michelle Branch, Nick Hakim, Mount Kimbie, and so many more. Turn up, tune in, and tune out.
Hopeless Romantic— Michelle Branch
A comeback worth waiting for—even if it took 14 years to make it happen. Consider us members of Team Michelle forever!
"Green Twins"— Nick Hakim
This track shows us what the title of the Brooklyn-based artist's debut album is all about. We can always depend on this Washington, D.C. native to take us on a journey within his music and this track is no different. Can you handle the ride?
"We Go Home Together"— Mount Kimbie feat. James Blake
Need an excuse to stay in all weekend? This is your first class ticket to bed. You're welcome!
"Castles"— BOSCO feat. St. Beauty
Imagine how it feels to be seduced by cotton candy-covered brown skin. Then imagine how it feels to be left by cotton candy and covered skin. You'll get it.
"Ghost"— Liana Bank$
Liana Bank$ announced her upcoming EP Apt 210 and with the good news came the release of her first single off the collection. "Ghost" is an unapologetic ode to living in the moment. The cool melody leaves you with no choice but to be a nonchalant badass for the duration of the track. 
"Anita"— Smino
Smino released the first visual from his debut album blkswn earlier this week. The St. Louis native explained that the track is "some black love shit," and the video presents just that. Directed by and featuring Jean Deaux, the video follows a young couple through their chill day.
"Ready"— Victoria Monet
This Mya-inspired video will keep you invested. The sultry vocals and movement make sure you don't take your eyes off the screen. Are you ready?
"LA"— Dawn Richard feat. Trombone Shorty
Sometimes you have to make black, white, and red for people to hear you. Then add a good bass line to really hook 'em.
"Caught in a Lie"— Chastity Belt
If you thought this track was good when they play it live, you'll love hearing what they pulled off in the studio. Julia Shapiro calls out "Is this what you want?" in the chorus, as if we could ever not want new Chastity Belt tunes. 
"Saint Ivy"— Beach Fossils
Get lost in Beach Fossils' new orchestral-infused sound as they pay homage to New York artists. 
"Hero"— Sevdaliza
This stripped-down track lets Sevdaliza's fragile vocals really shine as the synthy hip-hop beat builds gradually underneath. 
"Stoned on You"— James Young
Because love is the best drug, right? Take a dose of this tune to numb the pains in your heart.
"Crowded Places"— BANKS
This should be the theme song for Anti Social Social Club.
After Hours EP— Mack Wilds
Never forget that Dixon Wilson is a Grammy-nominated artist. Put some respeck on his name! This project is the definition of New York nights and will leave you wanting more.
ALL-AMERIKKKAN BADA$$— Joey Bada$$
At long last, the rapper's full-length record is finally here for the taking. It could not have arrived at a better time with everything going on in U.S. politics right now. We salute you, Joey.
LINES— Allan Kingdom
There's so much versatility on this project that you'll have a track to depict every mood you swing into. Get familiar with this Canadian rapper now.
Swear I'm Good at This—  Diet Cig
This album marks the duo's big debut and it's everything we hoped it would be and more. Sing every song at the top of your lungs and have the time of your life while doing so.
Lovely Little Lonely— The Maine
We can't believe that this band has been around for a decade. Their latest offering reminds us that something this good never gets bad. The boys are back, but they never left us behind on their road to success.
"Stay (I Missed You)"— Bright Light Bright Light 
Bright Light Bright Light covering Lisa Loeb? Say. No. More.
"Skinny Legs"— Elohim
Elohim's skill as a producer/artist is unparalleled. Don't let the name of the song fool you: This song will knock you off your feet.
"Physical"— The Aces
The Aces are pure bliss. There's a brightness to "Physical" that gets better and better with each play. Watch their space.
"Lose My Cool"— Amber Mark
The sophisticated and cool lounge vibes pulsing through Amber Mark's latest are luxurious. Press play, and feel classy and inspired to do you.
"Afterglow"— The Wild Now
You wanna get lost in the clouds with a little seduction on the side? The Wild Now can take you there with this track.
"Coins"— Savannah Outen
This song is not about money. It's about something money can't buy: confidence. 
"Party on a Weekday feat. Olivia Holt"— MYBADD 
This is what youth sounds like. Party safe!
"Real Feels feat. Denzel Curry"— RITUAL
Y'all need to not sleep on RITUAL. They're making some of the best electronic music out there today, with sounds that are humanizing and transformative.