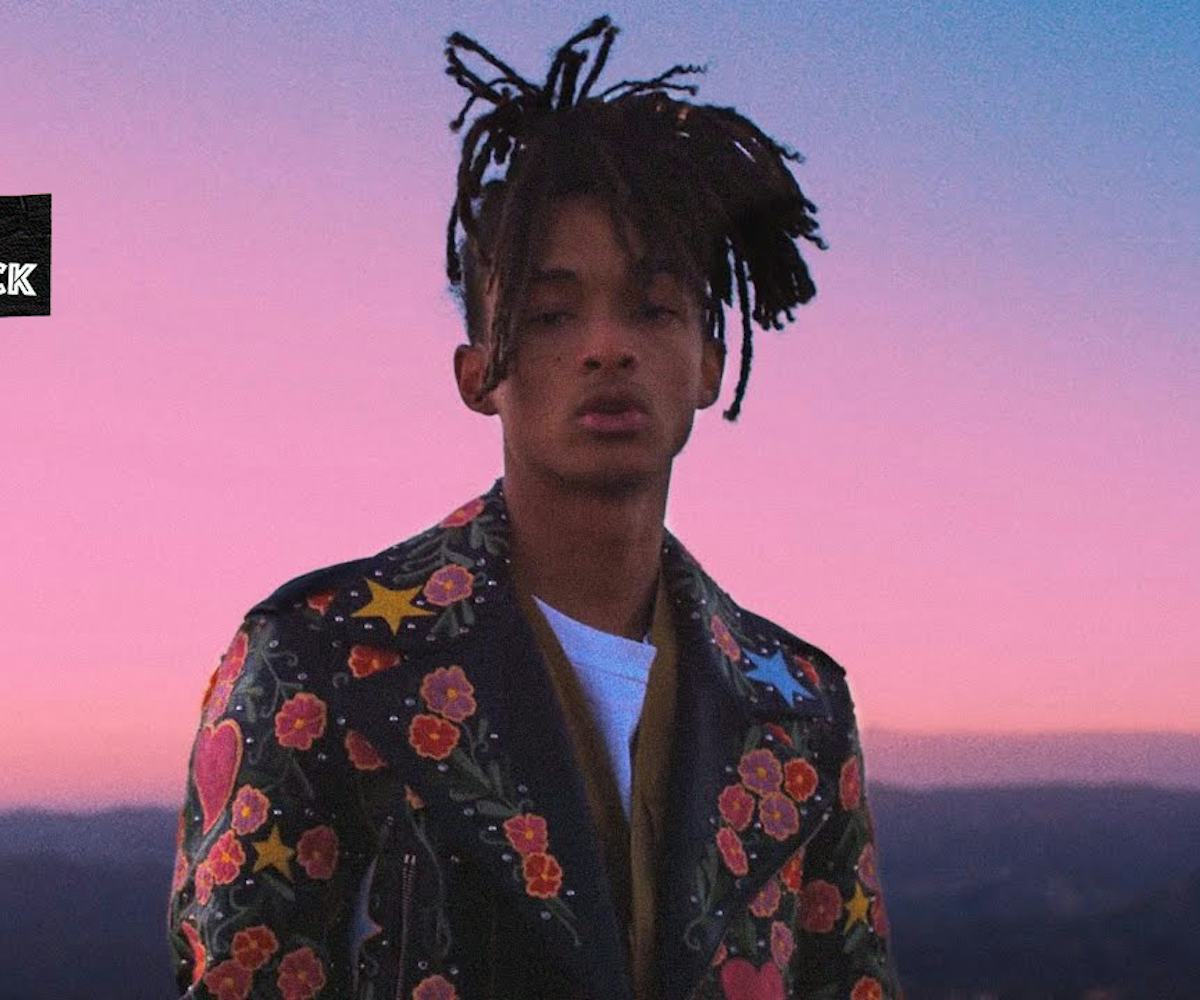 Photo courtesy of YouTube
Soundcheck: The 31 Best Music Releases Of The Week
Jaden Smith, Willow Smith, pnkblnkt + more
Every weekend, we're bringing you #SOUNDCHECK—your new destination for the best of the best new music that hit the web over the course of the week. Because you should always be prepared when someone passes you that aux cord. This week's round features 31 of our favorite emerging and established artists including Jaden Smith, Willow Smith, pnkblnkt, and so many more. Turn up, tune in, and tune out.
"Fallen"– Jaden Smith
It seems to be a rule now that everything the Smith family does is incredible. This past weekend, Kid Cudi surprised us by premeiring a new track and video by Jaden Smith on Twitter, and of course while Jaden is rapping and singing, we're all falling a little bit head over heels for his talent. 
Mellifluous– Willow Smith
Are these the most talented siblings in the industry right now? Possibly. Willow continues to keep things low-key with a chill, lo-fi collection of tunes that will keep your spirits alive.
"outlet"– pnkblnkt
Some songs just make you want to close your eyes, lay down, and let them take you into their world for a bit. "Outlet" is one of those songs. It feels like a much, much needed escape.
"Dare"– Ripsy May
Textures are the most important thing in this sensuous video, filmed in front of blue skies and on white sands. 
"Future Politics"– Austra
Music and politics bleed together in this video, which skews our world and re-envisions it with dystopian elements that seem not so far off from reality. In it, disease infects random citizens–you'll have to watch the video to find out what it does.
"Ex Calling"– 6LACK
Don't watch this at work (unless you have a really, really chill boss), because this video for one of the tracks off 6LACK's recent release FREE 6LACK is a moody, grainy spiral into the psyche of the artist. It even features clips from the ultimate creepy art film–David Lynch's Eraserhead.
"Stay"– Demo Taped
18-year-old artist Demo Taped has been on our radar for a while, but his newest track, "Stay," showcases a range of talent that's almost unbelievable. The smooth simplicity of what he's asking ("Won't you stay a little while?") layered over trilling synths is something that is rarely heard, but fits perfectly when done the unique way Demo Taped does it. It's both heartbreaking and heartwarming, but it's also everything in-between.
"Try"– Richie Quake 
This Brooklyn artist's latest track is all about the complexities of love, and we're into it.
"Dreaming"– Winter
In the L.A.-based pop band's '90s-inspired visual, Samira Winter tries to connect with her child self. The Kevin Kearney-directed video will have you in a trance all weekend.
"Eyes Wide Shut"– Dessert 
In the visual for their latest infectious track, Dessert features a larger-than-life wax bunny burning in an open field. Watch the video or purchase the candle itself (which unveils a USB with more Dessert tunes) here to get in on the magic. 
"Shooting Stars"– DECCO feat. Mapei
This moody track from Swedish producers DECCO and Swedish-American singer Mapei is intensely relatable, and in a genre oversaturated by producers trying to create intense, clubby tunes, this one takes a step back and lets you breathe while still having the same enveloping qualities. 
"Woman"– Diana Gordon
Sometimes you just need to appreciate all the powerful women in your life–and Diana Gordon is here to help you do that. With a retro sound and style in her most recent video, she takes the opportunity to showcase all kinds of women and how beautiful they are by just existing.
"Princess"– Fletcher
This incredibly powerful video for Fletcher's pop anthem "Princess" has a simple message: No matter what you're going through, you can still be a princess, and you don't need a savior. It's a call to be strong, even in the face of life's near-constant adversity. 
"Savoir"– Dominic
As we gear up to head home for the holidays, we're looking out for the inevitable driving songs we'll need as we meet up with high school pals and cruise around our home town. Just in the nick of time, Dominic has released his first single, "Savoir," from his debut album, Goodnight Doggies. The feel-good track leaves Dominic's more somber aesthetic at the door, instead providing us with some serious vintage pop and the perfect guitar riffs to scream-sing along to as we rush down familiar roads in the coming weeks. 
"Too Close"– Rainsford
Rainsford reminds the world that some classic pop always does the trick in her new single, "Too Close." As she soulfully harmonizes on the bridge, singing "where do we go from here," we are reminded that though symbolically there's uncertainty, Rainsford's career is only going up. 
"Between Us"– TYuS feat. C A S S O W
In an encapsulating and seductive tale of infidelity, TYuS shows listeners the creep side of life in his new single "Between Us," featuring C A S S O W. Though we certainly don't condone violence, there's nothing more satisfying than watching a wronged girlfriend fight back to the smooth beats and soft vocals of Portland's favorite singer. 
"Not Always"– Ama Lou
It seems that now more than ever, London is the home base for up-and-coming musicians with a unique ability to smoothly combine genres. Such can be said for North London's Ama Lou as she premieres her new single, "Not Always." With a quick flow and roots in alternative, R&B, and soul, Ama Lou shines as sings about her romantic woes. 
"Big Wild"– Manila Killa feat. iDA Hawk
Epic, majestic, and powerful are the best ways to sum up Manila Killa's musical sound. In his new single, "Big Wild," featuring iDA Hawk, Killa's sounds are utterly unpredictable as they build to an epic climax that fuses organic sounds with an electric beat so seamlessly you won't want it to end.
Solo Boy Band– Nessly 
It's been an anticipatory year for Atlanta rapper Nessly. Following plays on OVO sound radio, and collabs with Lil Yachty amongst many others, we knew something big was coming. In his latest project, Solo Boy Band, Nessly proves that the only way is up, exhibiting his growing talent for songwriting, fresh sounds, and provocative moods. Though Nessly's only just released this mixtape, we're already looking forward to what's next. 
"Love Is Everything I Needed"– Swan Lingo
In their debut track, "Love is Everything I Needed," Swan Lingo creates an utterly soothing atmosphere for their listeners. Inherently a soft song, the dreamy vocals, guitars, and rhythm will rock you to sleep like the modern lullaby you always needed.  
"Immortal"– Elley Duhé
If the main goal of life is immortality, Elley Duhé has clearly achieved it in her debut solo single, "Immortal." Vivid beats, powerful vocals, and a deep bass culminate in a captivating hip-hop track that tells the story of human resilience, loyalty, and fight. 
"Rih-Flex"– The Dream
2016 is the year of Rihanna, so it only makes sense that The Dream rolled out a slow-tempo song dedicated to her vibe before 2017 came busting in. 
"Team"– Krewella
The empowering, we-don't-take-no-for-an-answer sister act is back with their newest single, "Team." Distracting audiences with entrancing beats, the sisters drive home their real themes subliminally through their lyrics, where they speak on determination, autonomy, girl power, and independence. With Krewella, becoming woke is just a track away.
"Barbell"– Hodgy
Hodgy's highly anticapted album, Fireplace: TheNotTheOtherSide, just dropped, and, taking a cue from its name, it's flame. "Barbell," with it's conversational tone, invites listeners to enter the Odd Future member's mind, and we love it.
"Another Dimension"– MishCatt
With John Baldessari-inspired effects and a Santigold-meets-Kimbra vibe, MishCatt has gone and created one of the most joyful music experiences we've witnessed this year. This is the perfect getaway track.
"Bang Bang"– DJ Fresh vs. Diplo feat. R. City, Selah Sue, and Craig David
Selah Sue absolutely reigns on this track. It's a taunt of a song, with DJ Fresh battling Diplo to wondrous results. Let's get lit.
"Love to Hate It (Vasco Remix)"– Off Bloom
If you don't know Off Bloom, you should. They sound like a perfect love child between Flume and Sleigh Bells: melodic, noisy, and sensual. Vasco's take on the title track off their latest EP, Love To Hate It, turns the sex appeal up even more. 
Debutante Remixed– FEMME
If you thought FEMME's debut was fun, just wait until you sink your teeth into the remixed version.
"Pavement (Sofi Tukker Remix)"– Stray Echo
The newly Grammy-nominated electronic duo funk up the fun with Stray Echo's "Pavement." Press play and prepare to spin into the night.
Enough of You– Azad
After much anticipation, R&B vocalist Azad has released his new Enough of You EP. It's a ride through all the stages of heartbreak–everything from anger to self doubt. You will never go running back to your ex after hearing this.
"Monster 2.0"– Jacob Banks feat. Boogie
Not everyone is perfect. In fact, some people are downright evil (or maybe that is just one side of them). This is a soundtrack for the flawed protagonist in us all, set to a combination of different elements from drums to choir. Maybe this can help to exorcise the inner beast.