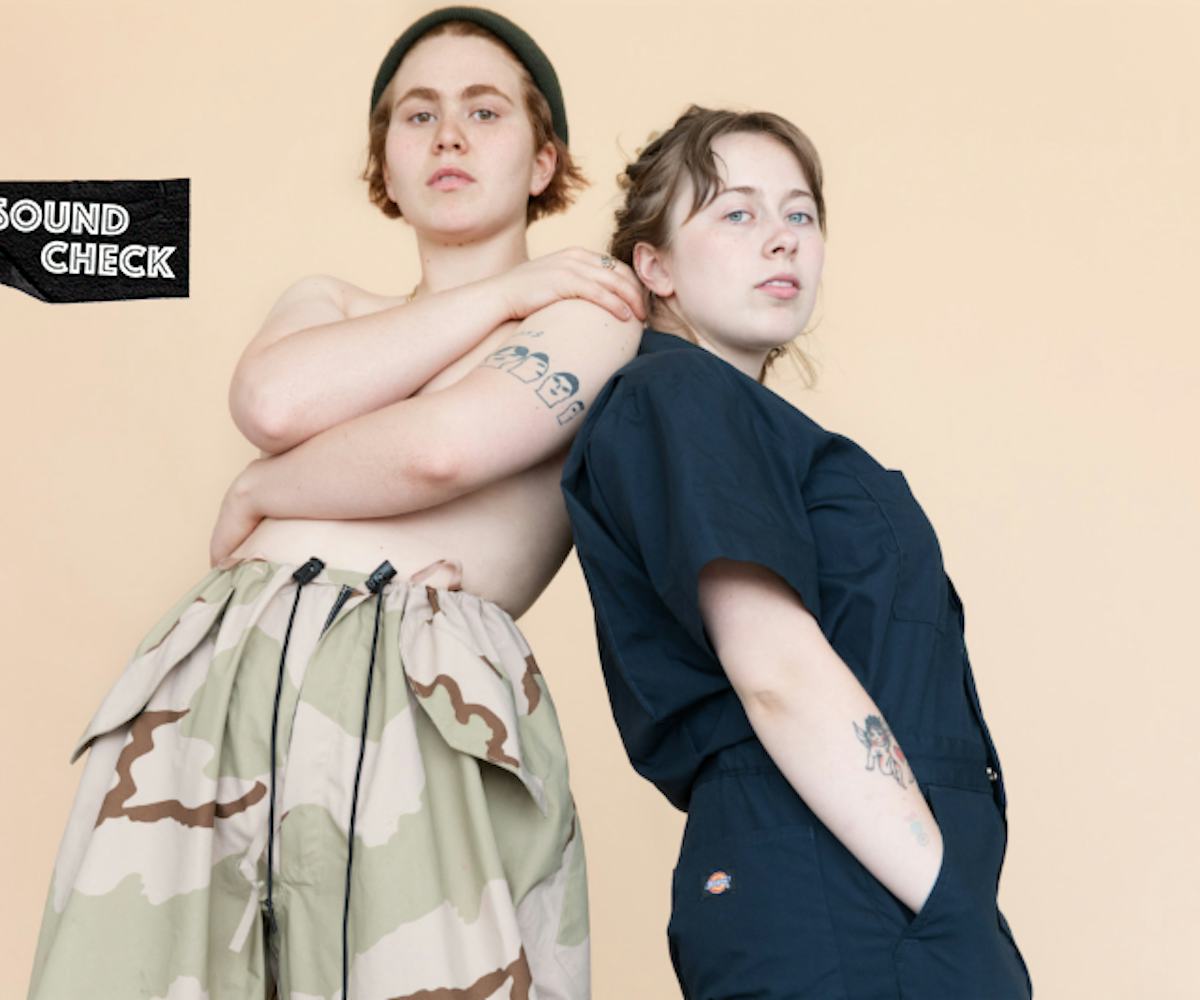 Photo by Kacie Tomita
Soundcheck: The 23 Best Music Releases Of The Week
Girlpool, Amandla Stenberg, Mabel + more
Every weekend, we're bringing you #SOUNDCHECK—your new destination for the best of the best new music that hit the web over the course of the week. Because you should always be prepared when someone passes you that aux cord. This week's round features 23 of our favorite emerging and established artists including Girlpool, Amandla Stenberg, Mabel, and so many more. Turn up, tune in, and tune out.
"Powerplant"— Girlpool
The title track for this phenomenal record does not disappoint, and neither does the video. We love watching Cleo and Harmony in their natural element. Powerplant is out now if you want to spend your entire weekend being a wallflower.
"Let My Baby Stay"— Amandla Stenberg
This might be the sexiest cover of Mac Demarco that we've ever heard. More Amandla, please!
"Bedroom"— Mabel
This is basically the slumber party of our millennial pink dreams. No boys allowed; keep the snakes out of your sheets.
"Malibu"— Miley Cyrus
This video is Saturday morning wake-n-bake cute.
"1UL"— Danny L Harle
Watch out, there's another huge banger on the loose!
"Escape Plan"— Tigers Jaw
Kick back with the same wonderfully melancholy vibes Tigers Jaw has been giving us since the start. 
"Hundred Waters"— Particle
Electric space-funk vibes for your weekend turn-up.
"Dayglow Bimbo"— TOPS
TOPS left their old sound behind on this new album. Get a taste of their new grungy '90s alt-rock sound on "Dayglow Bimbo." 
"Talk About Love"— Late Night Episode
Late Night Episode gives a good dose of bubbly, nostalgic pop to get your summer started. 
"Just Can't Get Enough"— Sheer Mag
It's like the rock 'n' roll theme to our throwback teen movie dreams.
"Games"— SassyBlack
Sassyblack lends her sweet and soulful voice to a slow melody that's perfect for those summer afternoons.
"Mr Green"— Evi Jai
This track is 420-friendly and serving major Queen Bey "Hold Up" inspo.
"Shelter"— machineheart
Machineheart's "Shelter" will literally send chills down your body. 
"In and out of Love"— Vera
How couldn't you love a pop/dance track with a retro sax solo? It's only kinda cheesy, but in the best way. 
"Say My Name"— Tove Styrke
With a sultry voice and a hard beat, "Say My Name" is definitely a summer banger.
"I've Got Time"— Mike Edge
This killer '70s-style track will have you feeling extra copacetic.
"Somethin Tells Me"— Bryson Tiller 
Bryson Tiller is back and his latest single, "Somethin Tells Me," is perfect for those late night drives.
After Laughter— Paramore
Paramore go brightly into the future while still maintaining a sense of nostalgic angst. Welcome back, you three.
Harry Styles—  Harry Styles
Can the One Direction frontman make it on his own? He can. Harry Styles manages to make a wise soul sound fresh.
"Die 4 You"— Perfume Genius
Hot off the release of his breathtaking new album No Shape, Perfume Genius brings his ode to erotic asphyxiation to life with this tender Floria Sigismondi masterpiece.
"Whippin"— Kiiara (feat. Felix Snow)
If you ask what our summer plans are, we'll kindly refer you to this video.
All Becomes Okay— Shallou
Shallou's new EP is lush, blue, and contemplative. Turn this on and feel at ease.
Alter Egos— Ingrid Michaelson
Michaelson updates her wonderful 2016 LP, It Doesn't Have To Make Sense, with collaborative efforts featuring the best and brightest musicians around, breathing new life into an already thriving piece of work.