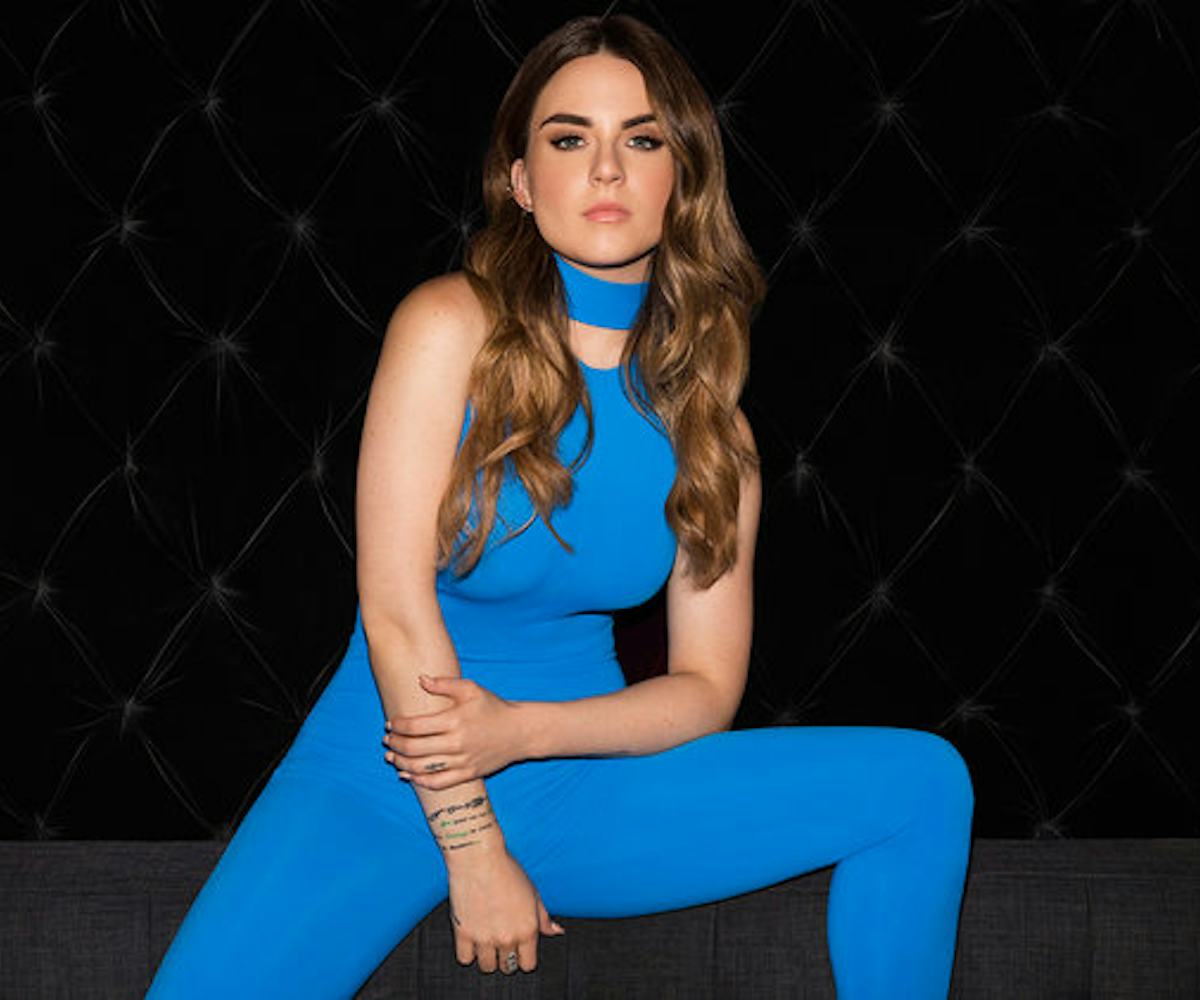 Photo courtesy of JoJo
Soundcheck: The 25 Best Music Releases Of The Week
JoJo, Kehlani, Mitski + more
Every weekend, we're bringing you #SOUNDCHECK—your new destination for the best of the best new music that hit the web over the course of the week. Because you should always be prepared when someone passes you that aux cord. This week's round features 24 of our favorite emerging and established artists including JoJo, Kehlani, Mitski, and so many more. Turn up, tune in, and tune out.
Mad Love— JoJo
She's finally back! After 10 years of wishing and waiting, JoJo has finally returned with an album that showcases her powerhouse voice and unflappable sense of perseverance. 
"Table"— Kehlani feat. Little Simz
Bars and bangers is all we need this weekend. This double dose of girl power will fire you up instantly.  
"A Burning Hill"— Mitski
With all of the drama from the debate still looming over our tired heads, Mitski is here to save the day with a soft and solemn video for her dreamy song "A Burning Hill" off of Puberty 2. Kick your feet up and let this modern-day lullaby rock you to sleep for a quick midday nap. But be warned: "Burning Hill" can cause a serious case of ennui. Listen at your own risk.
"True Disaster"— Tove Lo
If this song is any indication, Tove Lo has dodged the sophomore slump for her forthcoming album Lady Wood. 
"Cranes in the Sky (Kaytranada DJ Edit)"— Solange
Take a seat at this table, because this remix is going to blow you away. What did we do to deserve all of this black excellence? 
"Faithfully"— Skylar Spence
This track is a feel-good, head-boppin' song sampling the all-mighty queen Aretha Franklin (feels like I've seen you before). Though he warns that his forthcoming album will have an entirely different direction, Spence felt it was important the world heard the last of his '80s-esque sound before it was too late. We totally agree.
"Body Moves"— DNCE 
DNCE reminds us that pop will never die in the video for their new single "Body Moves." Staying quite literal to its title with four minutes of some movin' bodies, the video features the band and some added friends jumping around to Joe Jonas' sweet falsettos. Ultra catchy, ultra sexy, and ultra mature, it isn't quite a Jonas Brothers video, but we're happy with what we've got. After months of hiding, our inner fans have run free. (Dammit, Joe.)
"Lights"— Evy Jane 
From the genius minds of Evy Jane comes their new soulful single "Lights." A dynamic backing of violins, guitar, and synthesizer meets Evelyn's raw vocals, producing a religious anthem for the ages. Make sure you lend an ear before the lights go out!
"Workin'"— Marlon Craft 
Business in Midtown/party in Brooklyn—the mantra for many has finally been visualized by Hell's Kitchen MC Marlon Craft in his new track "Workin.'" With accurate old-school vibes and a flawless flow, we're sure Craft's voice will be filling up airwaves in the coming months. Get ahead of the trend!
"All Night (Kaytranda Extended Joint)"— Chance the Rapper and Knox Fortune
As if we didn't already love the original enough, now Kaytranda has given us a new reason to press play. If there's one thing we know for sure it's that we'll be listening to this all night, all day, and, well, probably all week to be honest. 
"Come First"— Terror Jr. 
We really couldn't have said it better ourselves. In the latest by Terror Jr., a self-described "dream pop supergroup," they're taking matters into their own hands and letting 'em know who's boss in this catchy and empowering anthem. 
"New Phone (Who Dis)"— Cakes Da Killa
Forwarding this video to all of our haters ASAP. We've all felt that surge of power in sending a "new phone who dis?" text, and Cakes Da Killa perfectly captures that addicting feeling in his latest video, directed by Ben Clarkson in conjunction with Red Bull Sound Select.
"Wings of Love"— LIV
NSFW warning! Lykke Li is making her directorial debut in this music video, and, of course, it's beautiful. The sweet sounds of LIV partnered with the vision of naked people frolicking through the woods and jumping into crystal-clear lakes is the midday escape we all need. 
"Your Eyes"— Tennyson 
Space out with this uber-psychedelic video and let the voices of this brother and sister duo guide you into another dimension. 
"Gravel to Tempo"— Hayley Kiyoko 
High school is a battleground of insecurities and people telling you to do this and be that, but you don't need us to tell you that twice. Had this song been around while we were dodging the Mean Girls, life might've been a little less about trying to fit in and more about trying to stand out while doing our own thing. No matter. The message in this song and video is the true shining star here: Dance to your own beat.
You Should Know EP— Samuel Larsen
We could sing sweet praises about this former Gleek all day long. His latest project will take your breath away, and you might just lose your voice from singing too much.
"False Alarm"— The Weeknd 
This video is not for the faint of heart, but if you're into violence and the heat of action then it will overdose you with a major adrenaline rush. 
"Losing My Mind"— Sølv
For a debut track, Sølv's "Losing My Mind" is a perfect introduction. This smoked-out single will have you feeling yourself.
"I Don't Love You Anymore"— ANOHNI
After the tour de force that was "Drone Bomb Me" and the sublime album that followed, ANOHNI continues to stun with "I Don't Love You Anymore." The song itself is gut-wrenching, but it's a whole other level of catharsis when experienced in video form.
"No More Love Songs"— Brandon Skeie
Are you looking for a bop that bops harder than most? Brandon Skeie's newest is it. He is growing into his music sensibilities and it's showing with this production. Come for the powerhouse vocals, stay for the sexiness and allure.
"Beneath"— Corey Harper
Corey Harper is the musician that will make all you "no country music" people out there embrace the genre in a way you didn't know you could.
"Good Girls"— Crystal Fighters
For those of you who grew up on bands like Architecture in Helsinki and Clap Your Hands Say Yeah, there's a huge nostalgia factor in Crystal Fighters' new song. It mixes just the right amount of fun and indie together to create a track that's pure bliss. Turn this up and take a walk. It'll do your soul some good.
"Nobody Else"— Miniature Tigers
We'll be cranking this tune all the way up the moment the Sunday blues hit. The band's forthcoming album I Dreamt I Was A Cowboy officially drops on October 28.
"Under The Grave"— ROZES
Sometimes, you wake up in a relationship and feel nothing for the person you're supposed to be in love with. It happens. It sucks. But, realizing and acting on it sooner instead of later is the unselfish thing to do. That's how ROZES' latest single may be interpreted and the visual for it is mesmerizing. For ROZES, though, it's a song born from the loss of her friend and strives to remind us to focus on what's important. This girl has a bright future ahead. Soon she'll be more than the vocalist on that runaway smash by The Chainsmokers.
"Back Around"- Dessert
We still don't know how these guys haven't blown up yet because this track is a banger. The LA-based trio makes us appreciate the simple things in life.