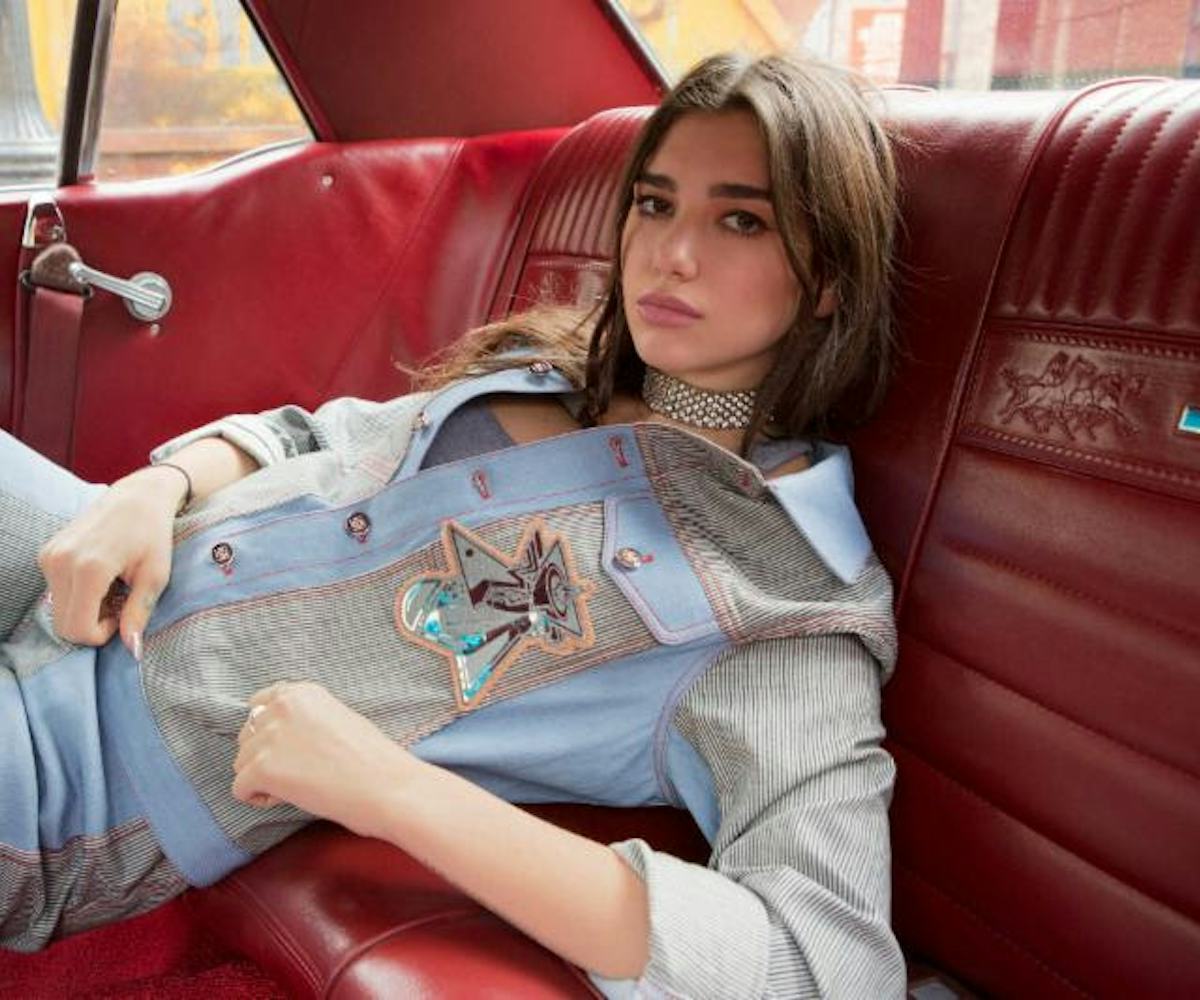 Photo courtesy of Dua Lipa
Soundcheck: The 32 Best Music Releases Of The Week
Dua Lipa, Tinashe, Banks + more
Every weekend, we're bringing you #SOUNDCHECK—your new destination for the best of the best new music that hit the web over the course of the week. Because you should always be prepared when someone passes you that aux cord. This week's round features 32 of our favorite emerging and established artists including Dua Lipa, Tinashe, Banks, and so many more. Turn up, tune in, and tune out.
"Blow Your Mind (Mwah)" - Dua Lipa
She's on our mind and we like the way she talks. The London-based pop singer's latest will literally blow you away. Where can we sign up to join your girl gang, Dua? 
"Company" - Tinashe
Attention all side pieces, please get in formation. Thank you!
"To the Hilt" - Banks
T-minus two weeks until Banks' sophomore album completely wrecks the emotional stability we recently worked so hard to maintain. It's fine though, she's always invited.
I Remember - AlunaGeorge
It took three years, but oh was it worth the wait. Our hearts are dancing with joy as AlunaGeorge takes us on a musical journey that we'll never ever forget. Blessed are we.
"Jason's Song (Gave It Away)" - Ariana Grande
Come through, jazz queen Ariana Grande! The "Into You" singer released a track off the Japanese version of her new album,
Dangerous Woman
, for the whole world to hear called "Jason's Song (Gave It Away)." Legendary Broadway composer Jason Robert Brown, the man behind
The Last Five Years
,
Parade
,
and Songs For A New World
, worked his magic here and Grande soars over his melodies. She sounds right at home in this genre. More of this, Ariana! More. Of. This.
"Overtime" - ScHoolboy Q feat. Miguel and Justine Skye
They like big butts and they cannot lie. Find out how to get ScHoolboy Q and Miguel to put in overtime, i.e. Netflix and chill with you, in the video above.  
"Joyride" - Bobby Brackins feat. Austin Mahone
Girls in bikinis frolicking around sand dunes and hotel rooms—clearly it was a hard day at work for Brackins and Mahone. 
"Holy Grounds" - GANGLY
Bjork is already a huge fan of this group, and we totally see (and hear) why. Fellow Icelanders GANGLY have used uber cool 3D graphics to offer up a slice of Nordic mutant R&B and deliver something completely new. 
"Sax In The City" - Let's Eat Grandma
Talk about child's play. In their latest video, Let's Eat Grandma are creepy and cool and everything in between. The duo's eerie crawl through the city, literally on all fours, isn't just bizarre for the sake of being bizarre. It doubles as commentary on the generations to come who will be raised in a society reminiscent of George Orwell's 1984. It's equally as unsettling as it is accurate. 
"Hold Up (Dough Up)" - Kodie Shane feat. Lil Uzi Vert & Lil Yachty
A large focus in music lately has been making space for female artists in male-dominated genres, and in Kodie Shane's newest track she does just that. Although Lil Uzi Vert and Lil Yachty are on the track as features, Shane's distinctly feminine but badass attitude steals the whole show, proving that not only can she hang with the dudes in her genre, she can outshine them.
"Bang Bang" - Green Day
Green Day have had a multi-decade career, and their latest music video for "Bang Bang" shows that they have no intention of slowing down any time soon. Directed by Rancid's Tim Armstrong, the video stays true to the punk ethos of past Green Day while still maintaining the production value of a band of their status, making it the best of both worlds.
Mykki - Mykki Blanco
No one thing can describe Mykki Blanco, she is all things bold, boundry pushing, and courageous. In her new work Mykki, you travel through her personal journey of all the things that make up Mykki: all the mistakes, and lessons learned, more often than not the hard way. But in true Mykki fashion she dusts herself off and runway walks into the next chapter of life.
"Far Cry" - Jack Garratt
If you've been waiting for Flume to collaborate with Gallant, this is your lucky day. Or at least probably as close as you're going to get. On "Far Cry," Jack Garratt mixes R&B sensibilities with electronic hype, bringing us an emotional tune that will make for a welcome addition on any party playlist. 
"Sulphur Springs" - Conner Youngblood
We rarely hear about heartbreak from the position of the heartbreaker as opposed to the heartbroken, but the incredibly evocative "Sulphur Springs" provides us a rare peek into the mind of someone who knows he cannot be as committed as his partner wants. If the lyrics "I hope you don't take this personally/ I never meant for this to be" don't make your heart sink, I don't know what will. 
"Vertigo" - Harrison feat. a l l i e
Self-care is incredibly important, so no one can blame producer Harrison for taking four months extra to make sure he was able to manage his depression and anxiety before finishing his album. Honestly, we're glad he did, because newly-released "Vertigo," featuring the vocals from the eternally ethereal a l l i e, is beyond worth the wait. They sure do seem to be having fun on that island.
"Talk To Me" - Blonder 
You're lying if you say you don't fall in love with a stranger sitting across from you on the subway or standing next to you in line at the coffee shop at least twice a day. To quell your aching heart Blonder has offered up his latest single about missed connections and reminiscing on what could have been as sit you sit on the train wishing you would have talked to them. 
"See U (Remix)" - pnkblnkt
In a darker but even cooler, synth-driven remix of Charlie Puth and Wiz Khalifia's "See You Again," pnkblnkt has got us missing that special someone in a whole new way.
"Cold Water" - Major Lazer feat. Justin Bieber & MØ
Just one year ago, we were doing the most to learn the steps to Justin Bieber's hit single "Sorry." This time, there's a transcontinental dance party in front of some pretty stellar Icelandic views. Spoiler: There is water, and lots of it. We'll be spending our weekend on YouTube watching dance tutorials.
"Escapist" - Quiet Luke
This New York-based songwriter and producer will give you all the feel-good vibes you need this weekend. The song will appear on his debut Beholden EP, slated to come out later this year. 
"Little Bit of This" - GTA feat. Vince Staples
Vince Staples has been dropping hit after hit in the past few weeks and this time, he's back with a feature on GTA's feel-good song "Little Bit of This" in honor of their upcoming album Good Times Ahead. Can't help bopping our heads along to this one.
"Radioactive" - Anna Lunoe
Reminiscent of a dark Icona Pop, Anna Lunoe's new single "Radioactive" is spectacularly nuclear, and sure to be the next club-kid favorite.
"Same Old Blues" - Phantogram
As of late, many have criticised certain sects of pop music for its lack of creativity. This is surely not the problem for Phantogram, whose new single "Same Old Blues" is wonderfuly unique and yet comforting all at the same time. With a touch of the literal blues genre, some house, and some good ol' pop, Phantogram puts an interesting spin on both the structure and sound of classic pop that leaves "Same Old Blues" resonating with listeners. Call it an amalgamation if you wish.
"Butterfly" - Raury (prod. by Danny Parra)
Raury's "butterfly" is like a musical diary entry. It unveils emotional trauma as it alludes to his past struggles with depression, bullying, and suicide. Set to an "808s & Heartbreak"-esque beat, the Atlanta singer recounts the backstabbing and loneliness he has had to overcome to get to where he is today.
"Failure" - Young Lungs (Prod. by Cian P)
This is the soundtrack for those times when you are trying your hardest but it never seems good enough. This song definitely manages to melodically release that emotional angst.
The Divine Feminine - Mac Miller
It is very rare for a rapper, especially one on their fourth studio album, to release love songs. But it seems like Mac Miller is getting in touch with his softer emotions and showing us a new side to his psyche with his latest work.
"Mad Love" - JoJo
Throwbacks are never a bad idea, but JoJo's latest single off her highly anticipated album, Mad Love, shows us that her vocals have only grown stronger after all this time.
"Anywhere" - Dillon Francis feat. Will Heard
This track is that feeling of never wanting bae to leave, put into musical form.
"Asleep" - Oxymorrons
Never bother someone while they are sleeping, especially when it's that "I partied too hard this is my hungover Rip Van Winkle-caliber slumber" kind of sleep. With the universe as their influence, alternative hip-hop crew Oxymorrons releases a morning-after party anthem in "Asleep."
"Rebellion" - EMP
If you needed any more proof that Toronto is essentially a breeding ground for musical talent, newcomers EMP have shared their debut single, "Rebellion." Composed of rapper Milly Manson, vocalist Pree, and producer Eestbound (best known as the lead producer on Travis Scott's "Antidote"), the group brings hard-hitting verses, effortless vocals, and nightmarish beats. We're already eagerly anticipating more releases from this group—one listen and you will be, too.  
"Blood On Me" - Sampha
We might as well carve our hearts out ourselves and leave them on a plate for Sampha. This moody visual makes the tune all the more melancholic.
"Lost" - Sorcha Richardson
Sorcha Richardson continues her rollout of deeply personal music with "Lost," written for a good friend of hers following a breakup. Heartbreak is universal, however, and Richardson's words will sink into your bones.
"Houdini" - Cherryade
London's new rabblerousers are back with a brand-new song, but the same devil-may-care attitude. Turn this up, pop some bubblegum, and roll your eyes at everyone who bugs you. You own the world, princess.