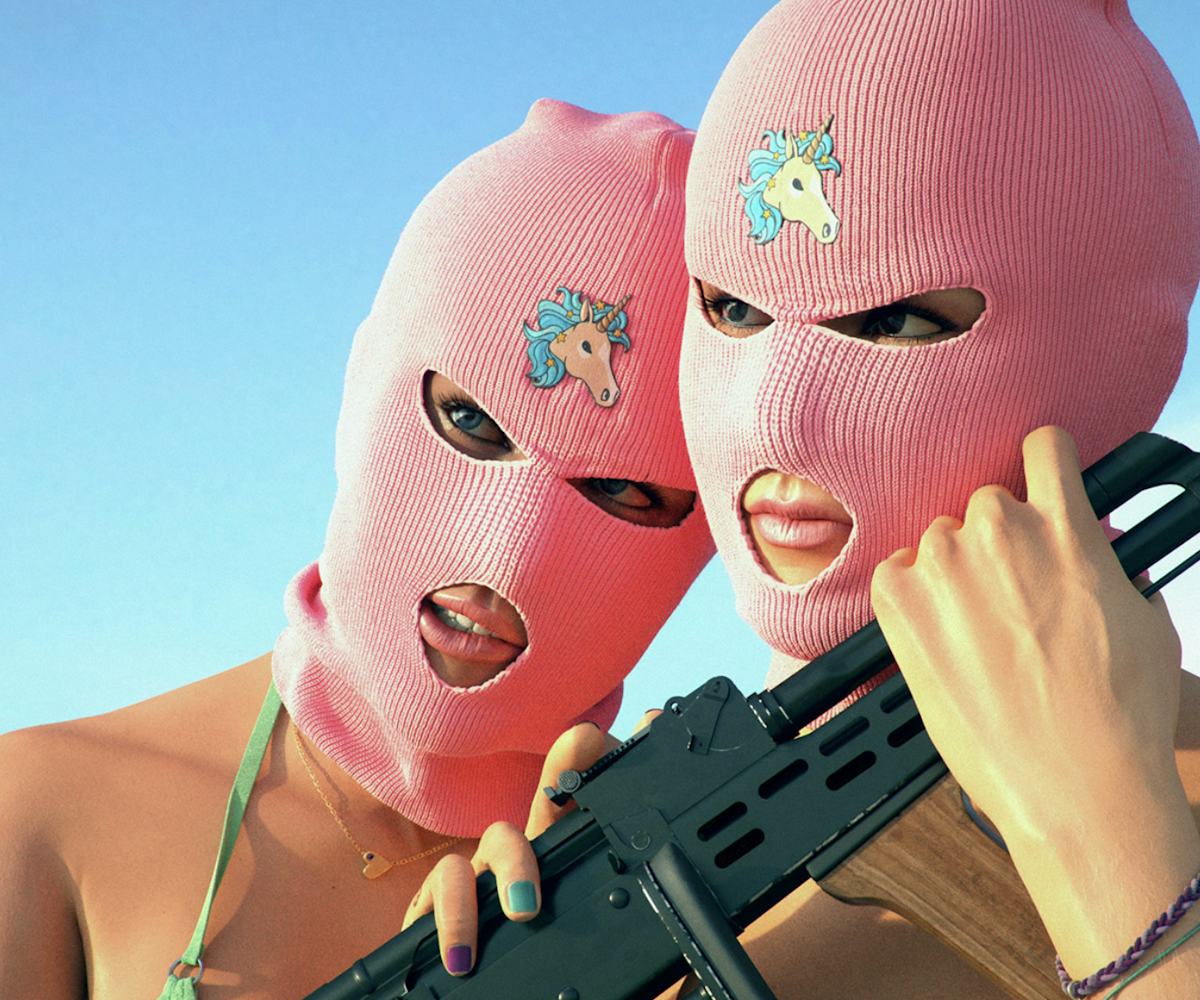 Screenshot via YouTube
'Spring Breakers' Is Turning Into A TV Show
Has James Franco's voice repeating the words "Sprang break foreva" been stuck in your head since 2012's neon-tinted fever dream Spring Breakers debuted in theaters? Well, you're in luck: Spring break really could last forever if an upcoming TV show based on the controversial film turns out to be successful.
According to Deadline, a digital streaming service called Blackpills, along with production company Hanley's Muse Productions, has secured the rights to Harmony Korine's cult classic—although Korine himself is not onboard. However, the show does have Chris Hanley and Fernando Sulichin, the movie's original producers, spearheading the effort. Casting is currently in progress.
It's unclear yet if the series will be released in bulk a la Netflix; a quote from Blackpills co-founder Patrick Holzman suggests something more avant-garde might be going on, though: "[Hanley] Muse has always been a pioneer in detecting new young talents, so they perfectly complement our vision at Blackpills... We want to engage new audiences by releasing Spring Breakers in an unconventional digital format beyond one typical for movies. Muse's passion for new progressive formats excites us and marks the start of a long partnership."
Paper notes that a sequel to Spring Breakers was in the works for a while but was objected to by one of the stars of the original film, James Franco. "This is not being done with Harmony Korine or my consent," Franco wrote on Instagram at the time. "The original was wholly Harmony's creation and these producers are capitalizing on that innovative film to make money on a weak sequel. I want everyone to know that whoever is involved in the sequel is jumping on board a poison ship. It will be a terrible film, with a horrible reason d'être: to make money off someone else's creativity." The sequel was eventually abandoned; Franco has not yet made a statement about these latest TV developments.
Spring Breakers starred Disney alums Selena Gomez, Ashley Benson, and Vanessa Hudgens as trouble-making college students who get involved in a deadly drug dealer's lifestyle during a vacation gone terribly awry. Reviews of the arty film were polarized at the time, with at least one critic describing the movie as "a trippy, florescent whirl of boobs and bongs."