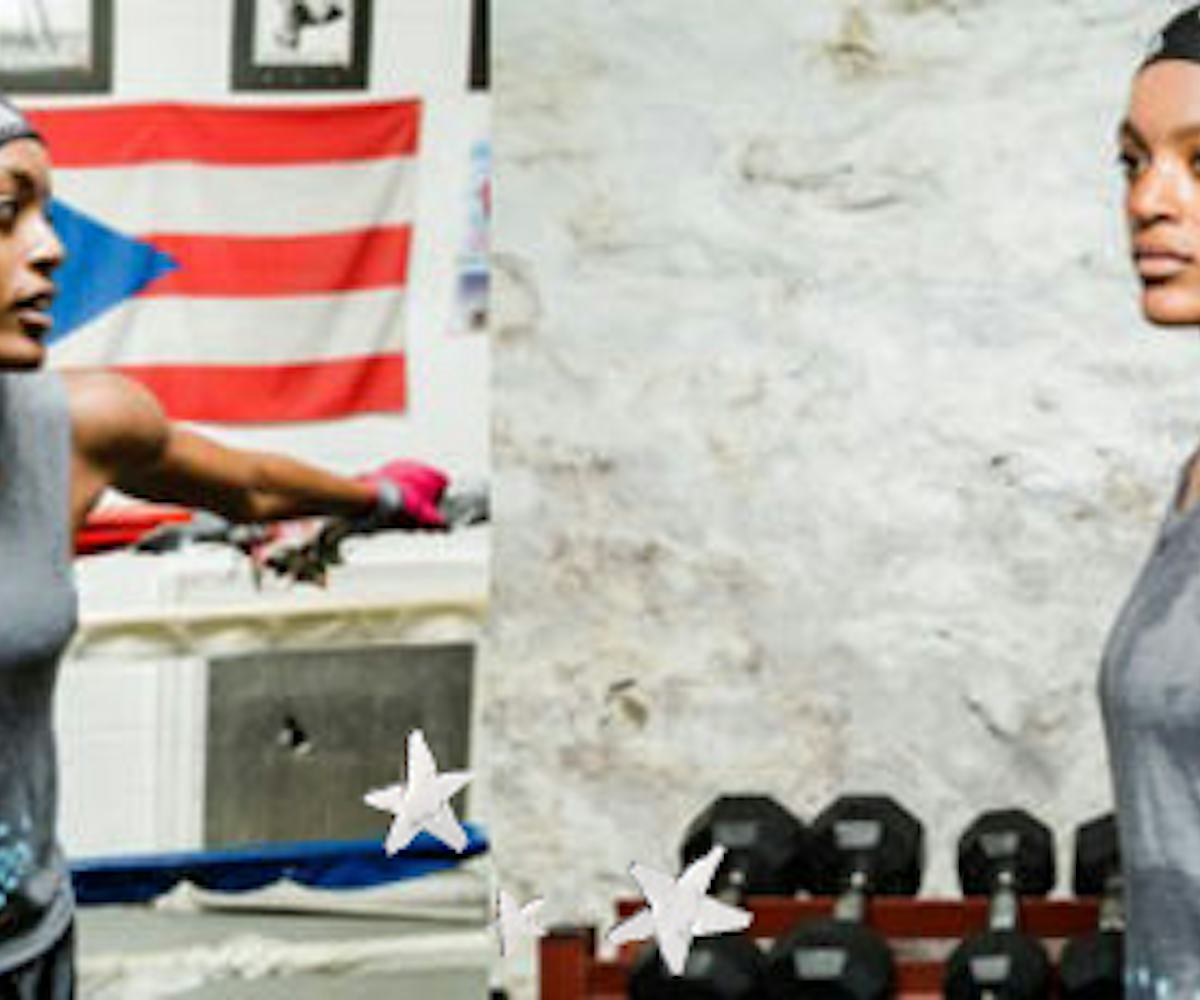 Photographed by David Oh
Boxer Stacia Suttles Is The Ring Leader
and a director in the making
In celebration of Black History Month, NYLON is running a spotlight series called Black Girl Power... The Future Is Bright. Every day, phenomenal black women from different industries will be featured to tell their stories—revealing how they became who they are, showing what they have accomplished, and pinpointing how they navigated their careers. Black women deserve to be celebrated 365 days of the year, and we hope that this series will inspire everyone to believe in the power of #blackgirlmagic. 
Bronx boxer Stacia Suttles is more active than most 21-year-olds. Not only is she a full-time college student, but she also works in retail and videography. Even though she's only been boxing since 2014, Suttles has been involved in sports since she was a kid. (She also used to be a skateboarder back in the day.) After taking a semester off from college in Buffalo in 2012 though, Suttles fell into a bit of a rut. "I found myself lost because all my life I was involved in sports," she said in an email. "I began taekwondo at the age of four, and I did basketball all through high school. So to just go to work felt weird to me. I decided to get back into sports and get back into shape."
Suttles' first boxing coach, Victor Pena, was actually her neighbor and had been wanting her to box for years so it was almost like it was meant to be. Last year, she had the honor of competing in the New York Daily News Golden Gloves tournament. (She didn't win the whole thing, but it goes without saying that she put up a fight.) Get to know more about Suttles' blossoming boxing career and learn about her passion for film in the interview, below!
How do you maneuver your respective industry as a black woman?
I maneuver my respective industry as a black woman by remaining confident. Everyday that I go to the gym I give it 110 percent; everything I have, plus some.
Could you describe a moment where you felt like you defied the odds or broke a barrier?
When I fought in the Barclays Center. I had only been training for one year and then I entered the NY Golden Gloves. I won my first and second fight, which then got me to the finals of the Golden Gloves. It didn't hit me that I had defied odds until I was walking out from the backstage area of the Barclays Center. I was walking with my coach and my dad to the ring, and when I looked around I realized I had done something that not many people get to do. I worked hard and in my first year I entered the Golden Gloves—I earned the opportunity to fight in the Barclays Center against a girl with a lot more experience than myself. 
How did you grow into your black identity? (Or, if you're multiracial, how did you grow into your identity as such?)
My dad is black and my mom is Puerto Rican so growing up multiracial showed me the best of both worlds. I'd say I was able to grow into my identity by being true to myself.
Growing up, where did you look for inspiration? Who or what inspires you now?
Growing up I looked for inspiration in people around me. I found a lot of inspiration in my brother because it seemed as if he was talented at everything we did as kids. I found a lot of inspiration in my aunt because she was always there for my family and myself. She was always the rock and when I needed her I knew she'd be there. Now I look for inspiration in Casey Neistat. He's a filmmaker that went from nothing and worked his butt off be something/someone. When I discovered his films and his blogs on YouTube I immediately felt good. He's inspirational and motivational. He inspires me to do everything I do to the best of my ability.
A huge inspiration to me is also Clarissa Shields. Before I started boxing, I had seen a video of her before the 2012 Olympics. She ended up winning gold and is now working towards representing the U.S. in the 2016 Olympics which is very inspiring to me. She worked hard to do what she loves despite the neighborhood she lived in and the people around her.