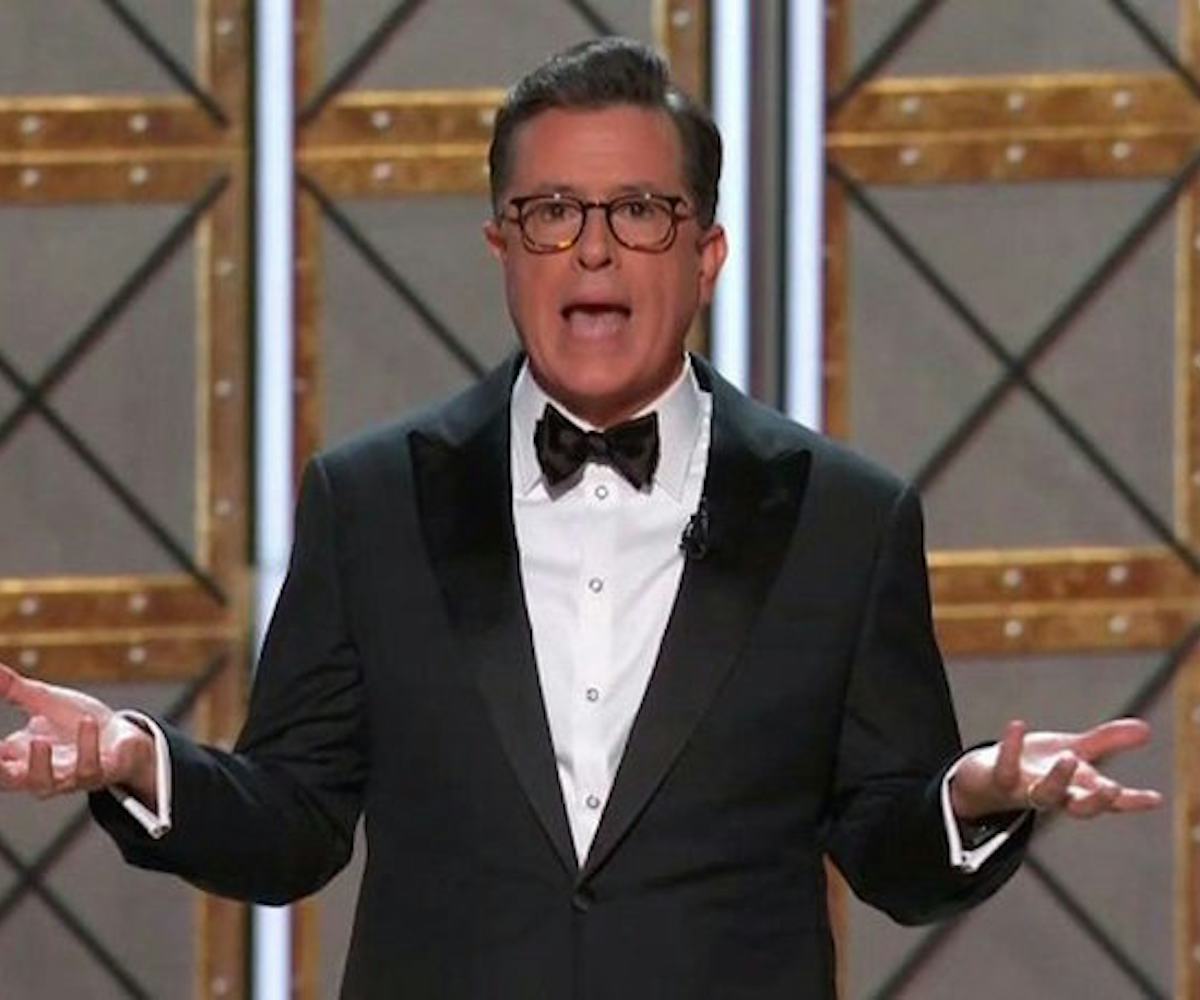 Photo via Twitter @TheWrap
Stephen Colbert Enlists Chance The Rapper And Sean Spicer For Emmys Opening
Opening up the 69th Primetime Emmy Awards with a musical number has become a bit of a trope in the past few years. Luckily, having Stephen Colbert as the host of the show meant that the cheery song and dance featured a series of political jokes amidst the two-stepping and tap dancing.
Colbert wasn't alone in his skewering of our increasingly dystopian nightmare world. The satire master had a little help from Chance The Rapper, who had a verse about the importance of protest amidst the jokes. In a few brief bars, Chance addressed both the transgender military ban and the failure of the American justice system to hold cops responsible for their murderous actions. 
Colbert followed up the rap interlude with a cancan-like line involving "sexy Handmaids," but even that stunt had a serious message behind it. With a discordant joviality, Colbert sang about those women getting free health care, at the very least.
The number was followed up with an equally political opening monologue that took jabs at Hollywood for patting itself on the back over working harder to become more diverse and at Trump's past insistence that the Emmys are rigged (given The Apprentice's inability to win one in the past). The monologue concluded with Colbert bringing out the actual Sean Spicer (as Melissa McCarthy watched on in shock) to announce that the audience this year was the biggest he's ever seen, recalling one of his first scandals at the White House.
Colbert made sure to acknowledge the president's penchant for reflecting on Hollywood's happenings over social media, an event which he almost certainly has guaranteed to happen.