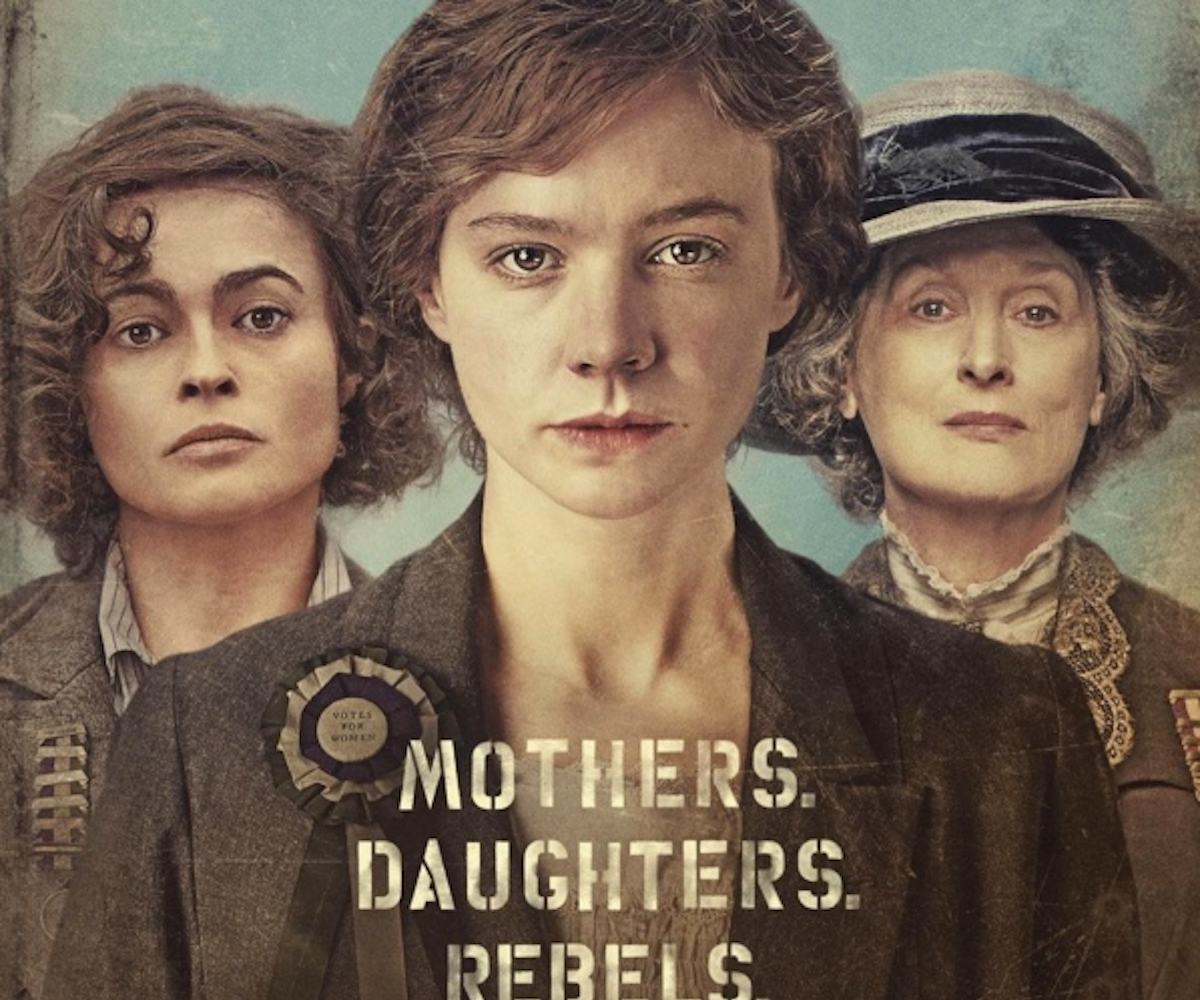 Photo via @suffragettethemovie Instagram
'Suffragette' Shows The Bad-Ass First Ladies Of Feminism
and will make you seriously appreciate your right to vote
With a number of social justice movements making major advancements this year, it's more than appropriate for a film like Suffragette to be hitting theaters—even with the criticism that's been surrounding the movie as of late. The movie, set in Britain in 1912, follows Maud Watts (played by Carey Mulligan), a 24-year-old employee at a laundry factory who humbly works long hours to support her husband and son. She soon finds herself unwillingly involved with the Suffragettes, the not-so-popular women operating under the instructions of the elusive Emmeline Pankhurst (Meryl Streep) in their quest for the right to vote, happily disturbing the peace and sacrificing their lives to achieve their goal.
Watts respects the women who dedicate their lives to the cause, like her coworker Violet (Anne-Marie Duff) and unofficial doctor Edith Ellyn (Helena Bonham Carter), but she refuses to recognize herself as a Suffragette. Once she's arrested at a protest and subsequently shunned by her husband, well, shit gets real: The passive Watts becomes a proud and ruthless Suffragette, banding with the other women to get equal voting rights, fully aware that their wishes won't be granted without a fight.
At its best, Suffragette showcases the origins of feminism in a brutally honest way. Scenes depicting women being torn from their families and beaten by police are gut-wrenching, especially since they're not just based on true stories, but reminiscent of recent incidents like the Ferguson protests and the gay rights parade in Turkey. That said, the movie proves that there may be hope for current social justice movements to eventually be successful, considering that the Suffragettes sparked worldwide change.
Even more than that, Suffragette starts an uncomfortable but important conversation about the effectiveness of peaceful protests. After all, it's not until Pankhurst encourages the Suffragettes to become destructive ("Deeds, not words," she tells them) that their efforts gain attention. Does that mean that in order to enact change, messages have to be not heard, but felt?
At its worst, though, the film justifies the criticism it drew when Streep posed for the cover of Time Out London in a T-shirt that read, "I'd rather be a rebel than a slave." While the tee directly quoted a motivational speech delivered by Pankhurst that's featured in the movie, many found it offensive, especially those who viewed it in the context of the United States' history with enslavement, rather than through a more appropriate British lens: What Pankhurst and Streep were referring to was the law that recognized British women as the property of their husbands and, thus, slaves to their spouses. Still, the British lens isn't exactly squeaky clean; across the pond, slavery and flawed race relations are swept even further under the rug. Also, black women and women of color weren't exactly welcome among the Suffragettes, and are completely invisible in the movie.
Despite the controversy, Suffragette is an inspiring and insightful watch that masterfully captures an important moment in history. Check it out in theaters on October 23, and don't be surprised when it racks up nominations come awards season.