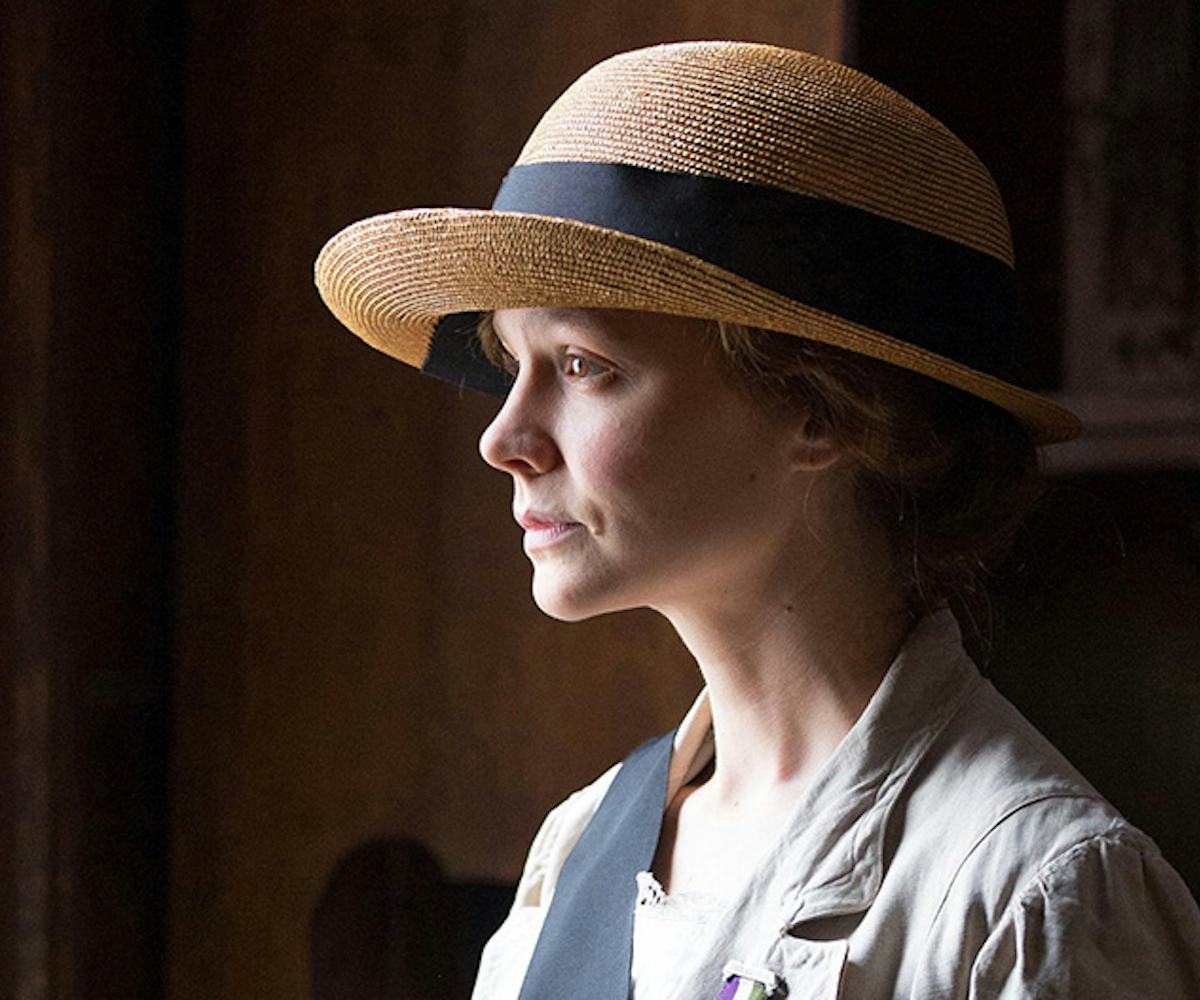 Photo: Courtesy of Focus Features.
Why 'Suffragette' Is More Important Than Ever
chatting with the all-star, all-female team behind the film
When we look back at 2015 and raise our glasses in a toast, it'll be hard not cheers to the strides made for women's rights. We've got ladies with a real chance to win the presidency, our Hollywood stars speaking out about the gender pay gap—thanks, JLaw—and role models like Demi Lovato encouraging women to be confident. As much as female voices are being heard, there are still ambitions in the movement waiting for action. With Suffragette out this month, focusing on the fight to attain the female vote in Britain, we're reminded of feminism's roots. It was the Suffragettes that motivated the fight for America's 19th Amendment. The movie, although set in early 20th-Century Britain, draws many parallels between the feminist movement today. By visiting our past, it's not hard to find inspiration for our future.  
NYLON had a chance to sit down with the team behind Suffragette—one that's entirely female. Director Sarah Gavron, writer Abi Morgan, and producers Alison Owen and Faye Ward opened up to us about the challenges of getting the movie made and why it's relevant today. Gavron and Morgan have been on the rise as filmmakers in Britain, while we have Owen and Ward to thank for other badass female-driven films like The Other Boleyn Girl and Jane Eyre.
Suffragette is lead by Carey Mulligan, who plays Maude, a foot solider that risks both her family and freedom for equality. Gavron revealed that they had Mulligan in mind for six years as the film came to fruition. Like always, her performance is stirring. "She really steeped herself in the research. She works incredibly hard! It all looks effortless," Gavron says.  Helena Bonham Carter co-stars as Edith Ellyn, a character based closely on Edith Garrud. Garrud is known for training Suffragettes in jiu jitsu and encouraging a more militant attitude among the women. Meryl Streep also brings to life Suffragette leader Emmeline Pankhurst. "We wanted this iconic actor to play that role, and Carey actually suggested her and we thought, Do we dare approach her? She has a gravitas and she believes in women's rights profoundly," says Gavron.
Photo: Tristan Fewings/Getty Images.
Streep recently spoke out about the few female critics that exist in the industry. She told BBC, "Men and women are not the same, sometimes their tastes diverge." Because buzz around a film is heavily dependent on reviews and exposure, it's that much more frustrating to see men as the majority in critics' circles. Streep counted and found that on Rotten Tomatoes, 168 of the approved critics were women, while 760 were men. Owen jokes that she's going to start a cite called "Equal Tomatoes." It's appropriate that Streep would play a feminist leader in Suffragette; she's calling for inclusion of the female voice in her own life.
"Cinema is one of the biggest platforms that can cross diversities and barriers," Ward points out. Today, it's still a struggle to not only get female-centric films seen but also made. It took six years to get funding in place and the movie completed on the scale that the story deserved. "We wanted it to be told on the same canvas and the same wide landscape as the guys," Owen explains. It is refreshing to see a story illustrated on an epic scale without any explosions, superheroes, or action stars.
Morgan was confident that the film would ring true today early on in her research. She was surprised at the real accounts from Suffragettes she uncovered. "Hearing how contemporary their voices sounded, it felt resonant." Morgan admits, "What's in me that's in Maude is a glowing social, political activism. So many of the issues the film touches upon, police surveillance, militant activism, taking your protest to the street, those are 21st-Century issues! It makes me feel more connected, I guess."
Owen adds, "We believe by showing a specific journey, you're showing universal truth. We were thinking of Black Lives Matter, of the uprising in the Middle East all the way through as a hope we were making something that would inspire those people to tell their stories."
Owen's wish has already come true. At the Suffragette premiere in London last month, a group of protesters called Sisters Uncut laid themselves on the red carpet. The group was objecting the recent ruling by Parliament to cut funding for domestic-violence services. The demonstration, lead by all women, resembles the actions the Suffragettes took over a century ago. They protested. They risked their reputations in public settings. In one of the most violent acts of the movement, Emily Davison threw herself under the king's horse at the 1913 Epsom Derby. The tragic event is one of the most gripping scenes in Suffragette. As mysterious as Davison's motivations still may be, the act finally brought notice to the Suffragette movement: These women were willing to risk their lives.
Photo: Courtesy of Focus Features.
Watching the scene in the film makes it difficult to ignore sacrifices women have made to obtain the vote. With women running for president in America this year, it's crazy to think that the United States' 19th Amendment was passed in 1919. As Jennifer Lawrence puts it in her Lenny letter, "We've only been able to vote for what, 90 years?" Owen explains, "Young women don't realize how recently these rights have arrived." She laughs, recalling her first job at 14 to wash up in a hotel—in non-Brit terms, a hotel hospitality gig. "It was advertised in the paper as: 'Men 50 pence an hour; women: 30 pence an hour.' That's in my lifetime! Isn't that insane?" Ward joins in, explaining that in England you couldn't get a credit card without your spouse's signature till 1981. That only changed when Prime Minister Margaret Thatcher couldn't get a credit card without her husband's consent.
Although the inequality that has existed for women over the years makes your jaw drop, Morgan finds a silver lining. "We have this incredible voice now in a way that those women didn't have. They had to fire bomb pillar-boxes. Now, that would be like bombing Google!" We're seeing feminist movements around the globe utilizing modern resources. Whether it's Sisters Uncut taking to the red carpet and taking advantage of the massive media coverage, or women using their art to proclaim opinions, it's happening now more than ever. Gavron says, "Perhaps because of the digital age, there's been this resurgence in hearing from women 'round the globe that are challenging repression." Morgan adds that now, "We have so many different ways we can have the discussion. This film alone!"
Morgan is right—Suffragette has already got people talking. The film has launched #Suffragette19, a campaign that will honor the trailblazers of the 19th Amendment. Since November 2 and until November 26, Suffragette will spread the word about voting and women's rights over multiple platforms. EW, Glamour, and Refinery29 have all joined the movement. If you have a story to share, you can also tweet #MyFirstTime and tell the world about the first time you voted.
The power of the hashtag is real these days, and it's undeniable that feminists have used social media to proclaim their opinions. Highlighting some of the stellar feminist hashtags of 2015, there's #Freethenipple, all about de-sexualizing women's breasts, and  #Loveyourlines—loving your body after having a baby. Emma Watson gave her incredible speech as the U.N. Women Ambassador back in the fall of 2014, but her empowering quotes have continued to inspire us across all social-media platforms. Some of our favorites: "If you stand for equality, then you're a feminist," "The human race is like a bird and it needs both its wings to be able to fly." Then, there's the quote that really speaks to the reality of the feminist voice today. As Watson puts it, " For women, it's about feeling comfortable about admitting that there's a problem." Owen believes that Suffragette not only reminds us that these problems still do exist, but that it also inspires us "with the possibility for change."
"You have Beyoncé, Emma Watson, and Taylor Swift—a lot of people who are putting their hands up and saying, 'I'm a feminist,' which is great! We're landing at a feminist moment—it's now become fashionable to say it, where it is was a little bit smelly till about five years ago," Owen says.  She laughs, "I would love it if Kylie Jenner stood up and said, 'I'm a feminist!'" We'd love that, too—Kylie, if you're reading this….
Gavron adds, "There are suffragettes of today in a way and women who are speaking out and empowering women; shifting perceptions. Malala Yousafzai is someone—she's having such an impact after winning the Nobel Prize. She's such an inspiration and a role model." Yousafzai was targeted by the Taliban after speaking up for girls' education. Her story is also reaching a wider demographic through the power of cinema with the documentary He Named Me Malala. Like with Suffragette, the film serves as a platform for anyone to take action. By using the hashtag #withmalala you can join the fight for girls' education and donate to the fund.
It would be hard not to talk about modern day Suffragettes without mentioning Lena Dunham and her work with Planned Parenthood, Lenny Letter, and her overall campaign for eliminating the pay gap and body-image acceptance. She also received an award this past April at Variety's Power of Women New York ceremony for her work with Girls Educational & Mentoring Services (GEMS), where she made a stellar speech. "Lena Dunham, from my perspective, seems like she's doing a great amount of good and making a big impact," Owen says. Like Dunham, Suffragette has "been making an impact on young people," Owen reveals. "I've got an 11-year-old daughter. They are the future! We need them to engage, to vote, to fight the battles!"
Feminists are on the trajectory to change in 2015. Every day, we're seeing more feminists on the front line. There's plenty of ways to join the cause, no matter what your gender identification may be. You can use hashtags like #Suffragette19 to promote your voice, donating to organizations that support female equality, or joining the ranks of Dunham and Lawrence for equal pay—it's an issue that extends into a number of careers for women.
"We have a democracy, we have to remember what the vote has given us. The intention of the film was to say, 'Use your vote,'' says Morgan. Suffragette does prompt us to use our voice through their ballot. Even more so, it's a bittersweet reminder that, as Morgan says, "The fight's not won!"
P.S. We've teamed up with Suffragette to giveaway two of Clare V.'s capsule collection T-shirts. They retail for $99, with a portion of the proceeds going to Every Mother Counts. Enter for your chance to score one, below. Good luck!
Fill out my
.