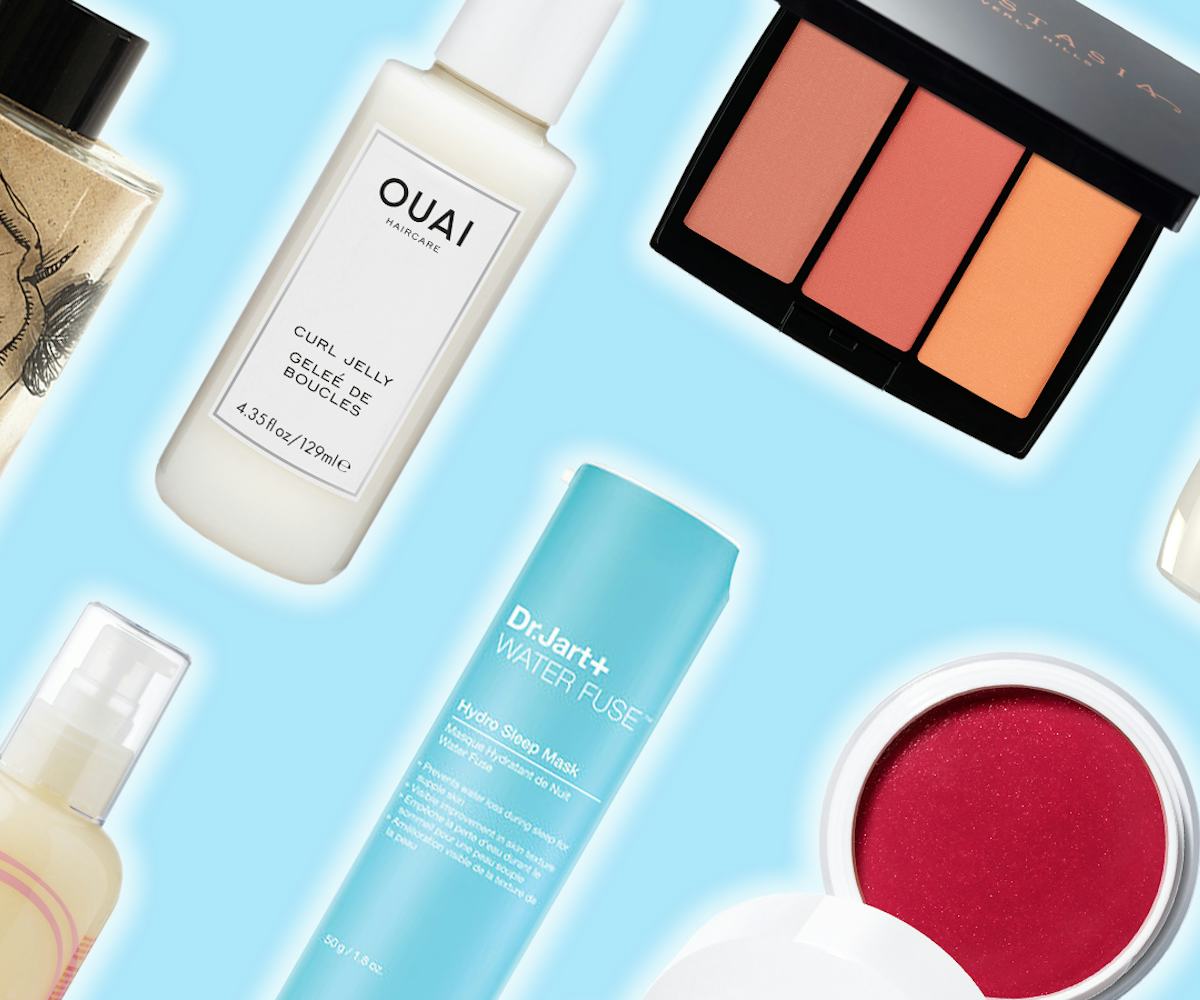 28 Beauty Products To Help Get You Excited For Summer
New season, new beauty products. Spring is primarily a great time to transition your skin, hair, and body from the retreating cold to the impending warmth, while summer is when things heat up. And so does the selection of items offered.
This year, brands are getting creative with products; think: an oil that adds a stain-free tan to your face while you sleep, a cream that claims to energize your body, and new metallic shades of those devilishly glamorous Christian Louboutin nail polishes. These, along with others that will help exfoliate, purify, and keep your beautiful self in shape rather than a melting mess, means that we're just about ready for Mother Nature to stop raining on our parade, and gift us, New Yorkers, with some sunshine and 70-plus-degree weather. 
In anticipation, ahead, three Nylon editors bring you the summer launches we're most excited about. 
Dr. Jart, Water Fuse Hydro Sleep Mask, $48, available at Sephora.
This overnight gel is basically summer's miracle worker, leaving you with perfectly hydrated, dewy, and subtle skin upon waking up and rinsing off. Editor's tip? Try leaving this in your fridge for the ultimate remedy for hot and humid nights.
AG Hair Natural, Remedy Apple Cider Vinegar Leave On Mist, $26, available July 1 at Ulta.
AG Hair is launching an exciting natural line on July 1, and the Remedy Apple Cider Vinegar Mist is the winner of the pack, by far. This magical leave-in treatment leaves your hair locks shiny and frizz-free, while naturally balancing the pH of your hair. And, we swear, it won't leave you smelling like vinegar.
Eyeko, Lash Alert Mascara, $26, available at Ulta.
Eyeko has finally brought their best-selling mascara to the States, and we can't get enough of it. Chock-full of super-effective ingredients, such as nourishing shea butter and stimulating caffeine, you're guaranteed an awakening lift like no other.
Fresh, Umbrian Clay Purifying Mask, $62, available at Fresh.
This multifunctional treatment is your answer to clean skin during the sweatier months. The formula can be used as a purifying mask, a daily deep cleanser, or even a spot treatment for all those tiny imperfections.
Pacifica, All Mineral Continuous Sunscreen Spray SPF 50, $15.99, available at Pacifica.
Pacifica's new line of sunscreens smells amazing and contains both caffeine and probiotics to help keep your skin look good at the beach. The spray-on formula makes it easy to apply and the vegan, water-resistant formula keeps you hydrated, without the use of chemical UV absorbers.
Urban Decay, Afterglow Highlighter Palette, $34, available at Ulta.
This Ulta-exclusive highlighter palette is a total summer essential. From shimmering shades of golden peach to iridescent pink, these are the perfect accents to your bronzy summer glow. The creamy, powder texture blends easily, and will stay put despite the hot, hot heat.
Peet Rivko, Body Oil, $80, available at Peet Rivko.
We already wrote about how obsessed we are with this body oil from the Aubrey Plaza-approved skin-care line, but we are so in love with its blend of organic, cold-pressed oils that we had to repeat ourselves. Sorry not sorry.
tenoverten x Taryn Toomey, tenoverten by Taryn Toomey Trio, $54, available at tenoverten.
Fitness phenomenon Taryn Toomey has a cult following thanks to her very popular mindful workouts. It, therefore, should come as no surprise that she paired up with non-toxic and cruelty-free line tenoverten to create this perfect trio of nail neutrals.
Goop Fragrance, Edition 02 - Shiso, $165, available at goop.
This new goop fragrance may be our favorite launch to come out in the past few months. It smells like woods, rain, and the kind of exotic flowers only found in menacing fairy tales. It's perfect.
True Botanicals, Pre Cleanse Oils, $48, available at True Botanicals.
This brand has quickly become our go-to since we were first introduced to it last year, and we are not the only ones who are obsessed; most recently, Olivia Wilde joined their team after being so impressed with the line's all-natural products. This new launch is our favorite to dunk our faces in and leave on while we shower, later taking it off using a cleanser. Call it Wilde (sorry), but we swear our complexion has become more radiant since we started regularly using this pre-cleanse oil.
Tan-Luxe, Sleep Oil, $49, available at Ulta.
After arriving Stateside just last year, Tan-Luxe has quickly rose in our beauty ranks to become our number one self-tanner line. This newly launched product is our new favorite thanks to its overnight powers and no-streaks result.
Oribe, Cote d 'Azur Polishing Body Scrub, $65, available at Oribe.
Just the smell alone should be enough to convince you that you need this scrub from Oribe's quickly expanding makeup and body line. The rich-in-vitamins and hydrating formula and radiantly smooth skin post-use are just an added bonus.
Bond No. 9, HTTP scent, from $140, available at Bond No. 9.
Forgoing its tradition of naming fragrances after physical neighborhoods, Bond No. 9 just released an internet-inspired fragrance. It's appropriately unisex with the most mesmerizing berry notes, future-leaning dashes in the form of cedarwood, musk, and amber and splashes of can't-miss personality via bergamot and pineapple. It's perfectly versatile and all-around intoxicating, fitting for its online population of users.
Christian Louboutin, Metalinudes in "Irisa," $50, available at Christian Louboutin.
While we are typically not ones to drop $50 on nail polish, Christian Louboutin's new collection of metallic nudes is worth it. Enriched with chrome-like pigments, each shade is extremely luminous and flattering to all skin tones. We are especially obsessed with this platinum silver color.
Anastasia Beverly Hills, Blush Trios, $30, available June 13 at Anastasia Beverly Hills.
We encourage you to throw (on) as much shade as you'd like when it comes to Anastasia Beverly Hills' new blush palettes. With colors ranging from a matte apricot-peach to a satin coral, we almost insist you get heavy-handed in the shade department. 
Ouai, Curl Jelly, $26, available at Sephora.
For Ouai's first foray into curly hair styling products, celebrity hairstylist Jen Atkin and team have launched this curl jelly. It's a gel-to-oil formula that helps define coils and prevent any unwanted frizz.
Paula's Choice, Skin Perfecting 8% AHA Lotion, $29, available at Paula's Choice.
Paula's Choice's AHA Gel and Liquid are already star products in the industry. Now, the company is coming out with a lotion version for those in need of something a bit more hydrating. If this is your first time trying out an acid product, read our explainer first before diving in. 
Juice Beauty, Green Apple Brightening Essence, $35, available at Credo.
What Gwyneth Paltrow says ultimately goes. The latest creation to come from Juice Beauty, which she acts as the creative director of (on the makeup side) and has partnered with in the past, is this brightening essence. Sure, it's a little late to the wonders of the Korean-founded products, but we won't hold it against the brand. Especially when it smells as sweet as summer and combats our pesky acne scars like no other.
Smith & Cult, Illumify Shimmering Highlight, $36, available June 10 at Smith & Cult.
We didn't understand the concept of lit from within until this highlighter made its way across our desk. It's a cream to powder that swipes on like a (very lightweight) dream.
Eve Lom, Kiss Mix Colour, $24, available at Sephora.
Don't be intimidated by what looks like a highly pigmented shade in the pot; this lip treatment actually goes on super sheer, allowing you to build the color to your liking.
Ren, Atlantic Kelp And Magnesium Anti-Fatigue Body Cream, $38, available at Ren.
By way of plankton extract, magnesium PCA, and a variety of essential oils, this energizing body lotion is meant to help you relax and relieve any aches you might have (making it great to use at night or after a workout). Yes, you should be using lotion in the summer time and, thankfully, this one is super-absorbent and non-greasy.
Uma, Ultimate Brightening Rose Powder Cleanser, $65, available at Uma.
This powder cleanser exfoliates beautifully, but what's better is that it's made up of natural ingredients like rose petal powder, oats, walnuts, peppermint, and calendula. Scrub the grit away, and, after a splash of water, you'll emerge bright-faced and hydrated.
Deborah Lippmann, 'Shut Up And Dance' Nail Polish, $20, available at Deborah Lippmann.
Nothing screams summer like a bright pop of color on your nails and a polish with the name "Shut Up And Dance."
Tatcha, Violet-C Radiance Mask, $68, available in July at Tatcha.
A hefty dose of multifunctioning vitamin C in creamy mask form. It doesn't get much better. 
Kinky-Curly, Seriously Smooth Swift Set Lotion, $10, available at Kinky-Curly.  
Natural hair brand Kinky-Curly doesn't put out new products often, so, when we hear about a new launch, we make sure to take notice. The summer is prime time to experiment with protective styles like twist outs, bantu knots, and roller sets, and a creamy setting lotion like this one will help you to get YouTube-like results IRL and on the first try. 
Gucci, Gucci Bloom fragrance, from $92, available at Gucci.
We were already sold on this fragrance when we found out that ultimate It Girls Hari Nef, Petra Collins, and Dakota Johnson have been selected as the faces of its campaign, but Alessandro Michele's first fragrance for the luxury brand could stand alone thanks to its intoxicating jasmine and tuberose blend.
Matrix, Aqua-Gel Conditioners, $18, available at Ulta.
When it comes to hair conditioners, some people lean away from using them on the scalp in fear of weighing the hair down. The water-gel technology in this new drop from our favorite hair line provides oil-free nourishment from roots to ends to help maintain hair's natural bounce, strengthen weakened strands, and revive limp and dry locks.
H&M, Superfine Brow Liner, $7.99, available at H&M.
H&M is aiming to make your eyebrows that star of your beauty look this summer by way of a slew of brow-focused product. This brow liner is just one of many which also include a grooming wax, highlighting pen, and brow oil.