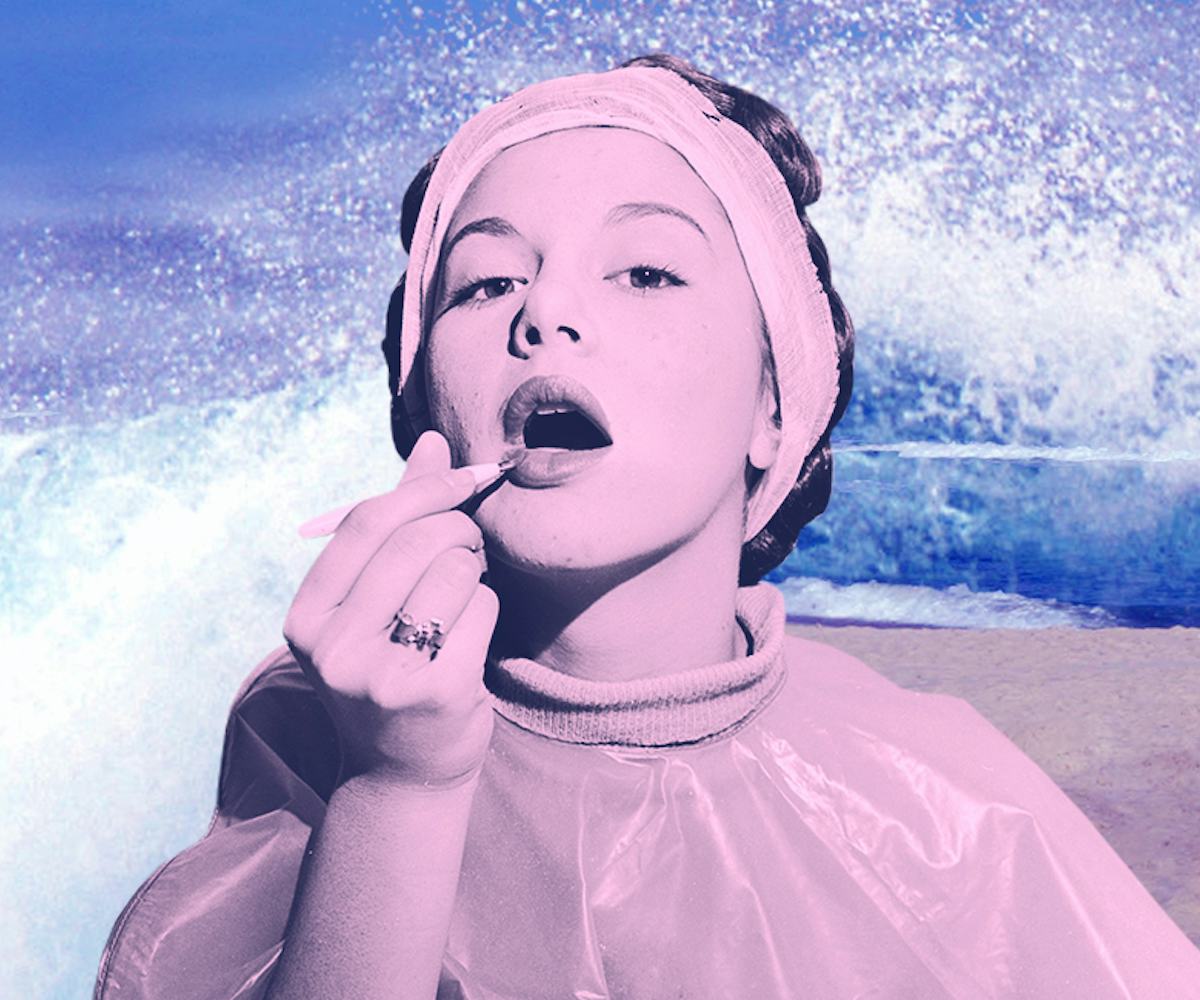 Collaged photos via Getty Images
6 Actually Simple Tips For Staying Flawless This Summer
The experts backstage at Funkshion Miami Swim Week spill their secrets
Summer beauty. At times, these two words together can seem like a bit of an oxymoron. With all of the heat and humidity, the influx of facial sweat, and the damaging aspects of our favorite outdoor activities (cue in: dangerous UV rays and drying chlorine and sea salt), how does one keep their beauty game on point during the year's most sweltering season?
Well, who would know the answer better than the beauty geniuses behind Miami Swim Week? Think about it: It takes great skill to keep your skin and hair under control in Miami, which is essentially the humidity capital of the USA (really, though, it's ranked at number eight). With that in mind, we went backstage at the FUNKSHION Swim Week tent to get the scoop. We figured they must have a few solid tricks up their sleeves—and we were so right.
Below, six totally simple and easy tips and tricks for maintaining healthier, glowier skin and more hydrated, nourished hair, all summer long. Let's look forward to a much more flawless August.
Drink waterThe hotter it is outside, the easier it is to find ourselves dehydrated. If you're feeling thirsty, chances are your skin is just as thirsty—and I think we all know by now that a truly flawless makeup application really depends on the health (and hydration) of your skin.
Backstage at Acacia, we chatted with Dior makeup artist Carlos Marquez who stands by the power of H2O. "I mean, that's how your makeup will actually look good and seamless—because of your skin and how well you take care of it," he says. He stresses that being hydrated from the inside out is the key to healthy summer skin, so drink up!
Stop sleeping in your makeupWe know, we know, a long night of back-to-back summer soirees can be pretty tiring. Still, we should always avoid passing out before taking the time to properly remove our makeup. A word of advice Marquez always offers to the models he works with? "Never sleep with your makeup still on," he says. Avoiding hitting the hay pre-cleanse can help prevent clogged pores, breakouts, premature aging, and other skin woes.
Our makeup needs a smooth, clean canvas for flawless makeup application, so why not grant it a clean slate every morning?
Treat your hair like you would your skinJust like we pay extra attention to our skin during the summer months, we also need to show our hair a little extra love. Backstage at Acacia, we chatted with Glamsquad creative director Giovanni Vaccaro, who is a strong supporter of this practice. "I really believe in the 'skinification' of the hair," he says. "The way you take care of your skin—the way you cleanse it, tone it, moisturize it—I think that it's so important to do the same for the hair as well." So, for one, just as Olmeda warns against sleeping in your makeup, you should never fall asleep without rinsing out chlorine or salt water first.
Additionally, Vaccaro wants you to incorporate treatments into your routine. "We love grittiness and texture when we're creating summer styles, but at the end of the day, this is what dries out the hair. We love what salt adds to hair for that beachy look, but you have to follow it up with a treatment or mask at least once a week," he says. "This goes for all—whether you have fine, thick, short, or long hair."
So, next time you're looking to apply a face mask or paint your nails while you watch Netflix, try a hair treatment as well.
Moisturizing is key, and so is primingIf a flawless complexion (dewy, not oily and shiny) is what you're looking for, it all starts with a moisturized base. Backstage at Lolli, Dior makeup artist Marco Russi explains to me how the first step of your summer skin care regimen should always be a moisturizer. "Especially a serum with a water base that hydrates the skin," he says. "If the skin is hydrated, it's going to look good, and it'll keep you looking glowy all day long." He explains that the dewier your skin is, the less foundation you'll need to use. "Just dust on a bit of loose powder in the T-zone, letting your cheeks glow on their own," he says.
If you still feel the need to wear foundation, he suggests avoiding a (literal) meltdown by always applying primer beforehand.
Use hairspray to waterproof your makeupIf you're looking for a way to truly make sure your makeup stays put at the beach or at the pool, Russi suggests using a pretty unexpected product as a finishing spray: hairspray. "Hairspray holds everything," he says. "Close your eyes, clean up your brows, and spritz a bit on. It'll make your makeup waterproof, so it's really great if you plan to go in the water."
While we've probably never dreamed of spraying hairspray on our faces for the sake of beauty, if it means we can avoid raccoon eyes post-swim, count us in.
Embrace leave-in productsBackstage at the Lolli runway show, we talked to R+Co educator Sera Sloane about her secrets to maintaining healthy, flawless hair all summer long. Her trick of the trade? It's all about the leave-in products—and leaving them on for the duration of your time out in the sun and water.
She recommends applying some sort of leave-in treatment or mask (she uses R+Co's Palm Springs Pre-Shampoo Treatment Mask) before you go outdoors to actually style your hair. "You can use it to slick your hair back or throw it up in a topknot, so you're actually treating your hair as you're walking around," she says.
This hydrating trick is key for anyone planning to take a dip in a chlorinated pool. "I feel like everybody talks about beach hair, but nobody talks about pool hair," she says. "Your hair gets so dried out from pool water, so I mix my treatment with a little bit of water, comb it into my hair, and then put it up."
There you have it, healing and protection at the same time.