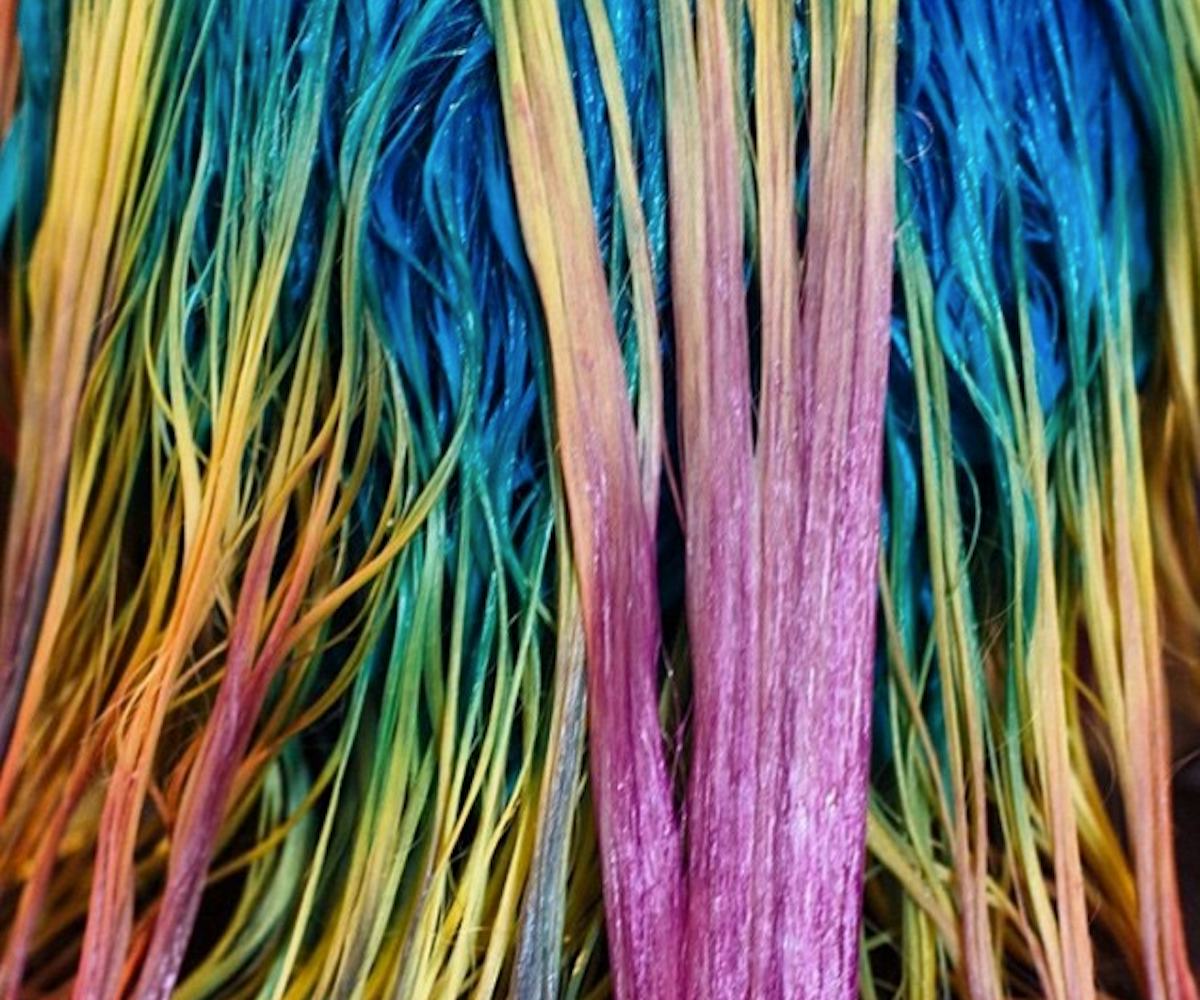 Photo via @roxiedarling on Instagram
how to maintain your mermaid hair all summer long
As colorful, mermaid-esque hair colors remain one of our favorite summer beauty trends, we must admit that it's not too easy to maintain fantastical tresses—especially if you're spending your days soaking up sun and surf at the beach. Sun, chlorine, and salt are all major culprits when it comes to summer hair damage, and if you're rocking some serious My Little Pony hair, be prepared to be extra-susceptible to wear and tear of your locks. But all hope is not lost. We're not planning on giving up our hair-dye habit anytime soon, so we asked our favorite hair colorists how we can keep rocking our vibrant 'dos all summer long—without missing out on the fun in the sun.
What are the worst things you can do to dyed hair in the summer?
"Not protecting it!" says Zoe Wiepert, a New York-based colorist and lead educator at Bumble and bumble. Before you set foot in a pool, hot tub, or any body of water, she suggests saturating your hair with fresh water first "to ensure that it doesn't oxidize the color or change anything."
As for fading, NYC stylist Remy Lane Moore suggests a fashionable solution: "Wrapping your hair in a scarf is literally your best friend when the summer rolls around. There are so many cute options when you dig around that its actually fun to accessorise your ensemble, instead of looking totally ridiculous in a hat you found shoved somewhere in your apartment."
How can you best prevent fading?
Besides limiting the frequency that you wash your hair, Hairstory Studio colorist Roxie Darling suggests investing in a fade-proof product. "When you do wash your hair, make sure you are using Purely Perfect Cleansing Creme, the only product I know of on the market that does not contain some sort of surfactant. It leaves the color vibrant with practically zero fade." Moore agrees: "The greatest gift to not only the longevity of my colour, but to the integrity of my hair has been a strict zero use of shampoo and conditioner. I would honestly never even think to use it ever again, and instead use Purely Perfect Cleansing Creme religiously."
And while you may not comb through your tresses with a fork à la The Little Mermaid, a little bit of brushing could do your mane a whole lot of good—as long as you're using a quality hairbrush. "I usually recommend a Maison Pearson," says Darling. "It's important to have a high-quality brush so the natural oils in your hair coat the follicle properly, protecting your hair."
However, when careful washing and preventative care isn't enough, Sally Hershberger colorist Aura Friedman suggests carefully reintroducing color back into your 'do. "I make a custom-color conditioner by mixing my desired color with a conditioner," she says. "You can leave this in for 20 to 30 minutes with a cap, heat it a little with a blow dryer, and then let it cool completely."
Can you do anything at home to fight sun, salt, and chlorine discoloration?
Chances are, you probably already own the DIY ingredients necessary to save your colorful tresses. "Use coconut oil to protect your hair from the sun and chlorine," says Friedman. "Keep hair damp with water and coconut oil before entering a pool. Coconut oil has natural SPF and will prevent chlorine absorption."
However, if the damage is already done, the easiest route is to strip away some of your tarnished color before adding another layer of hair dye. "You can use a dish soap and baking soda mixture," says Wiepert. "Mix it into a paste and then put it on dry hair to get the [chlorine] green out. Make sure to use a good conditioner as well afterwards because your hair will feel dry. Using that mixture is like a clarifying shampoo." Friedman also suggests investing in Redken Pre Art to refresh hair after chlorine buildup.
Are any colors less susceptible to summer wear and tear?
If you're not game for some serious upkeep, you may not want to tackle a seriously bright hair color. Instead, Darling suggests picking an ashier-toned hair color. "They fade much more naturally," she says.
But if it's a rainbow mane you've got your heart set on, just understand that your #hairgoals take a lot of hard work to maintain. "Any unnatural color is always going to be upkeep," says Moore. "So, make sure you're dedicated to the cause before you dive right in!"