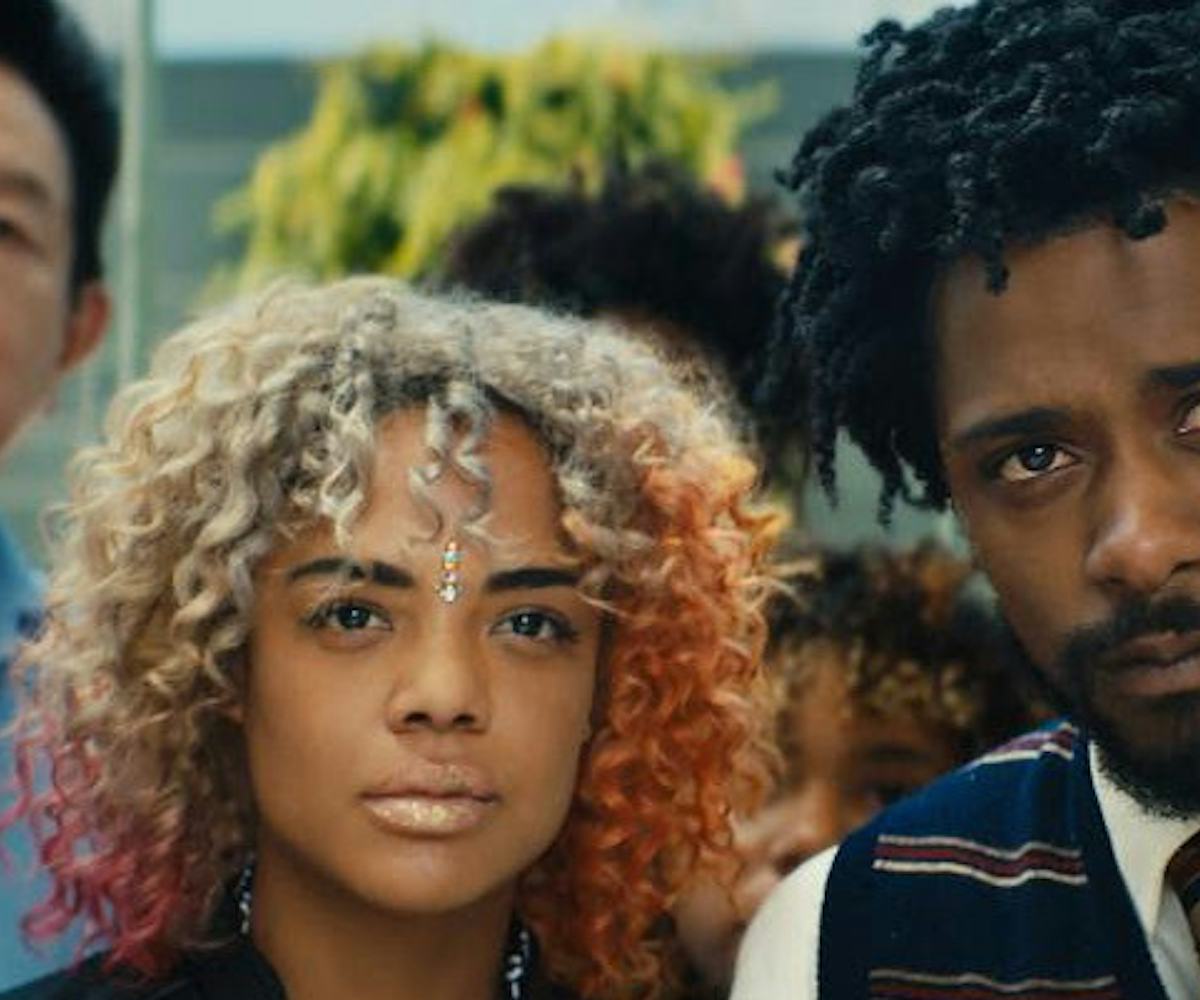 Photo via Annapurna Pictures
The Must-See Summer Movies Of 2018
Including the return of Timothée Chalamet
The temperature's climbing again, which means that it'll soon be time for the less beach-inclined amongst us to seek shelter in the air-conditioned glory of our local movie theater. Thankfully, there's also a ton of excellent, critically acclaimed movies coming out this season—just in case you were concerned about potentially having to double feature Ocean's 8 with Solo down the line. From '80s horror flicks to conspiracy-laden neo-noirs to even more Timothée Chalamet, Hollywood's Summer 2018 slate is jam-packed with drama, action, and adventure. So (while they still exist) get your MoviePasses ready and check out our must-see summer movies below.
American Animals (June 1)
Spurred by the impending pressures of adulthood, a group of four college friends concocts a plan to steal $10 million worth of valuable books—including Audubon's Birds of America—using inspiration from popular heist movies. Starring American Horror Story's Evan Peters, Dunkirk's Barry Keoghan, Blake Jenner, and Jared Abrahamson as the wannabe robbers, it should go without saying that they soon learn that Hollywood isn't always the best place to look for inspiration.
Ocean's 8 (June 8)
Another day, another heist movie. But this time it's the highly anticipated Ocean's 8, which follows the story of Danny Ocean's estranged sister, Debbie Ocean (Sandra Bullock), as she attempts to form her own crew to pull off a heist at the Met Gala. Featuring a star-studded ensemble cast that includes the likes of Awkwafina, Mindy Kaling, Helena Bonham Carter, Anne Hathaway, Sarah Paulson, Cate Blanchett, and Rihanna (aka the Met Gala's new Pope), it's no wonder that this is the movie to see this summer. Did we mention Rihanna?
Superfly (June 13)
Based on the 1972 film of the same name, Sony's reboot of the blaxploitation classic is supposed to be just as bombastic and pertinent to the times as the original. Following a coke dealer as he tries to secure one last deal before retiring, the star-powered retelling will be directed by legendary music video don Director X, produced/soundtracked by Future, and feature help from the likes of 21 Savage and Rick Ross. A must for any rap fan.
The Year of Spectacular Men (June 15)
Nothing screams summer quite like a quirky coming-of-age story filled with celebrities and a cross-country move. Enter: Lea Thompson's The Year of Spectacular Men, starring real-life daughters Madelyn and Zoey Deutch. On the heels of a horrendous, post-college breakup, Izzy (Madelyn) moves to L.A. to live with her celeb sister Sabrina (Zoey), and in the process tries to find love, her footing on the West Coast, and herself—with a little help from her family, of course.
Under the Silver Lake (June 22)
From It Follows' David Robert Mitchell comes Under the Silver Lake, a neo-noir mystery-comedy hiding a more sinister conspiracy tale beneath its glistening surface. Set in L.A., Under the Silver Lake stars Andrew Garfield as Sam, a lovestruck man who unwittingly stumbles into something much darker than he anticipated after going in search of his missing neighbor.
Sorry to Bother You (July 6)
In a dystopian near-future Oakland, telemarketer Cassius Green discovers a magical key to professional success: a white voice. Helmed by Boots Riley and starring Lakeith Stanfield (as Cassius) and Tessa Thompson, Sorry to Bother You is a sharp, funny film that touches on some big, real-world issues such as police brutality, code-switching, and the evils of mass media. A must-see.
Mamma Mia! Here We Go Again (July 10)
Honestly, we could probably just leave this description as: "Cher is in this." However, the Mamma Mia! sequel seems like it will be a ton of fun, regardless. Even though it appears that we won't have much Meryl Streep this time around, we'll still get to follow Sophie (Amanda Seyfried) on her journey toward motherhood with a little help from Julie Walters, Christine Baranski, Lily James (as a young version of Streep's character), and, obviously, the Goddess of Pop herself.
Hot Summer Nights (July 27)
Starring the internet's boyfriend, Timothée Chalamet, Hot Summer Nights is a sexy, ultra-stylized summer thriller that'll have you sweating. Daniel (Chalamet) is a teen boy spending the summer in Cape Cod before he begins dealing weed—in the pursuit of the local rebel's sister, of course. You can practically feel the heat emanating from this trailer. And no, it's not just because of Chalamet. Can't wait till July? Good news. You can also watch Hot Summer Nights on DIRECTV starting June 28.
The Darkest Minds (August 3)
Based on a YA novel, The Darkest Minds is a sci-fi action film that follows the journey of Amandla Stenberg's Ruby, a teen gifted with special powers after surviving a plague that kills almost every child in America. Placed in internment camps after the plague, Ruby and her comrades soon escape and begin to carry out a rebellion for the ages against their abusers.
The Miseducation of Cameron Post (August 3)
Based on the 2012 book of the same name, the film sees Chloë Grace Moretz as Cameron Post, a teen girl forced into a gay conversion boarding school after she's caught in a relationship with her best friend. An all-too-real story for many queer teens, The Miseducation of Cameron Post is a heartfelt look into the life of a young woman who is learning to embrace herself and choose her own future in the face of bigotry and hate. 
Summer of '84 (August 3)
Already dubbed "the grisly little brother of Stranger Things," Summer of '84 is a nostalgia-packed VHS horror flick that follows a ragtag band of dweeby teens hunting a local serial killer. With a killer soundtrack and an unmistakable undercurrent of B-movie bloodlust fueling the production's style, it's bound to be a sleeper summer hit. After all, "the suburbs are where the craziest shit happens."
Skate Kitchen (August 10)
Skate Kitchen follows the story of Camille, a shy skater from Long Island who gets kicked out of her house and adopted by an all-girl skate crew in NYC. A group who has to constantly deal with the intimidation of local male skaters, the film plays ample homage to '80s skate films and stars none other than Jaden Smith as Camille's mysterious new love interest.
BlacKkKlansman (August 10)
One of the buzziest films of the year, Spike Lee's BlacKkKlansman is based on the unbelievable true story of Ron Stallworth, Colorado Springs' first black police officer. Winner of Cannes' prestigious Grand Prix prize, the film follows Stallworth as he successfully manages to infiltrate the local chapter of the KKK—and eventually becomes the group's leader.
Crazy Rich Asians (August 15)
Based on the best-selling novel of the same name, Constance Wu stars as Rachel Chu, who is suddenly swept up into the glamorous world of Singapore's "crazy rich" elite thanks to her boyfriend Nick Young. The heir to a development empire, Nick's elitist mother is less than impressed by Rachel and takes it upon herself to sabotage their relationship by any means necessary.