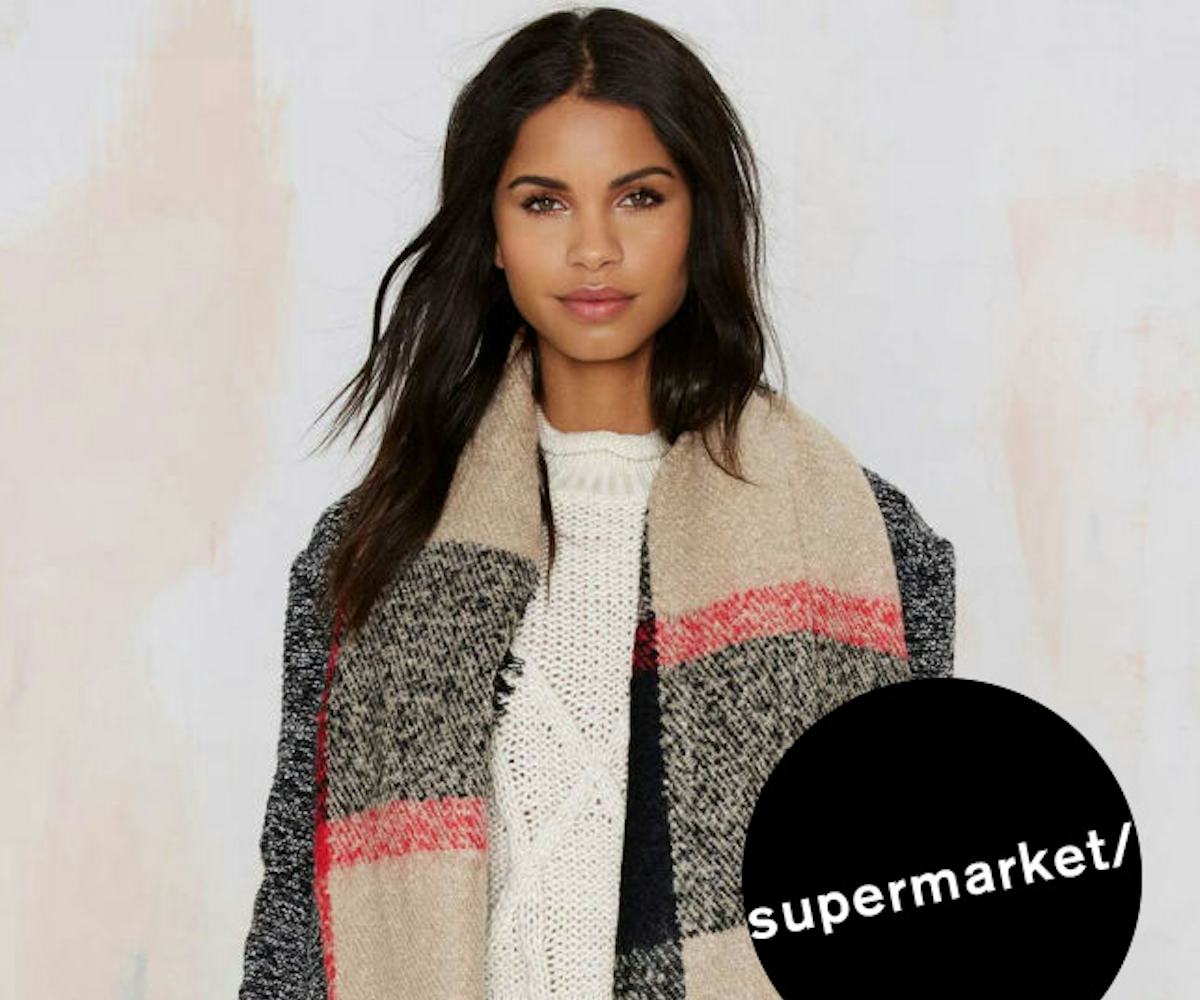 Photo courtesy of Nasty Gal
Supermarket: Blanket Scarves
the best way to stay warm
There are things that you can justify spending your money on, and there are things you just can't. Take a bathing suit, for instance. When you see one for over $100, you think to yourself But it's just two pieces of string, basically.... And while you may feel that it's frivolous to spend a lot of money on a scarf, let us raise this argument: A blanket scarf is one of the greatest investment pieces you can buy. Since it's basically a blanket (hence the name), you can wrap it around your neck multiple times, so it's super-warm. Then, when you're indoors, you can drape it over your body. So, yes, it's multi-functional. Plus, they come in cute patterns and colors that automatically make your outfit look better. What more do you need? As you prepare for cold weather, check out our favorite picks in the gallery, above.
ZARA, Checked and Striped Scarf, $25.90, view at ZARA.
Urban Outfitters, Oversized Geo Blanket Scarf, $39, view at Urban Outfitters.
ASOS, Oversized Scarf in Herringbone with Tassels, $35.83, view at ASOS.
Weekend Max Mara, Big Scarf, $285, view at Matchesfashion.
Nasty Gal, Plaid News Fringe Scarf, $38, view at Nasty Gal.
Forever 21, Chunky Striped-Knit Scarf, $16.90, view at Forever 21.
Madewell, Clubhouse Striped Scarf, $55, view at Madewell.
Wilfred Free, Boling Scarf, $85, view at Aritzia.
Marc by Marc Jacobs, Plaid Blanket Scarf, $158, view at Nordstrom.
Boohoo, Daisy Oversize Check Tartan Scarf, $26, view at Boohoo.