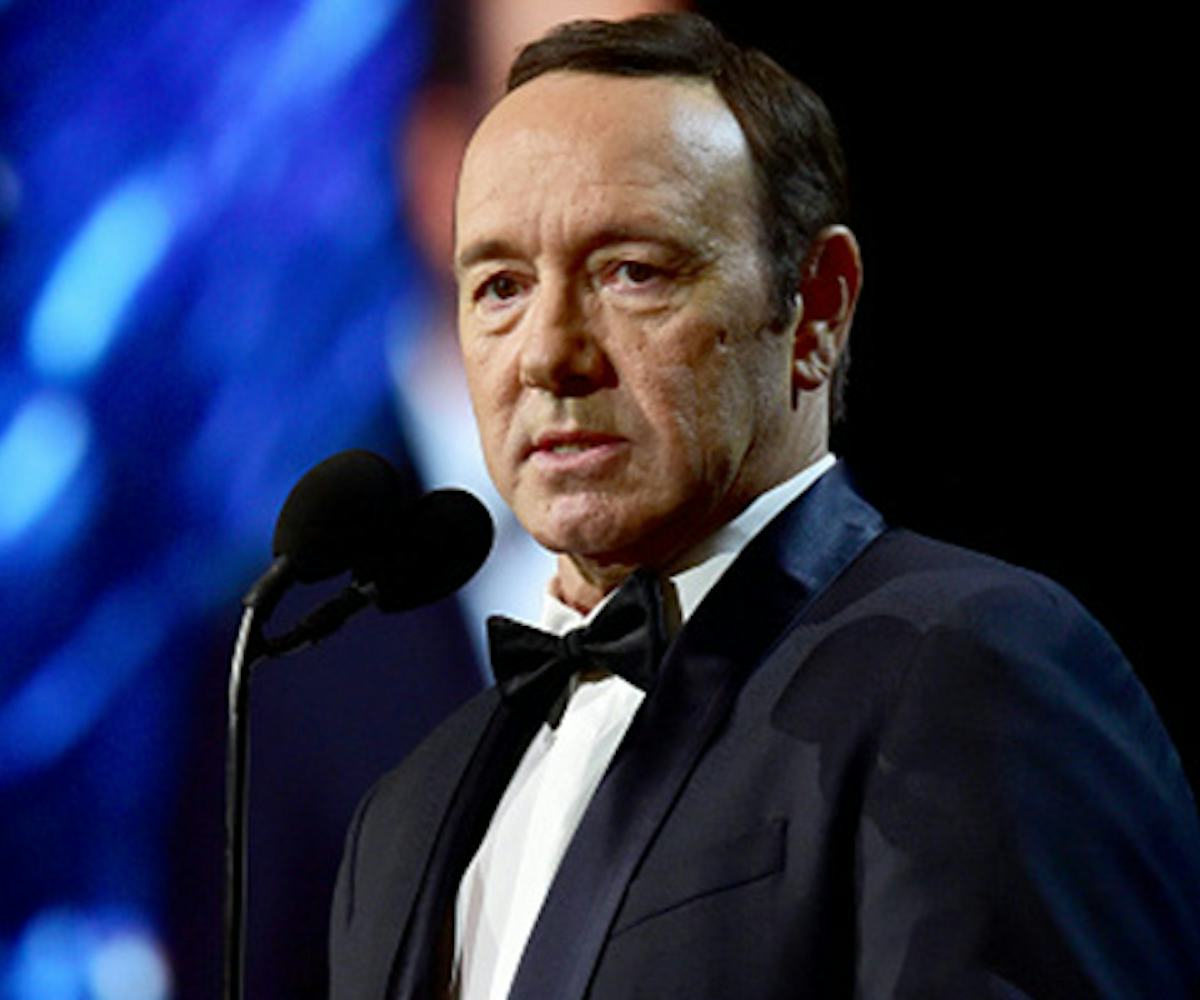 Photo by Frazer Harrison/BAFTA LA/Getty Images for BAFTA LA
To Watch Or Not To Watch: The Art Of Those Accused Of Sexual Assault
A lot of people are torn on the issue
After actor Anthony Rapp accused Kevin Spacey of sexually assaulting him when he was just 14 years old, and Spacey was 26, at least eight current and former House of Cards employees said Spacey created a "toxic" working environment with his pattern of sexual harassment. He's since been fired by the network, but now, people are wondering if they should still watch House of Cards, which will end after Season 6, and what it means to support art made by/involving someone accused of sexual assault.
Is it okay to watch a Woody Allen movie given the fact that his adopted daughter accused him of molesting her as a child? What about listening to a Michael Jackson song? Should we still dance to "Thriller," despite the fact that Jackson's also been accused of sexually abusing children? Is it possible to avoid the dozens of films Harvey Weinstein has produced following the disturbing sexual assault allegations against him? 
Hannah Jane Parkinson, a writer for the Guardian, posed this question online, and people seem to be torn on the issue.
Some are arguing that good art is good art and should be enjoyed regardless of whether or not the artist is a criminal. 
Others are saying that by supporting their work, you're giving them power that they are in turn exploiting.
A lot of people feel generally uncomfortable watching their favorite artists perform after finding out about their history of assault. 
Many are able to separate the art from the artist and say one has nothing to do with the other. 
The counter-argument to that is that it's impossible to separate art from the artist. "What [Spacey] did stems directly from his prominent position in the acting world," someone wrote. "If he chooses to wield his power through the coercion and sexual assault of minors, then he shouldn't be allowed to thrive in that environment."
"You can't just separate abusers from their art," another person wrote, "their art is who they are and their abuse is even more so."
Another person pointed out the irony of Spacey making a career out of portraying manipulators and abusers. 
Then, there's the question of which artists are acceptable to support, and which aren't? Does it depend on how much time has passed since the accusations were made? Does it depend on their severity? This seems to be something people are figuring out for themselves. 
There's a strong case to be made, that we can move on from our once-beloved "favs" and discover new art and artists that don't exploit their power and contribute to a toxic culture of sexual abuse. 
We can be sure of one thing: Someone can be both an incredible artist and a terrible person at the same time. However, it's up to us to decide who we choose to support, financially or otherwise. It's okay to love House of Cards, but it's important to recognize what supporting the show means. It means supporting the lead actor and the system that allowed him to thrive. 
There are plenty of incredible artists out there who haven't committed sexual assault or molested children or otherwise exploited their power to commit acts that they should be arrested for. Those are the people we should be looking to at a time like this. Their work is the art we should choose to revere.