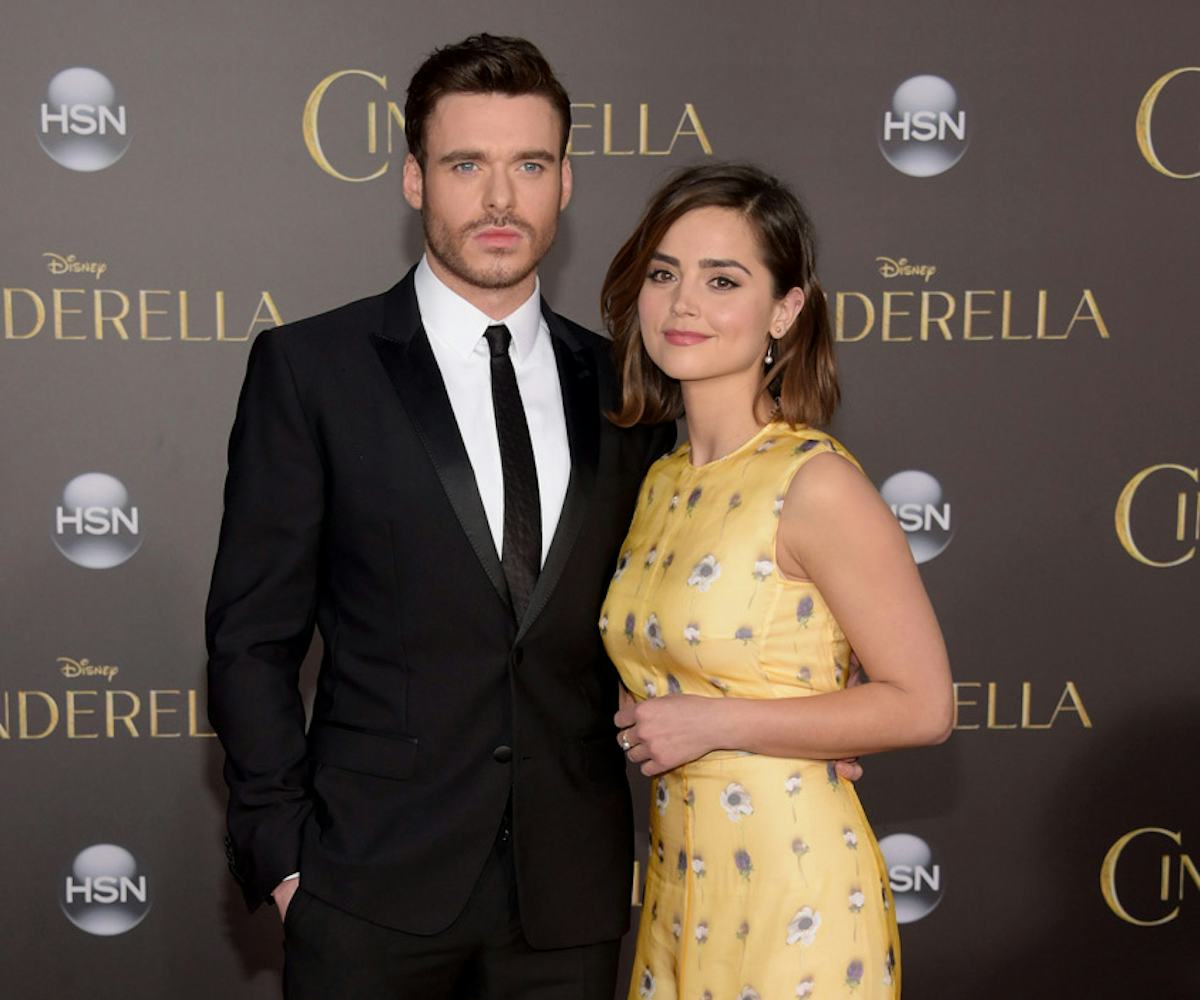 Photo by Jason Kempin/Getty Images
8 Celebrity Couples You Didn't Know About
When you're in the business of being a celebrity, your dating life is public knowledge. At times, it can seem like we're practically dating them, too. (Remember when Miley Cyrus and Liam Hemsworth were maybe on the rocks? Sheesh.) Yet, some celebs have found a way to dodge the prying eye of the paparazzi. They've become covert daters; skilled secret romantics. Sure, there are rumors, but we're all about the confirmation. (No trouble!) The following eight couples are prime examples of master celebrity daters. It hurts to accept their not-so-singledom, but life isn't fair sometimes and we've got to face the truth. And the truth often hurts.
Richard Madden and Jenna Coleman
Despite the fact that there have been a heap of rumors surround Jenna Coleman and Prince Harry, geeks everywhere are holding out that this fan-favorite couple are still going strong—and making our crossover fantasies come true. Madden had a star turn in Cinderella (and NYLON) but is most famous for being the tragic Stark who got so brutally Red Wedding'd on Game Of Thrones, and Jenna played Clara Oswold, the Dr. Who traveling companion to whom The Doctor got too attached. It's like, British nerd royalty, guys.
Mariah Carey and Brett Ratner
Mariah Carey is so over Nick Cannon. Since her divorce from the Drumline actor, the diva has started to get cozy with movie director (and director of her music videos for "Obsessed" and "Touch My Body") Brett Ratner. He claims they're just friends, but these photos of them on a boat beg to differ.
Matt Smith and Lily James
There must be something in the British education system that teaches citizens to carry on relationships privately. Dr. Who and Cinderella have been linked since early 2014, but didn't have their big coming out party until February 2015. This is probably the part where we say something like James has found her Prince Charming, but that's just—oh well, she did. Congrats.
Alison Brie and Dave Franco
There really isn't anything better than two funny people being funny together and in love. Brie and the little Franco have been linked since 2012. They're one of those couples that we really don't know who we're more jealous of: Alison Brie or Dave Franco. Is it possible to be jealous of them as an entity? Bueller? Oh well, we'll just go on and ogle at their chemistry in this here Funny or Die video.
Alexa Chung and Alexander Skarsgård
Hearts broke in February when rumors that these two really good looking people were dating. It wasn't until this week, though, that they made it "official." There's not really much more to say. They're one of those couples that are just so good together, you can't help but sigh, accept you will never date either of them, and move on.
Bella Hadid and Abel Tesfaye (The Weeknd) 
Uh, what? How? Who? And, more importantly, yaaas! This relationship is so fresh—literally and figuratively. Rumors that The Weeknd was linking up with Gigi Hadid's little sister began in May. Us Weekly confirmed the relationship. Apparently they were introduced via Gigi's ex-boyfriend Cody Simpson. Awkward? Nah. Can he feel his face when he's with her? Maybe. 
Bradley Cooper and Irina Shayk
With Suki Waterhouse behind him, Bradley Cooper seems like he may be heading into some Leonardo DiCaprio territory, making sure that he dates every incredibly famous model under the sun. (Okay, so it's two women so far. But two is a thing, right?) Except, remember: Bradley Cooper speaks eight languages and is a very serious auteur, and this author has found herself becoming a Bradley Cooper apologist. However, Irina and Bradley have not gotten serious enough for Coop to bring on the red carpet—that honor he reserves for his mom. (Just like Leonardo DiCaprio! DUN DUN DUN.)
Michael Fassbender and Alicia Vikander
Michael Fassbender is a god amongst men. His shark-y smile and rugged persona is intoxicating. The thirst for him is beyond. It's a, uh, shame he's le taken, but as long as he's happy. Alicia Vikander, likewise, is stunning. The two make an enviable pair. Sometimes life isn't fair. This is one of those times.