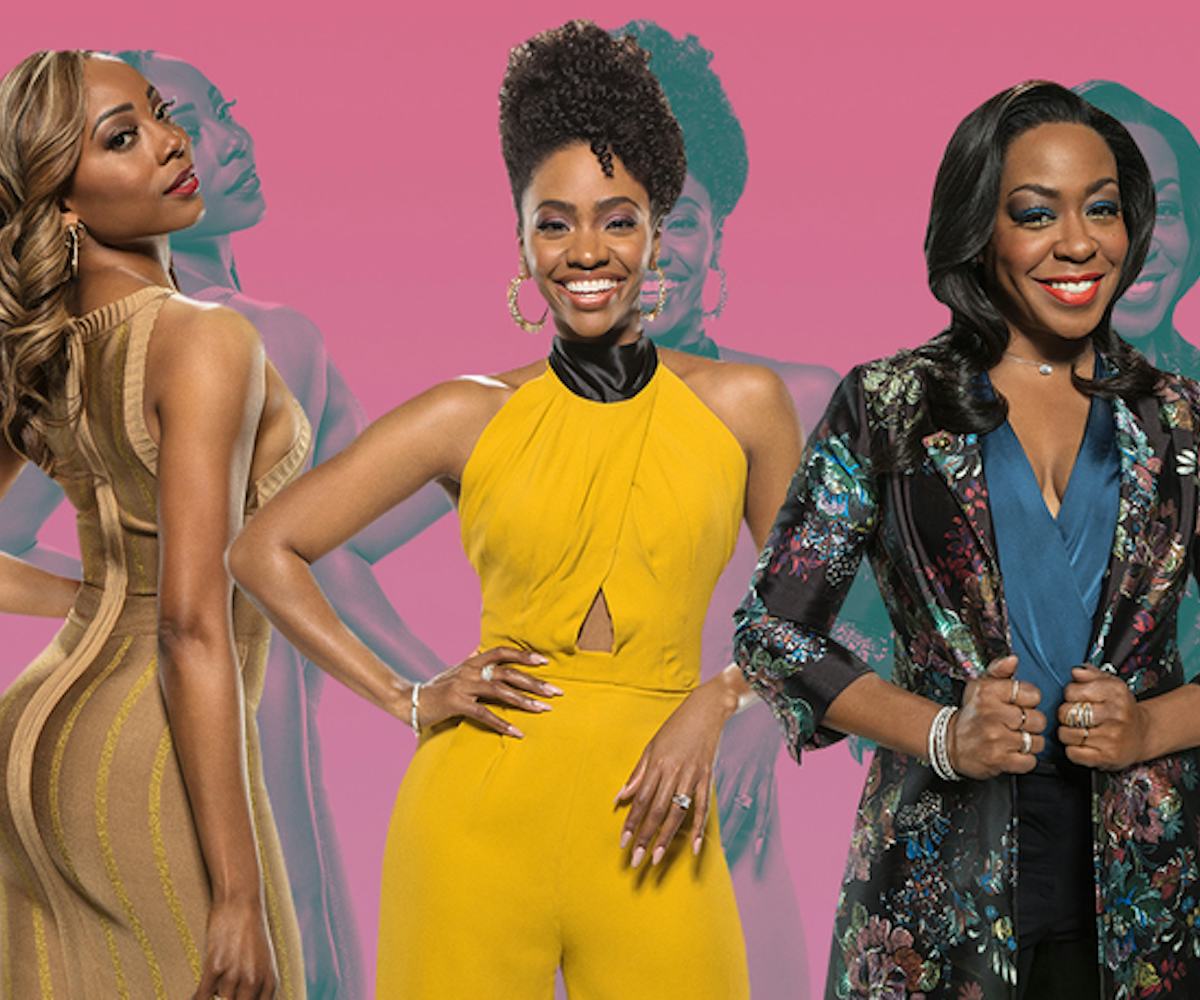 Discussing Race, Acting, And Hollywood With The Women Of 'Survivor's Remorse'
The under-appreciated Starz dramedy returns this Sunday
Even in this era of Peak TV, when the Emmys and Golden Globes have come around to championing art and artists that come to us from outside the major broadcast networks, there are blind spots. Why, for example, has Sundance's recently concluded (rightly) that critically worshipped Rectify been historically shut out by the above-mentioned gatekeepers? While we're at it, how have all these kingmaker institutions continually overlooked the three queens—Tichina Arnold, Teyonah Parris, and Erica Ash—who co-headline Starz's superb family dramedy Survivor's Remorse, which commences its fourth season on August 20? (Never mind their failure to acknowledge creator Mike O'Malley's hilarious and heartfelt half-hour as a whole.) 
We took that question straight to these versatile and accomplished actors, all of whom bring a mix of wit, wisdom, and talent to their roles—Arnold as Cassie Calloway, matriarch of her family and mentor to NBA superstar son Cam; Ash as Cam's half-sister M-Chuck (aka Mary Charles), a proud black lesbian who lacks filter but not loyalty; and Parris as Cam and M-Chuck's cousin-in-law Missy, a refined but fiercely principled Southern woman. While each of these interviews was conducted via separate phone conversations after shooting had wrapped, the result was something of a virtual roundtable on race, racy humor, honing one's craft, and hope—but not assurance—that more people will appreciate Survivor's Remorse and their contributions to it.
This show has increasingly called on its cast to cover comedy, drama, and even vocal performance. Has anything in your career tested your range this way?
Teyonah Parris: The show has definitely helped me work on a different side of my craft. The level of crassness and bluntness that some of these characters have makes me blush on set. I'm like, "Yo, O'Malley, we're really going to go there." I've been able to hone what it means to be a part of a comedy, an ensemble. It's been a special place to grow.
Erica Ash: My biggest thing is to be able to stretch my muscles. With a bit more drama in Survivor's Remorse, having to find ways to make it as funny as it was in Season 1 or Season 2 is definitely giving me more of a comedic workout. It's been an exercise in exploring the depths of my abyss and figuring out, as an actor, what I can bring to the table that's fresh.
Tichina Arnold: Honestly, for me, it used to be when I was playing Rochelle [on Everybody Hates Chris]. That was the first time I was ever the matriarch—it was the first time I was ever number one on the call sheet. It was the first time I was a mother that was able to convey different types of comedy. But on Survivor's Remorse, there's a seriousness to it. It's a comedy, but not really. This is a dramedy. And that is the beautiful thing about playing Cassie. I told Mike O'Malley, "When I play this woman, I need for you to guide me in making sure I don't bring any old shit into it." The Martin kind of humor is way different than the Starz kind of humor. The Survivor's Remorse humor is more deadpan. This was a learning process for me.
You guys are essentially a generation apart from each other in real life. Have you compared your career challenges to what your co-stars have experienced?
TP: I've never spoken to them specifically about what that journey has been for them. As far as my own experience, I feel like it's an amazing time for people of color and women of color particularly. That's what I love about what Starz is doing with Survivor's Remorse [and] Power. Those are shows both led by predominantly black casts, and they're doing really well for the network. That's not only a testament to the caliber of work that we, as artists of color, bring, but also the need and desire of the audiences to see themselves reflected in and on television and film. 
EA: I think Teyonah's and my experiences are very much the same. We're up for a lot of the same parts. My character on this show is actually younger than her character is. I've seen her play roles where she's out front. I've seen me play roles where I'm out front. I can certainly speak more to the difference between Tichina and my experiences. I remember watching Tichina on TV when I was a kid. Her experience had to be different. She's a path-maker. It was just a different game [back then], and [Teyonah and I] are both learning from her and her experiences.
TA: They know they can ask me anything. We had this question asked, "Who do you go to for advice?" And everybody said it was me. Of course. That's a no-fuckin'-brainer because I've been doing this shit longer. That's what they're supposed to do. I'm supposed to give them whatever information to help them, and it's reciprocal. The kids know I'm there for them.
Are we on a continuum toward leveling the playing field far as diverse representation in and on TV?
TP: I think we're still pretty early in it. The folks that came before us have been busting their asses to nurture that. And my generation and the women who are working right now, we're starting to see the fruit and other people are starting to see it. And while there's been so much work done beforehand to even get us here, it still needs to grow and blossom. I think, in certain spaces, you still see huge chasms where there are no people of color represented, period, and that's just not okay.
TA: I don't think I'm negative for saying this: The playing field will never be level. The playing field may have been level when no one was here, but as soon as humans inhabited this earth, the level playing field will never be. There will always be tears. There will always be separation. There will always be classes. With that being said, let's talk about the playing field you're on. To be able to have a job you love, you've gotta give something. That means you gotta work with your fellow actors and not compromise who you are. It's just basic fundamentals that have sustained me for the past 36 years of being in show business. I could work with anybody. We all, at Survivor's Remorse, come to work that way. We're here to make this show better.
EA: In terms of the leveling of the playing field, I think that might be the next generation or the generation after that. I do think if things continue to go the way they're going, there's hope to get to that point. It took a long time to get that train moving, and it took the persistence and commitment of people like Tichina Arnold and Tisha Campbell, even the Diahann Carrolls and Sidney Poitiers. And then the boldness of people like Issa Rae and Donald Glover who are like, "I need to sit at the table and create my own show." It's the persistence of black women in comedy who are saying, "We're funny, but we're not just funny in the 'bug our eyes and roll our necks' kind of funny. We can be funny subtly, speaking with different accents, from all walks of life, overtly and covertly. 
The creator and head writer, Mike O'Malley, is white, and the characters are majority black. Is there a give and take on how your character is written?
TA: My trust in Mike O'Malley, and the writers, has never wavered. Between Mike and [writer and Everybody Hates Chris creator] Ali [LeRoi], they've laid some amazing groundwork for this show. But, of course, everybody doesn't agree with everything. They may have me saying something that I don't think is a good acting choice for my character, but if it's not morally wrong, I don't mind. But I am a black woman playing a black woman. There's no better connoisseur of a black woman than me. If I get something in the script I know a black woman would never say or never do, or me, as an acting choice for this black woman that I'm playing would never do, that's where I don't compromise. So I share myself with writers' rooms, the producers, and I let them know, "Hey, this is going on in my life," and allow them to pull from that.
EA: I think it applies more for certain characters than others. I think [Tichina] has more room and reason to do that with her character, that sort of black mother. Tichina's very comfortable and knows what she needs for her character. Tichina knows the kind of language she wants her character to have. None of our characters are stereotypical, but there are things you can't avoid because of people and where they come from. Because I've never set foot in Boston, I'm more open to the people who are from Boston, who are writing, sharing what their thoughts are, and then molding their thoughts from that point. 
And ultimately, the show's humor transcends race with relatable bits about sibling rivalry and sex and hygiene and bodily functions.
TP: I can see how that would be the fiber that holds us all together.
TA: All while [Cassie's] raising two grown-ass kids who are trying to find their daddy.
EA: One hundred percent. And the fact that it's a black family that's portraying that. In this climate, I think that's one of the most important things. All the things you said, people would look and see white characters showing that. This show is doing that and unifying people and unifying the conversation. I have many a white friend who used to get spankings from their parents, and it's like, "Oh, y'all, too?" I like to do work that will not only entertain but start a conversation [by] drawing parallels between different societies based on the common things we all experience.
Why do you think Survivor's Remorse has generally been omitted from mainstream trend pieces on people of color in TV and broader conversations about the best TV period?
TP: That's a really interesting question. It's not a competition by any means. I don't know where that disconnect is as far as Survivor's Remorse being in those conversations. But I do know that we continue, as a cast, to tell amazing stories and be truthful to these characters despite what is happening around us. Just trying not to think about it is the best way for me, as an artist, to deal with it, to just do the work. The fans are there and loving the show, but I understand what you're saying and have noticed it, but I can't let that be the focus of my thoughts when I'm working.
TA: Survivor's Remorse is amazing because it has a person like Mike O'Malley, a person like [Starz CEO] Chris Albrecht, a person like Ali LeRoi really trying for this show to be the best that it can be. But [the industry] still thinks that black dollars do not matter. I'm so happy that Girls' Trip [ed. note: with a script by Survivor's Remorse writer Tracy Oliver] happened, because it shows there's an underserved audience, and that audience is me. I'm that black woman, that single mother, that aunt, that cousin that is interested in black content.  
EA: That question will best be answered in two seasons from now because we're the little engine that could. People are finding out about our show later for whatever reason, but once they're finding out, the word is spreading like wildfire. But I don't know if the tip-of-the-tongue talk will catch up to where our show will end up. It's like Breaking Bad—the talk caught up with the show, and I think our talk has the potential to catch up to our show, but you gotta see it to make it happen.