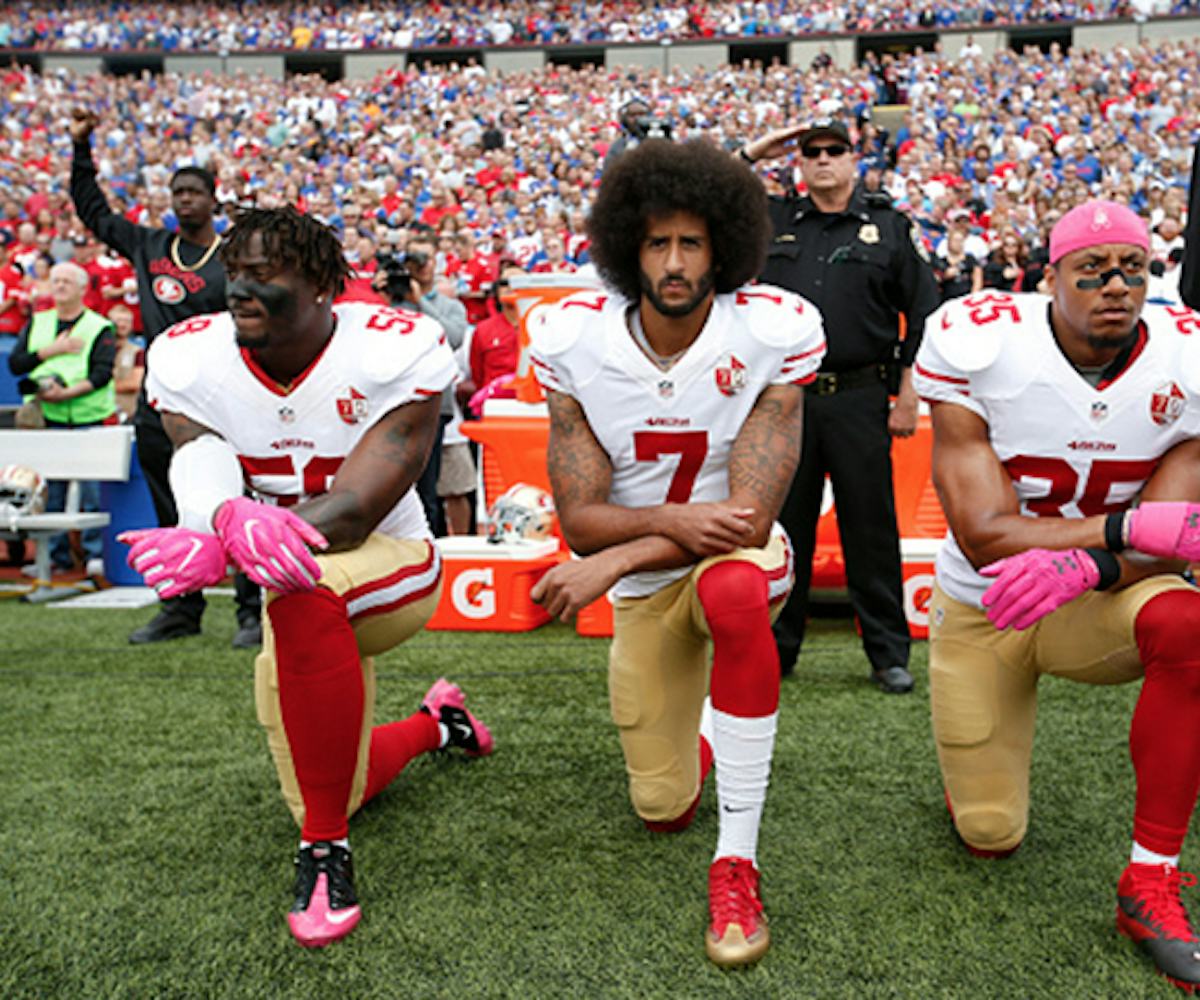 Photo by Michael Zagaris/San Francisco 49ers/Getty Images
Trump Is Gaslighting Us With Take A Knee Protests, And We're Not Falling For it
For once, it's not about him
Over the weekend, instead of addressing the devastation in Puerto Rico following Hurricane Maria, Donald Trump decided to focus on sports. During a speech in Alabama, he alluded to Colin Kaepernick and other NFL players who've decided to kneel during the national anthem in protest of police brutality and the lack of accountability for cops who kill unarmed black people while on duty. Trump called them "sons of bitches" and said they should be fired for the protest. This is the same president who called neo-Nazis excreting their right to protest "fine people."
Only, exercising free speech and the right to protest is about as American as it gets. And Kaepernick isn't protesting his country, the flag, Trump, or the troops, which he's made clear. "I have great respect for the men and women that have fought for this country," he said. "I have family, I have friends that have gone and fought for this country. This country isn't holding up their end of the bargain… men and women that have been in the military have come back and been treated unjustly, and have been murdered by the country they fought for, on our land. That's not right."
The now-unemployed quaterback—he hasn't been signed to a team because of the controversy—first started protesting the anthem in August of last year, according to SB Nation. "I am not going to stand up to show pride in a flag for a country that oppresses black people and people of color," Kaepernick said. "To me, this is bigger than football and it would be selfish on my part to look the other way. There are bodies in the street and people getting paid leave and getting away with murder."
He was later joined by his teammate Eric Reed. Initially sitting out the anthem, Kaepernick started taking a knee, SB Nation reports, in order to show respect for the military and those who serve our country, while still getting the message across that there are serious social issues we need to address as a nation. 
After Trump's tweet storm this weekend, where he said those protesting the anthem should be fired or suspended, the #TakeAKnee hashtag was born. Stevie Wonder took a knee at the Global Citizen Festival, as did Pharrell Williams during UVA's Charlottesville Benefit Concert. Everyone, from high school athletes and pro cheerleaders to MLB rookie Bruce Maxwell, has joined the movement. 
As one activist shared on Facebook, it's important to remember that this movement is not about Trump or the American flag (which is disrespected on the regular in a myriad of ways) or being anti-American. It's about the fact that black men are three times as likely to die from police use of force, according to one study, and black women account for 33 percent of all women killed by police, despite making up just 13 percent of the U.S. population. For once, it's not about Trump and his horrific administration, and we need to make sure the real message isn't lost.